Supply barge adrift in the Arctic for months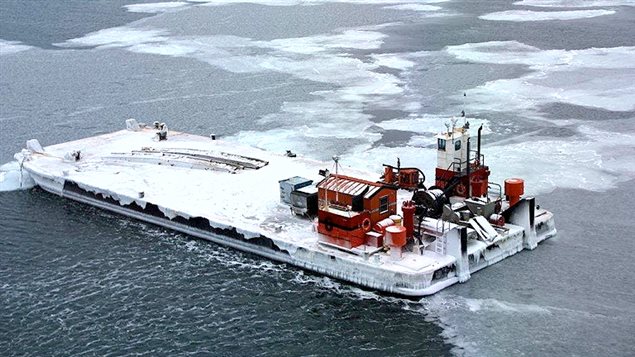 A Canadian company's supply barge which has been floating loose around the Arctic since last October, is now just off Russia's northeast coast after drifting from the Northwest Territories, across the Yukon coast, across the Alaskan coast and now near the Russian coast.
The barge is owned by Northern Transportation Company Ltd. (NTCL) and was on its way back to Tuktoyaktuk, in the Northwest Territories after delivering supplies to a remote site along the coast when it broke its tow under unexpectedly heavy seas that featured four-metre waves and 70-kilometre-per-hour winds.
Patrick Schmidt, president of NTCL said the storm had not been forecast. "Nobody seemed to see it coming", he said.
GPS tracker used
The 40-metre barge has no cargo although there are some 3,500 litres of diesel fuel in its tanks for its engine.
The barge was not able to be recovered before winter arrived blocking tugboats in harbour and locking the barge in ice.
A GPS tracker was dropped onto the barge and has NTCL has been following the barge's trajectory across the Arctic seas as has the US Coast Guard. The drifting barge has travelled somewhat erratically  about 2,200 kilometres since it broke free, being pushed at times west, at times north, then further west by winds, ocean current, and the drifting icepack.
Authorities "helpless"
The company says it will try a recovery in July. A spokesman for the National Snow and Ice Data Centre in Colorado suggests the barge could circle the Arctic if it gets caught in  the trans-polar drift stream and come out on the Atlantic side. Possibly through the Fram Strait between Spitzbergen and Greenland, depending on the weather
But as NSIDC spokesman Mark Serreze, says, they've been getting "crazy weather patterns in the Arctic as of late."
However, Edward Struzik, a fellow at Queen's University and author of Future Arctic, says the case of the drifting barge shows Canadians are unprepared to manage future Arctic shipping routes.   He said. "This barge has been migrating helplessly into American waters, and now into Russian waters, and really we are helpless to do anything about it."
Struzik says with greater traffic certain to come through the Arctic waters as the ice free season lengthens, and with volatile shipments likely, it shows that Canada still does not have the infrastructure, icebreakers or other equipment and clean-up technology to deal with a potential disaster in the far north.
Related stories from around the North:
Asia: China's silk road plans could challenge Northern Sea Route, Blog by Mia Bennett
Canada:  Report warns more Arctic shipping will increase warming, affect health, Barents Observer
Finland: New Finland icebreaker can operate sideways with asymmetrical hull, Yle News
Greenland:  Greenland, Alaska elections bolster Arctic resource extraction, Blog by Mia Bennett
Russia: Murmansk, Russia: Transport hub trouble, again, Barents Observer
Sweden:  New infrastructure needed to keep wild boars off Sweden's roads, Radio Sweden
United States:  Time to ramp up Arctic infrastructure in the U.S., Analysis: Sourabh Gupta & Dr. Ashok K. Roy