Could Maine become the U.S.'s second 'Arctic' state?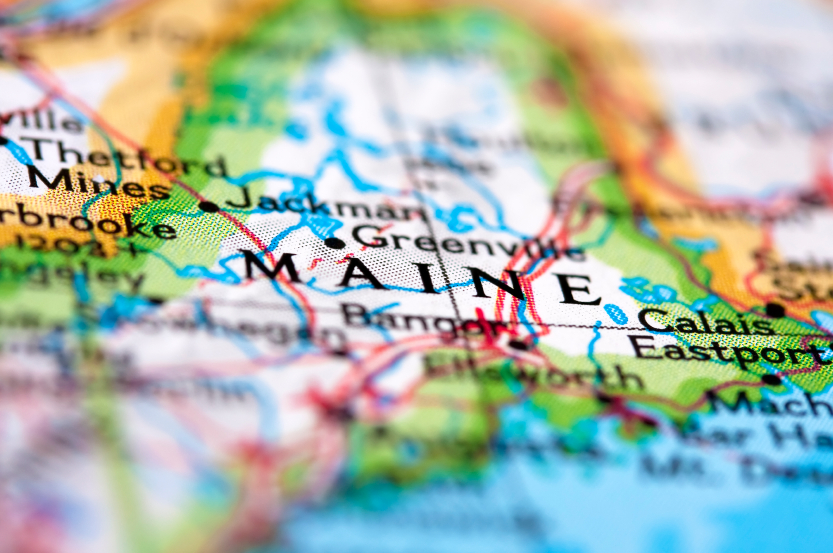 Alaska, which contains within its boundaries the only U.S. territory north of — or even anywhere near — the Arctic Circle, has long been the nation's Arctic state.
But is there room at the table for a second "Arctic" state?
If there is, Maine is increasingly vying for that spot, writes the Portland Press-Herald (in a piece written by former Anchorage Daily News reporter Tom Bell).
Maine is located about 1,500 miles south of the Arctic Circle (it's closer to Miami, the Press-Herald points out), but it also lies on the other end of the Northwest Passage from Alaska, and is connected by shipping lanes and commerce to important ports throughout the North Atlantic.
Maine has increasingly cultivated business ties in the Arctic, including luring the Icelandic shipping company Eimskip away from Virginia, and the subarctic. Maine-based Ocean Renewable Power Co. is working on river energy projects in the Alaskan communities of Iguigig andFalse Pass.
And other Arctic connections past and present — the only American schooner built for Arctic exploration, the nation's oldest climate change research institute, a leading Arctic museum and Arctic Studies center — add a depth of knowledge of the Arctic that others states lack, the Press-Herald points out.
Perhaps it's no surprise then that Maine's junior U.S. Senator, independent Angus King, after to a trip to Barrow and a voyage through the Arctic Ocean on a Navy submarine told Sen. Lisa Murkowski, "I want to be the Arctic senator."
"She said, 'No, you can be an assistant Arctic senator,'" King told the Press-Herald.
The pair have teamed up to launch an Arctic caucus in the Senate — a move that's good for Alaska because it helps Alaska be heard on Arctic issues in Congress, according to Craig Fleener, the state's Arctic policy advisor.
Read the full article here.
Related stories from around the North:
Asia: China's silk road plans could challenge Northern Sea Route, Blog by Mia Bennett
Canada: Report warns more Arctic shipping will increase warming, affect health, Radio Canada International
Norway: Norway, Russia committed to Barents cooperation, despite divisions over Ukarine, Barents Observer
Russia: Russian Arctic regions of Murmansk and Yamal widen cooperation, Barents Observer
Sweden:  Arctic train line in Nordics would open up polar potential, Barents Observer
United States:  Senate energy committee hearing exposes irony of Arctic opportunities, Blog by Mia Bennett
,