New evidence of prehistoric trade with Asia found at Alaska site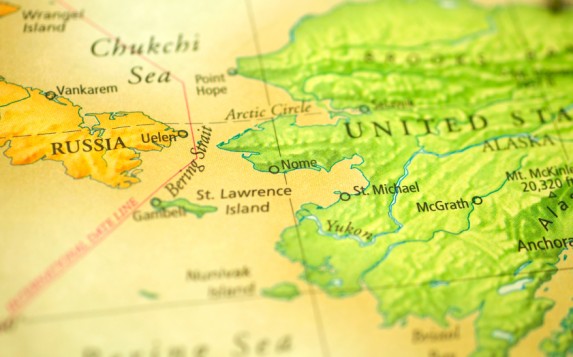 Four years ago, archaeologists announced they had found evidence on the Alaska side of the Bering Strait of trade with Asia that dated back about 1,000 years.
The evidence was a bronze fastener, possibly a belt buckle, that was created in eastern Asia and found at a site at Cape Espenberg in Alaska's archaeologically rich Bering Land Bridge National Preserve.
Now another newly analyzed object from the University of Colorado-led Cape Espenberg dig is providingmore evidence of prehistoric trade or contacts between the residents of Northwest Alaska and their neighbors across the Bering Strait.
A flake of obsidian, a glassy volcanic rock, found at the site has been traced to Russia's Chukotka peninsula.
Obsidian, formed from molten rock that hardens too quickly to form crystals, carries the chemical fingerprint of its source.
"It's one of the things that we can very definitely say came from a specific place on the planet," said Jeff Rasic, a National Park Service archaeologist who analyzed the artifact. "We can say that this one came from Chukotka."
Match found
That is a conclusion that took some time to reach. Rasic began analyzing the flake more than a year ago and found that it did not come from any Alaska site that he knew of.
But in February, when he traveled to Magadan, Russia, he visited a regional repository and found a match.
The thumbnail-size flake was likely a remnant of a tool carried in and out of the Cape Espenberg site, Rasic said.
"There was a tool from Chukotka that probably passed through this site and probably passed out of it," he said. "While it was there, they did a little bit of sharpening or repair to this tool and left a little flake behind."
Obsidian was valued by the people who used it, Rasic said.
"It's got incredibly sharp edges. They're sharper than a surgeon's scalpel," he said.
Suggestions of trade to east and west
It is likely that the person or people who brought the tool made from Chukotka obsidian considered that item dear, he said.
"You don't carry something that far that is commonplace or of little value," he said.
The Chukotka flake was not the only bit of obsidian found at the Cape Espenberg site, Rasic said. Another bit was traced to Interior Alaska near what is now the village of Hughes — and an area that, 1000 years ago, "was Athabascan territory for sure," he said.
The second piece of obsidian signals trade to the east as well as to the west.
"It gives you a suggestion that these were a pretty cosmopolitan people who had a lot of contacts in a lot of different directions," Rasic said.
Related stories from around the North:
Canada: The discovery of an Arctic shipwreck, Radio Canada International
Finland: Archaeological sites targeted in Finland, Yle News
United States:  Crews unearth military history on Alaska Glacier, Alaska Dispatch