Alaska councilman gets death threat for campaigning against heroin use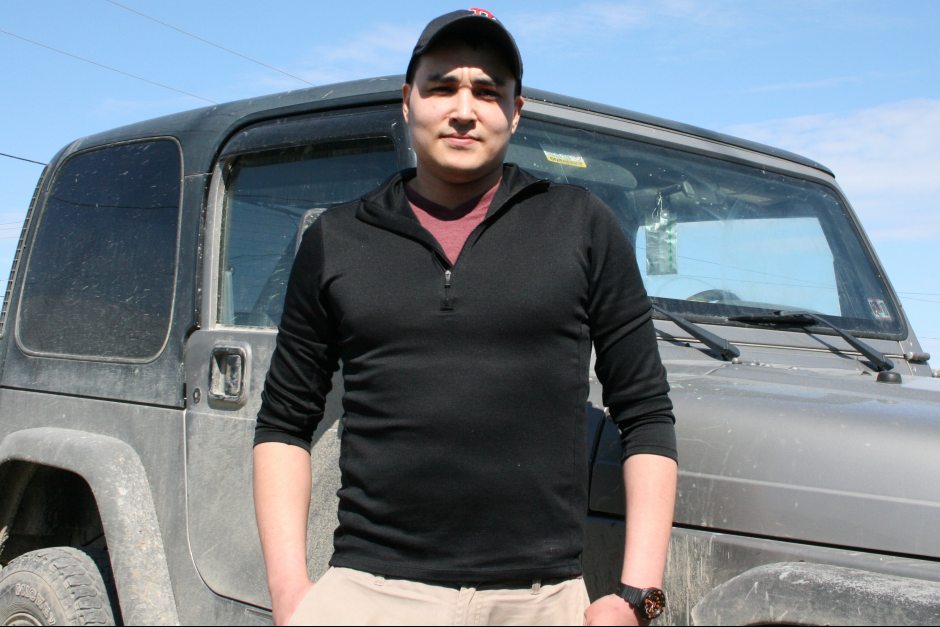 BETHEL — A Bethel City Council member trying to put attention on the destructiveness of heroin in the Yukon-Kuskokwim Delta says he received a death threat related to his advocacy and police are investigating.
Byron Maczynski, a 27-year-old elected last October, said Wednesday he's taken on heroin as his top priority on the council because he has seen friends and acquaintances struggle with addiction.
He said he is not going to be silenced by the threatening note left in his Jeep last week. He called attention to it on Facebook and brought it up Tuesday night at the Bethel City Council meeting. He sponsored a city proclamation that declares this week "United Against Opiate Abuse and Heroin Week."
"It made me push harder to stop this," Maczynski said.
Heroin, Bethel authorities say, is a serious and growing problem in Western Alaska.
"We're seeing a lot of theft and burglaries that we believe are related to heroin," said Bethel Police Chief Andre Achee.
The drug appears to be coming in by people carrying it on their bodies when they fly into Bethel, Achee said. Alaska State Troopers used to have a drug-sniffing dog at the Bethel airport but the dog and trooper handler left the community a few years ago, he said. Efforts to speak with troopers Wednesday were unsuccessful.
Heroin Bethel's biggest challenge
In Western Alaska, the number of parents on heroin is growing and they are neglecting their children to use the drug, said Fennisha Gardner, Bethel-based protective services manager of the state Office of Children's Services. She has worked in Bethel for the child protection agency off and on since 1999 and came back most recently less than six months ago.
Heroin abuse, she said, is the biggest change from the Bethel she remembers.
The number of people seeking help for heroin addiction is growing at the Yukon-Kuskokwim Health Corp.'s residential treatment program, said Rick Robb, the organization's director of residential services and Bethel's mayor. The Phillips Ayagnirvik Treatment Center usually has a slot — for those who are ready, he said.
Maczynski said someone in a black hoodie was outside his home in the Blueberry subdivision, near Bethel's police station, one night last week. His girlfriend spotted the person running down their stairs, he said. He checked around and didn't find anyone. But the next morning when he was heading to work at his auto body shop, he found a typed note on the passenger seat of his Jeep.
He called his father, went to troopers and then to Bethel police. He quoted from the note on Facebook and at Tuesday's council meeting.
"You better back off the heroin issue before you end up killing yourself," he quoted the note at the council meeting. "If you go to the police we will know about it haha and the next time I see you walking around your shop you won't make it back inside."
Maczynski said Bethel police advised him to go public with it, while troopers wanted the matter kept quiet while they investigated. He's started carrying a handgun as protection, he said.
'Appalled and infuriated'
His father alerted Robb, the mayor.
"Of course I was appalled and infuriated," Robb said.
Public radio station KYUK broadcasts the council meetings.
"Just for any heroin dealers listening, you are the minority," council member Heather Pike said. "I would remember that when you threaten someone on the council."
Another council member, Mark Springer, said that the drugs being sold in Bethel trace back to narco-traffickers in other counties.
"If something was to happen to any council member or anybody else that's taken a stand, particularly on the heroin issue, it probably wouldn't be done by somebody from Bethel," Springer said. "Somebody would be getting on a plane, they'd do what they need to do and they would leave again."
Police said they are taking the note seriously and are investigating.
"We've taken additional security measures for the reporting party and we plan to continue them until this case is resolved," Lt. Joseph Corbett said in an email.
Maczynski said he sees addicts on the streets. He went to school with some of them a decade ago at Bethel Regional High School. Now they look worn out.
"They are very, very skinny," he said. "You see their face drained. They are always shaking, breathing hard, sweating. And they are always fidgeting."
Community paying price for heroin addiction
Achee, the police chief, said there's evidence that burglaries in town are connected to heroin addiction. Others say the same. Some are stealing guns and selling them on Bethel Bargains, Maczynski said, referring to the popular Western Alaska Facebook group. One addict sold a stolen boat and trailer for $800, he said. Someone even sold her grandmother's berries picked from the tundra, he said.
"Let's take a moment to admire the tenacity of two heroin addicts/users/thieves," Harry Faulkner Jr., who has a construction business in Bethel, wrote in the Delta Discovery weekly newspaper in September. "Last week two young punks stole a front end loader in broad day light in the early afternoon, drove it down the street and up to a Bethel home, and picked up the entire fuel tank full of 300 gallons of stove oil."
Then they sold it, he wrote, "for heroin money."
In September, a Bethel woman was in Anchorage and, according to Anchorage police, injected her father with a fatal dose of heroin. Now Shannon Cooke, 35, is jailed on charges of manslaughter and second-degree misconduct involving a controlled substance.
The fight will continue, Maczynski said. He plans to push action, including the creation of a hotline for police.