New vessels for Russia's Coast Guard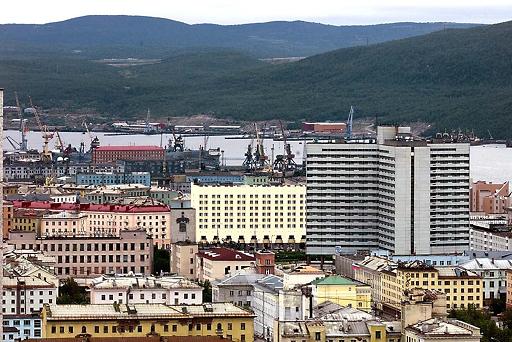 The Russian Coast Guard is renewing its fleet with new ice-going vessels and has been reorganized to meet the enhanced focus on the Arctic.
"We didn't have such a massive construction of coast guard vessels and boats even during Soviet times," Commander of Russia's Cost Guard Admiral Yury Alekseyev says in an interview with Rossiyskaya Gazeta.
In addition to a renewed fleet of smaller, fast-going patrol boats and a new vessel of the long-time proven Svetlyak-class patrol vessel, the Coast Guard will receive at least two types of ice-going vessels designed for operations in the Arctic.
Ice-going vessels
The first vessel of project 22100 Okean-class ice-going patrol vessels, "Polyarnaya Zvezda" is currently undergoing sea trials in the Baltic Sea. Vessels of this class can break up to 80 cm thick ice. They have an endurance of 60 days and a range of 12.000 nautical miles at 20 knots. They are equipped with a Ka-27 helicopter and can be supplied with Gorizont UAVs.
"Polyarnaya Zvezda" will be based in the Eastern Arctic region.
The two next vessels of this class are expected to be laid down in 2015, and should be ready for service in 2019, according to RIA Novosti. The two vessels have a total price tag of 17.3 billion rubles (€297 million), and will be based in Murmansk.
Russia is now developing a new project for a 6-7000 tons ice-going vessel for the Coast Guard, Yury Alekseyev says.
Last week, a new vessel of the Svetlyak-class patrol vessel was launched at the Almaz Shpipyard. Russia has 32 vessels of this type in operation. They have been in use since 1988.
Despite economic difficulties connected to the sanctions, shipyards have been able to keep up the speed in construction of vessels for the Coast Guard, according to Alekseyev. Foreign equipment that was planned to be used on the new vessels, like German diesel engines, has been replaced with equipment made in Russia.
Reorganization of the Coast Guard in the Arctic
The Russian Coast Guard has a wide focus the Arctic. In addition to the traditional protection of bio resources in the Barents Sea, oil and gas installations and shipping along the Northern Sea Route are amongst the body's new areas of interest. For this purpose, the FSB has established two new border guard commands – one in Murmansk for the Western Arctic regions, and one in Petropavlovsk-Kamchatka for the Eastern Arctic regions.
The Border Guard Command for the Western Arctic Regions was established on April 1st 2015, and has its headquarters in Murmansk. Under its jurisdiction is the 10 000 kilometers long coast line from the border to Norway in the West to the Taymyr peninsula in the East, Murmansky Vestnik reported.
Related stories from around the North:
Asia:  Full steam ahead for Asian icebreakers in the Arctic this summer, Blog by Mia Bennett
Canada:  Ship trouble in the Arctic on the rise: report, Alaska Public Radio Network
China: China's silk road plans could challenge Northern Sea Route, Blog by Mia Bennett
Finland: New Finland icebreaker can operate sideways with asymmetrical hull, Yle News
Russia: New icebreakers open way for Russia in Arctic, Yle News
Sweden: Swedish icebreakers gear up for Arctic role, Radio Sweden
United States: Alaska, Washington senators file bill to build Arctic icebreakers, Alaska Dispatch News