Can traditional Alaska Native foods be sold? A clash of legal, cultural opinions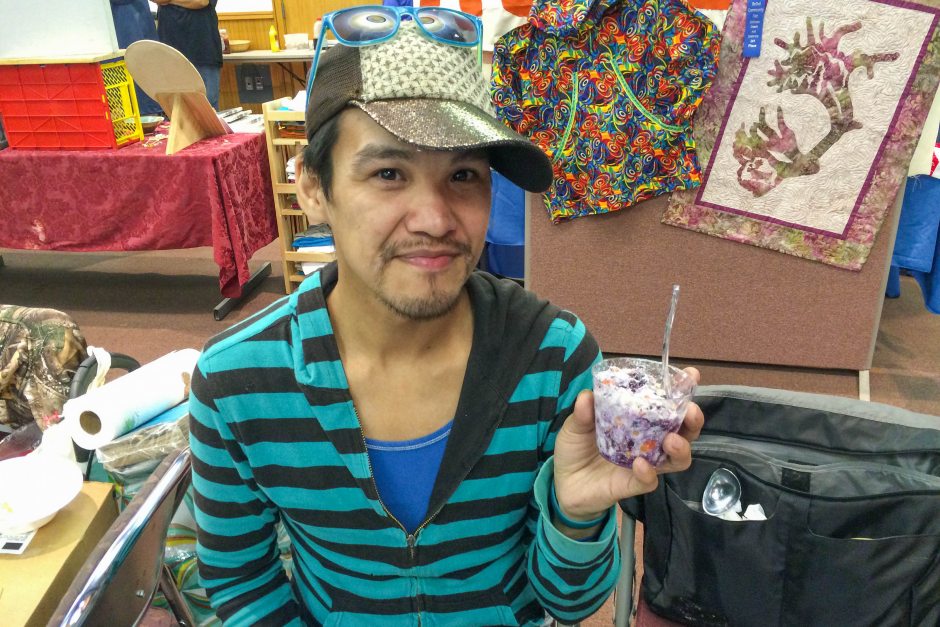 BETHEL — Berries are ripening, salmon are running and conflicts over the selling of traditional Alaska Native foods are erupting with emotional and sometimes legal consequences.
Should salmonberries that carpet the tundra be packed into gallon-sized Ziploc bags for sale? What about smoked salmon from fish harvested under subsistence rules, not commercial ones? Or buckets of locally harvested razor clams, a jug of seal oil, jumbo halibut fillets fresh from the sea?
The debate has been raging all spring and summer on a Facebook group popular in Western Alaska called Bethel Bargains. It isn't open to the public, but many Alaskans — and some law enforcement officers — have joined the group, which has over 8,300 members.
In mid-July, buckets of berries started showing up on Bethel Bargains with surprisingly high price tags: $25 for a quart of freshly picked salmonberries, $350 to $400 for five gallons, $240 for three gallons of blueberries. And they were selling — fast.
Some who have no tolerance for people who sell subsistence fish see berries as a different matter, a plentiful renewable resource with no limits on harvest amounts or prohibitions against sales in law.
But the trend bothered Leona Tall, a 20-year-old who lives in the Southwest Alaska village of Chevak. She expressed her displeasure in a teasing way on a July 24 Bethel Bargains post about salmonberries. Within days it had elicited dozens of comments and hundreds of likes.
"FREE – out there on the tundra (doesnt hurt to walk, get your inner peace with Mother Nature)," she said in a mock sales post.
Some commented that extra berries should go to family members or elders. The conversation expanded into concerns about fish.
"It's all our subsistence foods," Samantha Ayuluk, another young woman from Chevak, wrote. "We're disrespecting our ancestors land." She posted a story she found on the Internet based on an overheard conversation between elders about declines in salmon runs and the forgotten "taboo of selling our Native foods."
"Us Natives need to set a better example for the outsiders so the fish will return," one of the elders in the story says.
The story ended like this: "It got quiet almost like everyone had been listening in the room. Then I heard someone whisper 'Ilumun.'"
That means "truly" or "indeed." "A way of agreement," Ayuluk said.
Not that people are agreeing.
Different viewpoints
Some pointed out berries are not plentiful around certain villages, so buying in bulk may be the best way to get enough to store for winter. Berries grow back, so a big harvest doesn't deplete the resource. Selling them can be a good way for residents in cash-starved villages to make a little gas money.
Still, people who pick berries for profit may wipe out a patch a family was eyeing for the freezer.
Tall, who started that thread, says selling berries means selling out the culture.
"It's like our Yup'ik, Cup'ik is getting lost," she said in an interview. She would be sad if the joys of berry-picking and camping in their own right vanished.
In a good berry year, and this seems to be one, her own family group might pick 30 to 60 gallons of berries to freeze and share. "Possibly even more."
Her message: "If you have enough berries, please give some to the elders. They would appreciate it."
Akutaq for sale
Conflicts involving fish — and processed fish — pop up, too.
At Saturday Market inside Bethel's Yupiit Piciryarait Cultural Center in late July, Wassillie Isaac Jr. displayed his goods, including handcrafted earrings, jars of jam, homemade tarts and a giant bowl of akutaq, or Eskimo ice cream, dense with whitefish and berries for $10 a cup.
Reyne Athanas, the cultural center coordinator, asked him where the fish came from.
He caught it, he said.
"I'm so sorry," she told him. At the market, he couldn't sell akutaq with fish that wasn't commercially processed, for food safety reasons. The market had gotten complaints in the past and must follow the rules, she said.
An elder walked over to buy a cup just as the bowl was being whisked away for safe storage in the center fridge.
"It was going to be my big seller," said Isaac, who is originally from Lower Kalskag.
The fish was carefully handled, he said.
"I processed it myself. I caught it. I cleaned it."
He didn't see a problem. He even squeezed the oil out of the fish to use in the dish, which is healthier than using Wesson oil.
"When it comes to gathering Native foods, it requires a lot of time and effort," he said. It's hard to put a price on it, he said.
He tried to find another spot to sell it, so it wouldn't go to waste, but after people complained $10 was too much, he shared it with family instead. He said he had never brought his akutaq to Saturday Market before, but will try again.
Next time, he said, he will leave out the whitefish.
Stinky heads for $1
In most parts of Alaska, the state bars sales of fish taken for subsistence, while the federal government allows minimal sales of fish taken from federal waters under "customary trade" practices.
Trading and sharing traditional and wild foods has a long history, according to the state Department of Fish and Game's Division of Subsistence. Bartering clearly is still allowed for most foods, said Lisa Olson, deputy director of the subsistence division.
"You can trade them for other things, like trading fish for berries, or moose meat for seal oil," Olson said. "If no currency is involved, that's barter."
In the Kuskokwim area, geologist Edward Spurr documented in the late 1890s that "currency and tobacco" were exchanged with Alaska Natives on the middle Kuskokwim River for dog salmon and whitefish, according to a 2013 report by the subsistence division. Tobacco and coins were traded for a wolf, a marten and fresh salmon.
Fish and Game subsistence staff members were studying the issue to determine whether the "customary trade" was significant enough to support limited, legal sales of Kuskokwim-area fish caught under state subsistence rules.
They found a number of examples: Natives would often get tokens or "bingles" for their extra fish and furs from store owners, the report says. In 1955, one man on the Kuskokwim caught a lot of whitefish just before freezeup that he sold for 50 cents each, 25 cents to relatives. More recently, in the village of Tuntutuliak, a man told researchers he would sell fermented fish heads for $1 each during Fourth of July festivities, according to the report.
An earlier researcher on the Yukon River found "ways in which cash in a mixed cash-subsistence economy has been adopted to enhance, rather than diminish, the importance of wild foods," the 2013 report said.
Staff members recommended limited sales of Kuskokwim-area subsistence-caught fish be allowed under state rules. But the Alaska Board of Fisheries rejected the proposal.
Salmon strips at AFN
The Fish Board has approved limited sales only in two areas: fish in Norton Sound and herring roe in Sitka, Olson said. Alaska wild game — other than hare — cannot be sold, and only recently was approved for trade under state rules.
The limits are intended to prevent commercializing a resource intended as a basic food source: A household cannot make more than $500 selling subsistence fish in the Norton Sound district, for instance, under the state rules. Sellers there are supposed to record transactions on a state permit.
Commercial fishermen have sizable expenses for permits, insurance and deckhands, and it would be unfair to let subsistence fishermen tap into markets with minimal investment, said Maj. Bernard Chastain, deputy director of the Alaska Wildlife Troopers.
A 64-year-old in Unalakleet was ticketed by troopers in July for selling 10 bags of smoked salmon, caught in state waters under state subsistence rules.
Federal rules, however, are more liberal on sales of subsistence fish, generally allowing it as long as fish were caught legally from federal waters. The federal system does cap incomes in some parts of the state from subsistence sales. And if rural residents are selling to a nonrural resident, the buyer can't turn around and sell it again.
Questions continue over whether the federal rules apply only during times of federal management, as happened earlier this summer on the Kuskokwim River, or at all times in waters within a federal boundary, such as the waters within the immense Yukon Delta National Wildlife Refuge.
"That's for another day to decide, in court," Chastain said.
When troopers receive complaints about a possible illegal sale, he said, "our burden is to show that fish was taken in an area where it was not allowed to be sold."
Complaints have come in about people selling dried salmon strips in front of the Dena'ina Center in Anchorage during the annual Alaska Federation of Natives convention, he said. Troopers work with U.S. Fish and Wildlife Service investigators to resolve that.
"The first thing we have to figure out is where this item was taken and under what regime it was taken under," Chastain said. Among the challenging questions: "What species is the fish?"
The sellers may not want to talk about it. That was apparent during Bethel's Cama-i Dance Festival in April. Some sellers of dried salmon kept the fish under their tables but brought it out for people who asked.
At the AFN convention, "it can be a daunting task to figure out whether that situation is legal or not," Chastain said.
Most cases of illegal sales are small, and often the seller has no idea he or she is crossing a line, he said. Troopers may just give a warning, he said.
But even with legal sales, subsistence-caught foods can't turn into a commercial operation, both federal and state law enforcement officers say. Federal agents five years ago said some Yukon River residents were illegally selling large amounts of coveted smoked salmon.
Rules with purpose
Some coastal residents have tried to sell their subsistence halibut on Facebook. But federal rules prohibit it. Halibut is highly regulated.
Noah Lincoln, a halibut captain from Toksook Bay, said he doesn't mind people selling traditional foods when it's legal to do so. He's explained the rules barring subsistence halibut sales on Facebook to protect others from getting into trouble.
"If one person does it, another guy will do it and so on," he said. Then everybody "will catch fish for money."
He caught about 40 halibut for his family under subsistence rules this year, drying some, freezing others and sharing. When interviewed, he had just eaten a dinner of goose soup and was looking forward to akutaq with last year's berries for dessert. The night before, the family had halibut for dinner and earlier in the week walrus and beluga were on the table.
Josh Tunuchuk of Chefornak said he had an encounter with troopers last fall when he had some freshly harvested razor clams he hoped to sell. Shellfish, because of the potential for causing severe illness, require a special processing permit from the state Department of Environmental Conservation, among other provisions.
After troopers called him, he quickly gave up his plan, he said. He posted on Facebook about the situation, saying that selling any subsistence food was illegal.
He shared the clams, which are tasty and tender like butter clams, with family and elders. His family lives off their traditional foods: halibut, salmon, tom cod, smelt, whitefish, moose, musk ox, seal and berries.
Tunuchuk said he now sees subsistence foods differently, even berries.
"We're not going to sell any of that food," he said.
Contact Lisa Demer at LDemer@adn.com or on Twitter
Related stories from around the North:
Canada:  Canada's Truth and Reconciliation Commission releases recommendations, Eye on the Arctic
Finland:  Who is a Sámi?, Yle News
Norway:  Sami ask for mining veto, Eye on the Arctic
Sweden: Supreme Court recognizes Sami grazing rights, Radio Sweden
United States: Alaska Native corp. to vote on whether to enroll descendants as shareholders, Alaska Dispatch News