Russian hydropower key to Finnish nuclear plant deal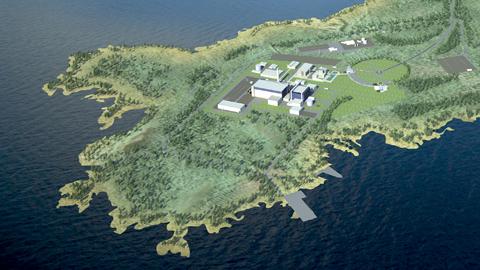 There might never be built a nuclear powerplant at Pyhäjoki, northern Finland, unless energy company Fortum gets control over the mighty hydropower resources in Northwest Russia.
The Finnish energy company in late 2014 seemed to have struck a historical deal with Rosatom and Gazprom over the acquisition of a majority stake in TGC-1, the biggest producer of hydropower in Northwest Russia. In return, the company would commit itself to a 15 percent ownership stake in the projected Finnish Fennovoima nuclear power project.
Since then however, relations between the three companies have soured and the power deal seems like a long shot.
In a press release issued by Fortum in late June, the company confirms that the negotiations have not come to conclusions, and that it consequently is "not possible to decide on its participation in the project".
A key part of the problem is Gazprom's apparent unwillingness to lose control over the TGC-1, a company which it has held a majority stake in since late 2009.
Negotiations ongoing
Meanwhile, high-level negotiations are continuing. According to Finnish Economy Minister Olli Rehn, who this week met with Russian Deputy Prime Minister Arkady Dvorkovich, the Russians are "very committed" to the projected plans. At the same time, Rehn admits that it all "lies in the hands of Fortum", the Helsinki Times reports.
If the project is to be implemented, it will have to meet the Finnish Government requirement of a minimum of 60 percent EU and EFTA ownership. Russian state nuclear power company Rosatom currently owns 34 percent of the Fennovoima project development company.
In June, the little known Croatian company Migrit Solarna Energija hit the headlines when it become known that it had bought a nine percent stake in Fennovoima. That acquisition, however, was not approved by Finnish authorities after it became know that the company is closely affiliated with Russian business interests.
Russian energy resource
If Fortum takes on the 15 percent ownership stake in Fennovoima it will give the company a key role in the development of the controversial project. It will also get in charge of a key strategic Russian energy resource, the hydropower generating units in Northwest Russia.
The TGC-1 owns and operates a fleet of 40 hydro power plants with a total capacity of about 3,000 MW, and hydro power generation accounts for 41 percent (12-13 TWh) of the company's total electricity generation. In addition, the company owns 14 thermal plants with a total electricity capacity of 4,300 MW and has a total heat capacity of 16,500 MW (29 TWh/a).
With the deal, a number of power plants originally built by Finnish companies, some of them located on territories previously belonging to Finland, would again get Finnish ownership. TGC-1 owns a string of hydropower plants in the Kola Peninsula, several of them located in Pechenga, the area which was part of Finland in the mid-war period. The TGK-1 also has generating capacities in the Republic of Karelia.
Related stories from around the North:
Canada:  Floating nuclear power stations for Arctic?, Radio Canada International
Finland: Less than a third of Finns support Fennovoima nuclear plant, Yle News
Norway: Three years on, still no deal on nuclear accident warning for Norway, Barents Observer
Russia: Finland downplays Russian bid to build reactor, Yle News
Sweden:  Sweden's environment minister wants nuclear reactors closed, Radio Sweden
United States: Let locals decide fate of Arctic drilling says U.S. politician, Alaska Dispatch News