Project brings salmon back to Swedish river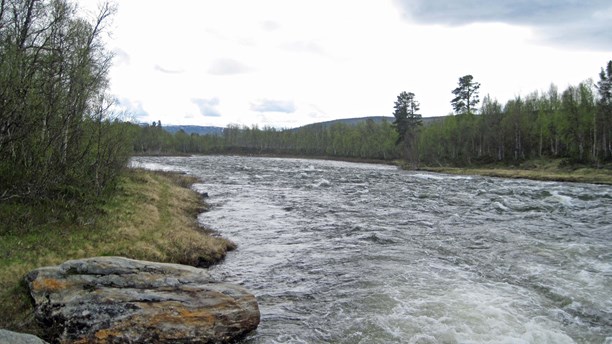 Some 15 years ago, officials were alarmed by the rapid decline of wild salmon populations in Sweden's Vindel River but now it seems restoration work as paid off for the fishes.
Back in the 1990s, the number of wild salmon plying the Vindel River had reached a lowpoint.
That's because, in many places along the river, the timber industry had since the 1850s cleared and straighten the waterway's channel. And, in the process, destroyed the natural habit of the salmon.
Damage by forestry
The forest industry would use the river to transport logs downstream to the town of Umeå along the Baltic coast. To make timber floating quick and easy, loggers straightened river channels with stone piers and removed boulders from the Vindel and its tributaries.
That turned the river into a more homogeneous environment with limited habitats and spawning grounds for salmon.
Restoration project
Stig Westbergh, who's a project manager for restoration work in Vindeln municipality, which sits along the banks of the Vindel River in Västerbotten County, says the late 80s and early 90s were a bad time for the salmon with only 400 or so fish making their way up stream back to their spawning grounds.
But times have changed along the river.
Restoration work has cleared the stone piers and dams and brought back the huge rocks sunk inside the channel. The result is a slower, wider and more diverse waterway that's better suited for salmon spawning.
And, according to Westbergh, it shows.
Thousands of fish pass through salmon ladder
Westbergh says in 2013 officials counted up to 15,000 salmon in the stream. He says they don't know how many fish will make the trip this year but that already 4,500 of them have passed through a salmon ladder at a hydroelectric dam just outside of Umeå.
The restoration work has been financed in part by the European Union and the Swedish government and Westbergh says there's still money left over. The next stage of the project will be used to promote fishing tourism in the area.
Related stories from around the North:
Canada:  The return of the Arctic Five, Blog by Heather Exner-Pirot
Greenland: Arctic countries ban fishing around North Pole, Alaska Dispatch News
Iceland:  Iceland blasts Arctic Five for exclusion from fishing agreement, Eye on the Arctic
Norway:  Record value for Norway's seafood exports, Barents Observer
Russia:  Fishery hopes in Arctic Russia after gas project flame out, Barents Observer
United States:  Alaska: Fisheries board member cited for violating fishery closure, Alaska Dispatch News