Shell's failure latest in series of Arctic flops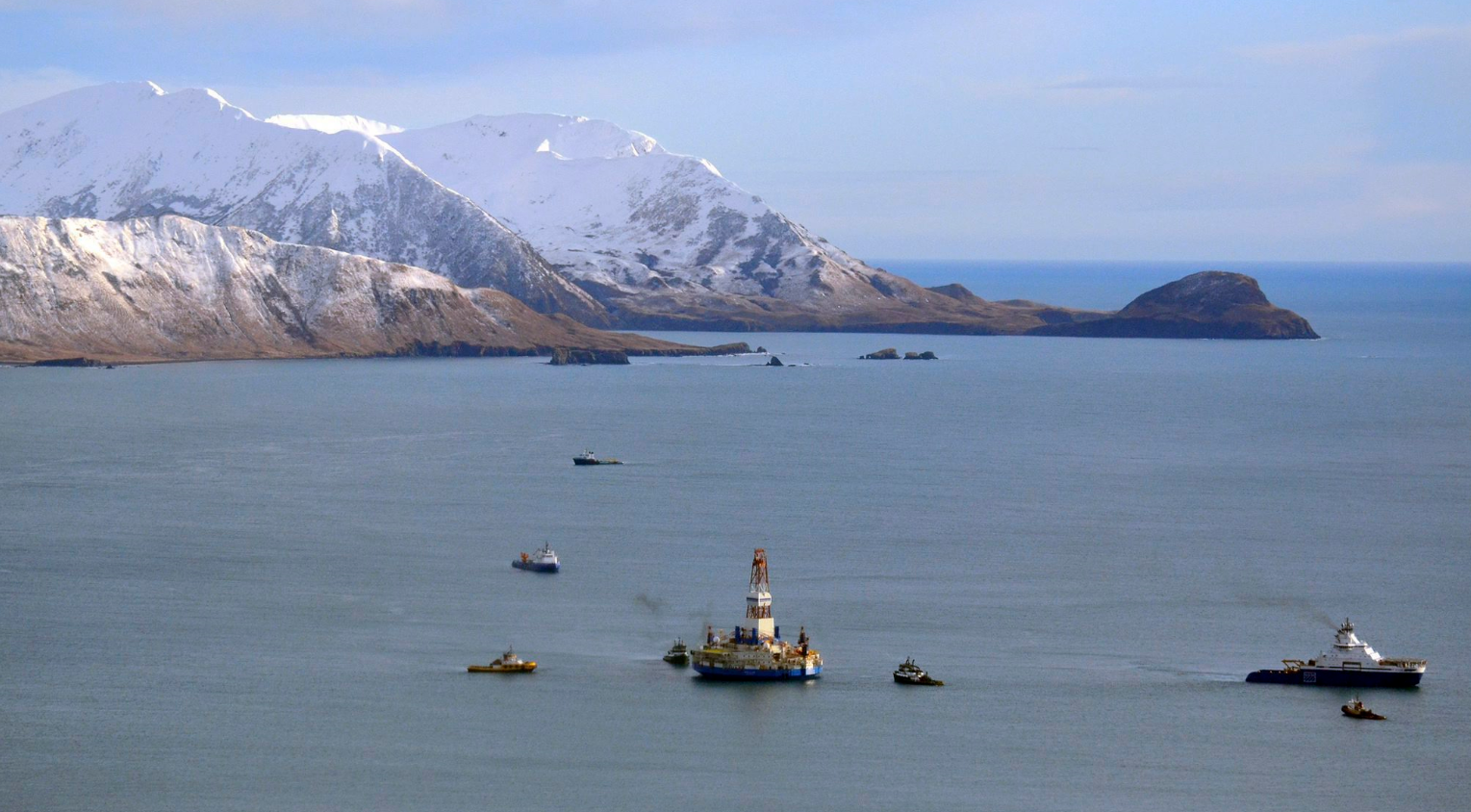 After pouring billions of dollars into offshore Arctic leases and a complicated drilling program that used the latest available technology, oil explorers were confident that they would strike a gusher and open up a new northern petroleum frontier.
The plan went bust and the explorers walked away.
Royal Dutch Shell in the Chukchi Sea in 2015? No, it was the notorious Mukluk flop, which became known as the world's most expensive dry hole.
The Mukluk prospect in the Beaufort Sea had been touted in the early 1980s by BP Exploration Alaska predecessor Sohio Alaska Petroleum and its partners as a potential second Prudhoe Bay.
Press coverage at the time repeated the hype. "The Mukluk Prospect: Has Sohio Struck It Rich Again in Alaska?" a Barron's headline asked in August 1983.
The answer, which came a few months later, was a resounding "no," despite $2 billion spent on leases and even more spent to build an artificial drilling island.
Three decades later, Shell's expensive offshore Alaska program appears to have met a Mukluk-like fate.
Setbacks
Shell spent $7 billion to explore federal Arctic waters, focusing on the Chukchi, an icy frontier off Northwest Alaska. It endured many legal setbacks, tightened federal rules imposed after the 2010 Deepwater Horizon disaster, virulent international opposition from environmentalists, free-falling oil prices and expensive delays of its own making – most notably, the New Year's Eve 2012 grounding and ruin of its Kulluk drill ship, which Shell had earlier refurbished with a $300 million makeover.
The company announced Sunday that it is ending its Alaska exploration program, making that the latest in a long series of dashed dreams for offshore oil development in the U.S. Arctic.
The continental shelf has lured explorers with its hints of oil riches and an open water season that is expanding as sea ice diminishes. But brutal physical and economic conditions confound easy development.
Challenges underestimated
Former North Slope Borough Mayor Edward Itta, who worked and sometimes tangled with Shell, said he has long cautioned a skeptical approach to oil boom promises.
The oft-quoted resource estimates for the region — 15 billion barrels of recoverable oil in the Chukchi and 8 billion barrels in the Beaufort – are just speculation, he said.
"Everybody was going on like their heads were cut off, like there really, really for sure was that much oil out there," he said.
Meanwhile, Shell underestimated the challenges of working in the Arctic Ocean, said Itta, who at 70 has seen big offshore oil plans come and go.
Echos of the past
Arctic oil dreams for the region go back decades – as do warnings about the difficulties. Today's debates over offshore Arctic drilling echo those of the past.
Environmentalists, the North Slope Borough and organizations like the Alaska Eskimo Whaling Commission fretted about oil spills and the lack of technology to clean oil spilled in broken ice, along with noise and other industrial disturbances, particularly to bowhead whales.
The industry and its supporters said modern technology made drilling safe for whales and other wildlife. Six years before the 1989 Exxon Valdez disaster, Exxon USA proclaimed in a letter to the Minerals Management Service that spill concerns were overblown, and failed to recognize that, "1) safe drilling technology and practice exists today and refinements will undoubtedly occur in the future; and 2) oil spill clean-up capability has greatly increased in the last decade and will continue to improve."
Inupiat locals worried that they would bear the risks of oil development without reaping the rewards. The Native people, "working every day within their village," were being subjected to a dangerous experiment "in favor of oil rigs, that will benefit people thousands of miles away, not the people immediately around it or close to it," said a 1983 letter to the MMS from Jacob Kagak, mayor of the Chukchi Sea village of Wainwright.
Industry supporters countered with arguments about national energy needs. "Given the continued decline in domestic production, and increase in foreign imports, it is imperative the resource potential of this area be made available for careful exploration and production," William Hopkins, executive director of the Alaska Oil and Gas Association, said in a 1990 letter to the MMS.
1979 lease sale
The first Arctic outer continental shelf lease sale was held in 1979 by the Bureau of Land Management, with 24 tracts sold for $488.7 million.
Leasing was vastly expanded by James Watt, President Reagan's famously pro-development Interior secretary. Watt created the Minerals Management Service and oversaw big and frequent offshore lease sales for the Arctic and elsewhere, including the Bristol Bay region of the North Aleutian Basin, where drilling was strongly opposed by then-Gov. Jay Hammond and many other Alaskans.
Environmentalists criticized what they said was Watt's "fire sale" approach to oil leasing, but Alaska industry supporters were thrilled with his pro-extraction policies.
The first Watt-era Arctic lease sale, held in 1982, yielded a staggering $2.055 billion in high bids for Beaufort tracts – including what was to be the doomed Mukluk prospect. Another lease sale in 1984 drew $866.8 million in high bids for 227 tracts, all of which have since expired.
Using leases acquired in those and subsequent sales, oil companies drilled a flurry of wells in the 1980s and early 1990s. Most activity was in the Beaufort, but two companies – Shell and Chevron – ventured into the Chukchi to drill the first oil wells ever attempted there.
Burger prospect
Shell drilled four wells between 1989 and 1991. Among them was a well at a prospect called Burger – the same prospect that Shell targeted this time around. Past drilling revealed that Burger is likely gas-rich, with a mean estimate of 14 trillion cubic feet of reserves, plus a mean estimate of 724 million barrels of gas condensate, according to the Bureau of Ocean Energy Management, the successor agency to the MMS.
That discovery, in a remote location 70 miles from shore and in an era of low oil prices, was not worth developing then — as is the case with what Shell discovered this year. Shell plugged and abandoned that first Burger well and its other three from that previous exploration campaign. Chevron in 1991 did the same with its Chukchi well, called Diamond.
Of the 30 wells that were drilled in federal waters of the eastern Beaufort Sea from 1981 to 2003, few generated as much excitement as the three drilled by Arco Alaska Inc. at a prospect called Kuvlum 16 miles off the coast. Arco announced in 1993 that it had struck a lot of oil there – possibly billions of barrels and the third-largest field in Alaska. "Data from the single discovery well indicate that the size of the structure could make Kuvlum the largest domestic oil discovery since Prudhoe Bay and Kuparuk were discovered decades ago," Arco Alaska President Skip Bilhartz said at the time.
Later that year, Arco declared the Kuvlum discovery to be too small to be worth developing, especially that far offshore and in a time of low oil prices. Arco relinquished the leases to the federal government in 1999.
Back with a roar
In 2002, when Frank Murkowski was trying to trade his position as a U.S. senator for the Alaska Capitol, he spent part of the campaign touting what he predicted would be a solution to Alaska's fiscal problems – an expected 300,000 barrels a day of oil production he said would come from the McCovey prospect in federal waters of the Beaufort Sea that was being explored by Calgary-based EnCana. Murkowski won the gubernatorial election, but the McCovey prospect turned out to be a loser. EnCana plugged and abandoned its McCovey well in early 2003.
Shell, which had departed Alaska entirely after its previous Arctic offshore attempts, came back with a roar a decade ago, bidding $84 million for Beaufort Sea tracts – including Arco's old Kuvlum tracts — in lease sales in 2005 and 2007.
When Shell put up $2.1 billion in the MMS's record 2008 lease sale for exploration tracts in the Chukchi Sea, a top corporate executive was sent to Anchorage to explain the aggressive return to that remote frontier.
"I see it as a proven, prolific and undeveloped hydrocarbon basin," Annell Bay, Shell's vice president for exploration in the Americas, told reporters after the lease sale. "This is an opportunity to develop a proven and prolific basin to supply energy security for North America."
Seven years later, Shell proclaimed its drilling results "not sufficient to warrant further exploration in the Burger prospect" and that it "will now cease further exploration activity in offshore Alaska for the foreseeable future."
Onshore vs. offshore
High costs and vast distances make only a huge offshore Arctic oil discovery worth pursuing, said Matt Berman, a University of Alaska Anchorage economist.
"Something that might be a giant oil field and make sense if it were onshore just doesn't cut it offshore," said Berman, who is with UAA's Institute of Social and Economic Research.
Not every exploration effort in the Arctic outer continental shelf was doomed to failure and abandonment.
Two leases from the very first Beaufort outer continental shelf sale wound up rolled into what later became known as the Northstar unit, developed by BP on mostly state offshore territory and now operated by privately held Hilcorp Energy Co. Northstar began producing in 2001; the federal leases in it provide the only commercial oil production anywhere in the federally controlled Alaska outer continental shelf.
Hilcorp has also picked up the flag for BP's long-delayed Liberty unit, located in federal waters barely beyond the state's 3-mile territorial limit.
BP struck oil in the 1990s at Liberty, a unit estimated to hold 150 million barrels of recoverable oil. But promises that oil would start flowing in 2011 fell after BP submitted, then discarded, two separate development and production plans. In 2012, in the aftermath of the Deepwater Horizon disaster, BP suspended Liberty. Last year, BP sold half of Liberty to Hilcorp, and the Texas-based company is now the unit operator.
Hilcorp now has a new Liberty development and production plan pending before regulators. If this third plan is approved and carried out, Liberty will be the first producing oil field located entirely in Alaska's outer continental shelf.
There is still an opportunity for new oil explorers to try the luck in the offshore Arctic. BOEM has lease sales tentatively scheduled lease sales for the Chukchi in 2016 and the Beaufort in 2017.
Related stories from around the North:
Canada: Metal, mineral price drop affecting Canada's North, Eye on the Arctic
Denmark:  Faroe Islands cashing in on Russian sanctions, Barents Observer
Finland:  Finland trims economic growth forecast, Yle News
Iceland:  Calls for action at Arctic shipping conference, Alaska Dispatch News
Norway: Arctic Council aims to boost business, Barents Observer
Russia: China to provide parts for Russian offshore projects, Barents Observer
Sweden: Government to form council of researchers for sustainable development, Radio Sweden
United States: What Shell's decision means for Alaska economy, Alaska Dispatch News