Finland: Rebranding 'superfoods of the North'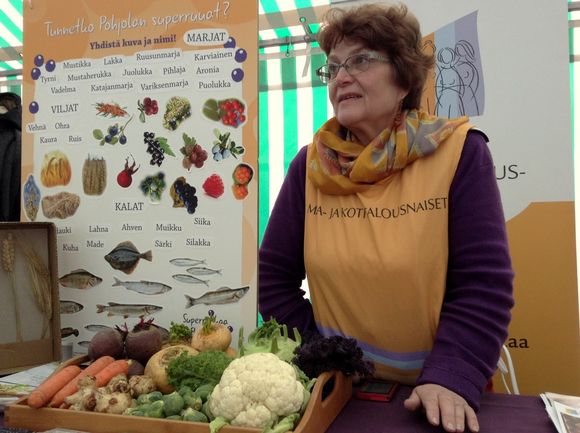 For years, Finnish root vegetables and freshwater fish stood neglected in the grocery aisles, as younger generations ignored them because they no longer knew their benefits or how to prepare them.
But rebranding the old Finnish standards as "Superfoods of the North" has aroused new interest in Finland's healthy domestic treasures, and sales are once again picking up.
The "Superfoods of the North" project was a brainstorm of a rural women's group to convince Finland's younger generations that traditional Finnish staples have just as many healthy properties as the trendy imported products sold in shops today that go by the name of superfoods.
"We don't need any chia seeds or goji berries in Finland because we've got something just as good, up close and local," says Soila Hiltunen, of the Oulu branch of the Rural Women's Advisory Organisation, a network of 11 regional centres promoting lively and active rural communities.
Hiltunen says the Finnish blueberry has already been acknowledged by the world as a superfood, but there are plenty of other examples that are just as healthy.
"Finnish berries and mushrooms provide clear health benefits, just like root vegetables and whole grains. The freshwater fish species found here, like whitefish (siika), vendance (muikku), pike (hauki) and roach (särki), also contain healthy fatty acids," she says.
Re-discovering traditional foods
For generations Finnish residents used various root vegetables as a replacement for or accompaniment to potatoes in everyday food. As is the case with many other raw ingredients, they have now fallen out of use.
"We are often faced with a lack of skills in this area. You could say that an entire generation in Finland slipped through the cracks. They can't make food because they never learned how," she says.
Fortunately, it appears that more and more people are showing an interest again.
"Now the new generation has enthusiastic cooks again and they are eager to try the traditional raw ingredients. There's also a renewed interest in growing gardens," Hiltunen says.
Hiltunen says she has particularly noticed a renewed interest in domestic fish, as many people are surprised to find Finland's lakes have so many edible species.
Nordic cuisine is trendy
Nordic cuisine is popular throughout the world at present among foodies. Berries, mushrooms, other forest delicacies, freshwater fish and game each have their own particular healthy attributes. The women of the Oulu Rural Women's Advisory Organisation have made it their mission to spread the word with public events and cooking courses.
"The Internet is also full of recipes, if you don't have a mother or grandmother who might have a few to share. I encourage everyone to bravely give it a try!"
Related stories from around the North:
Canada: Country Food vs. Junk Food (Video), Eye on the Arctic
Finland:  Northern berry may find use in cancer therapy, Yle News
Norway: The food crisis in the Far North, Barents Observer
United States: Can traditional Alaska Native foods be sold? A clash of legal, cultural opinions, Alaska Dispatch News