Ice-Blog: Farewell to 'Last Ice' victims
This week I had the chance to join friends and admirers of Marc Cornelissen and Philip de Roo at a ceremony held in their home country, the Netherlands. The unusually warm November weather, with people sitting out eating ice cream, seemed oddly apt for a tribute to two people who died doing climate research.Philip and Marc were travelling by ski, taking ice measurements, when the tragedy occurred.
The mission was part of the "Last Ice Survey", a title that became tragically apt for the two experienced polar travelers. The area they were crossing was thought to be the place where summer sea ice would continue longest in spite of progressing climate change. Alas, it seems the ice in this part of the rapidly warming Arctic was much thinner than the two expected. Marc's body was found soon afterwards. Philip is still officially classed as "missing".
I was deeply affected by the loss of these two fellow Arctic enthusiasts, as I explained in myblog post of May 8, 2015. Marc Cornelissen has a special place in my memory. It was on an expedition to the Alaskan Arctic in 2008 led by Marc that I first started to write the Ice Blog and realized the Arctic and the effects of a warming planet on this unique, beautiful and fragile region would be a key focus of my work for ever afterwards.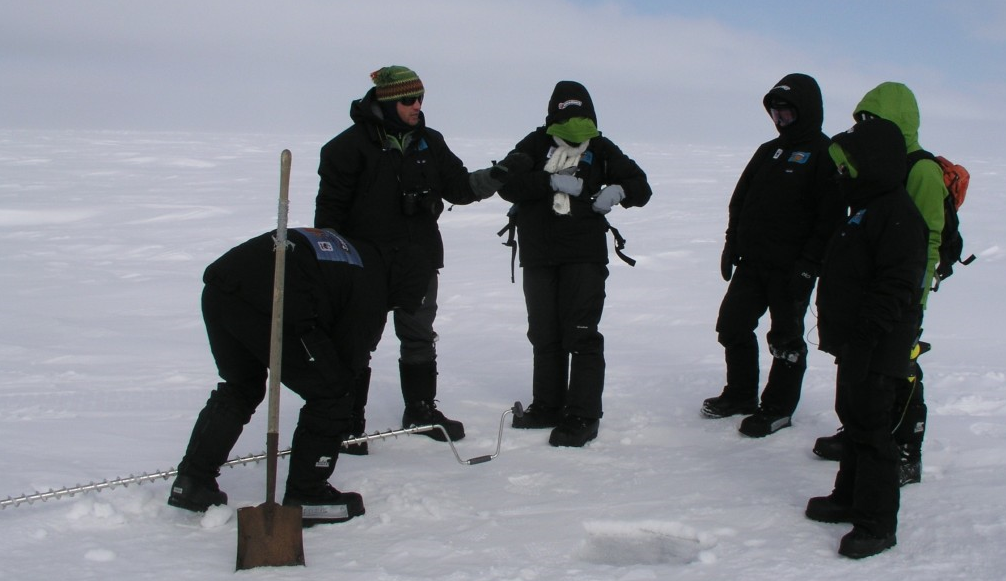 Farewells and new beginnings
The gathering in the Hague brought invited guests together to remember the two victims of the "Last Ice", say farewell, and at the same time assert the importance of carrying on their work: trying to understand and communicate the significance of the polar regions and the urgent need for scientific research – and climate action.
It was a beautifully composed tribute – and a moving experience. Seeing video footage of the two explorers on their various excursions to the north and south poles or across the Greenland ice sheet vividly brought them back to life for a time – and illustrated for me why they were in love with the icy parts of our planet. The blue skies, the sparkle of ice crystals, the vast whiteness compensate no end for the storms and skin-biting cold. And, yes, ultimately, the risk of venturing into these regions. For all our modern technology, our remote sensors, our satellites, there is no substitute for the calibrating observations and measurements taken by people like Marc and Philip in the field under conditions which are unpredictable and potentially fatal.
Life in the 'northern lights'?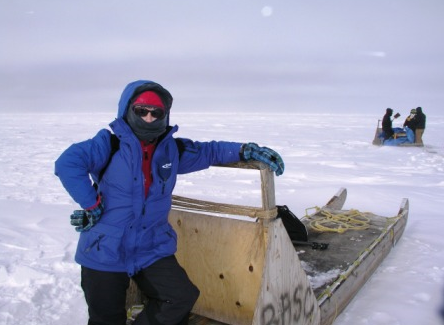 A close friend of the two told us his daughter's reaction on hearing about the disappearance of the two. She wondered if they had gone into the "Northern Lights". A beautiful, touching, comforting and somehow hope-inspiring, image. What better a theme to intersperse the short spoken tributes and film memories of two brave and committed explorers and researchers, and visualize the continuity of life and nature in the face of individual tragic loss.
I watched it all with Cara Augustenborg, whom I first met on that trip to Alaska in 2008. She was one of the young ambassadors of the Climate Change College (CCC), a project organized by the ice-cream company Ben & Jerry's and the Worldwide Fund for Nature (WWF). She explained in her own moving blog post back in May how she had been affected by the death of Marc Cornelissen, who had played a key role in inspiring her own commitment to climate activism. Like the other young participants, she had been selected for the CCC because she was already working on her own climate project.
The idea was to take young people to experience the Arctic for themselves, and so help them understand the need to combat the climate warming which is changing it faster than any other part of the earth. Today, she and the others have moved on to professional careers in different fields of environment and climate protection. A living tribute to the effect charismatic and committed characters like Marc and Philip can have in inspiring others.
A world-changing legacy
As the ceremony came to an end and the videos and musical accompaniment gave way to still photos from Marc and Philip's ultimate 'Last Ice' expedition, I caught my breath in a hall filled with silence and respect. Their smiling faces on the screen, in the Arctic whiteness, gave way to images of dancing northern lights.
I left the room feely deeply moved, but with a feeling, not of closure, but of continuity and moving on. As we exchanged impressions, memories, and plans for the future over a light supper together, I met one woman who was working with Marc on a schools campaign to teach kids about climate change. Another told me how she had been looking forward to meeting him after his return from Canada to push ahead with a project involving an Antarctic trip and a solar-powered vehicle. Cara told me of her involvement with Al Gore's "Climate Reality" movement, and we discussed ways of motivating more people to take action. I felt privileged to be in the presence of so many committed individuals, inspired to get out there and get on with transforming our energy supply, modifying our lifestyles and taking on responsibility for making sure the world we live in is still habitable for generations to come.
More on the website Cold Facts, set up by Marc Cornelissen to promote research in polar regions.

Related stories from around the North:
Canada:  Arctic Council talks climate, COP21, suicide in North, Eye on the Arctic
Finland:  Temperature record broken in Finland, Yle News
Greenland:  Changing Sea Ice: The Ripple Effect (VIDEO), Eye on the Arctic
Norway: 2014 warmest year in history for Norway, Barents Observer
Sweden: Fossil-Free Sweden initiative aims to lead by example, Radio Sweden
United States:  Feature Interview – The politics of climate, Eye on the Arctic