Alaska to lose much of its shallow permafrost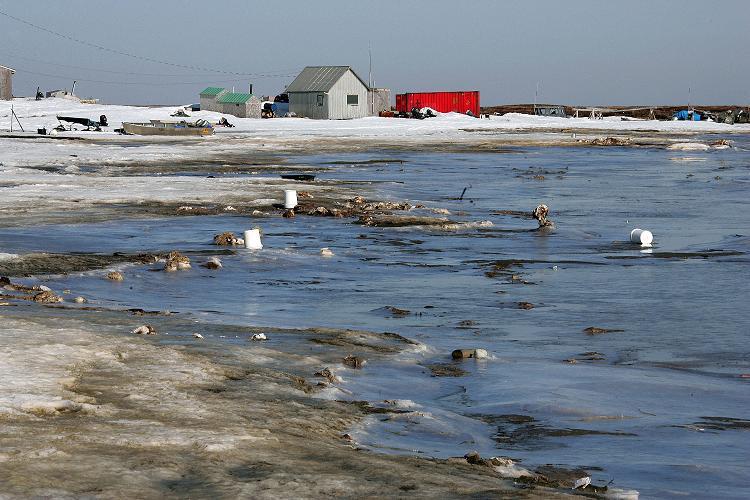 Shallow permafrost lies beneath the surface of more than a third of mainland Alaska, but 16 percent to 24 percent will disappear by the end of the century, a study led by the U.S. Geological Survey says.
The study, published in the journal Remote Sensing of Environment, calculates the thaw that is expected to occur as accelerated warming continues in the tundra and boreal ecosystem of the northern latitudes. It uses current mapping data to estimate locations of existing near-surface permafrost, considered to be that which starts within 1 meter below the surface. About 38 percent of mainland Alaska has such permafrost, the study says.
That total is derived from about 17,000 field measurements in which scientists used probes to determine how close the permafrost is to the surface, said co-author Bruce Wylie of the USGS's Earth Resources and Science Observation Center in Sioux Falls, South Dakota. The probe is inserted, and when it hits permafrost "it makes a dull thud," he said. The authors also used information from other studies and sources to determine the current extent of near-surface permafrost, he said.
To predict future permafrost loss, the study analyzes effects from expected temperature and precipitation changes, Wylie said. The result? "The area that will have near-surface permafrost will be 16 to 24 percent less," he said.
That may be a conservative estimate.
Impact on central Alaska
The study does not factor in changes to vegetation or wildfires, which have become more plentiful and large as the Alaska climate warms, Wylie said. That trend is expected to continue.
According to the study, the areas where near-surface permafrost loss will be most dramatic will be in the central part of the state, where probability of encountering near-surface permafrost in 2090 will drop to 10 percent or below, according to a set of predictive maps included in the study.
Permafrost thaw affects flow of groundwater and surface water and local transportation, the USGS said in a statement. Continued permafrost thaw is expected to release previously stored carbon into the atmosphere, the USGS said in its statement.
That last effect might be the most profound, Wylie said.
"We've got all this carbon that's been frozen since who knows when," he said. "It's been in the deep freeze. So it's been sequestered for a long, long time."
Once that thaws, "it's a huge source of additional carbon into the atmosphere," he said. That makes it a positive feedback to the cycle — warming-caused carbon release that causes more warming, he said. "That's the big concern," he said.
The study does not predict effects to deep permafrost, Wylie said.
Related stories from around the North:
Canada: Canadian river carries carbon from thawing permafrost to sea, Alaska Dispatch News
Finland:  Climate change brings new insect arrivals to Finland, Yle News
Greenland: Can we still avert irreversible ice sheet melt?, Deutsche Welle's Ice-Blog
Norway:  UN Secretary-General to visit Norwegian Arctic, Eye on the Arctic
Russia:  Ancient virus found in Arctic permafrost, Alaska Dispatch News
Sweden:  How will global warming affect the average Swede?, Radio Sweden
United States:  2007 Arctic Alaska fire sparked permafrost thaw, Alaska Dispatch News