Arctic psychiatrist gives tips for coping with SAD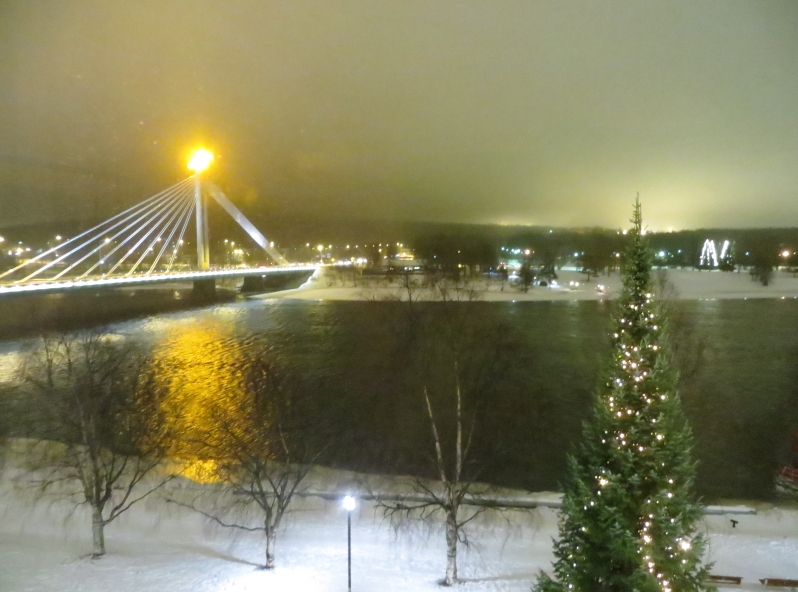 Rovaniemi-based psychiatrist Antti Liikkanen lives in Finnish Lapland, where the sun goes down in late November and doesn't come up again until mid-January.
If anyone, he knows how to deal with the winter blahs. Liikkanen advises that the best medicine for dispelling the phlegmatic feeling that comes with prolonged darkness is a walk outside, vitamin D and chocolate.
According to the Finnish Meteorological Institute, in the northernmost areas of the Arctic Circle, the period when the sun does not rise above the horizon at all, "polar night", can last for up to 51 days. In southern Finland, the shortest day is about 6 hours long.
No matter which part of the country you live in, things get pretty dark this time of the year. No surprise then that a full one-third of Finns complain of a loss of get-up-and-go. Complaints of lethargy, an increased need for sleep and an inflated sweet tooth are familiar manifestations of the syndrome internationally known as SAD, seasonal affective disorder.
Rovaniemi psychiatrist Antti Liikkanen, who practices north of the Arctic Circle, warns people not to confuse SAD with the more serious condition of depression. Approximately one percent of Finns suffer from depression during the winter months, and this is something that cannot be addressed with easy fixes, as therapy and perhaps medication are often necessary, he says.
For people dealing with the symptoms of SAD, however, he nevertheless offers three handy tips – and one fair warning.
1. Get outside, but remember your hat!
The sun will rise for the next time in the city of Utsjoki on 16 January 2016. Yet even in the northernmost reaches of the country, a certain part of the day still has a little more twilight, and Liikanen says this is the opportune time to get outside.
"Half an hour of outdoor activities between 10 am and 2 pm is great. But remember to wear a hat, even if the temperatures are above zero," he says.
"Cold affects people even more detrimentally than darkness. Our genetic heritage can be traced back to Africa, so living beyond the Arctic Circle is a little inhuman."
Catching even a glimpse of light during outdoor activities refreshes and cheers us up during the long winter months. If you don't have enough momentum to exercise, even just a leisurely walk is preferable to lying on the sofa.
2. Make sure to get your Vitamin D and chocolate
Liikkanen says the most important dietary supplement during the months without sunshine is Vitamin D3. In fact, he says, it is the only supplement that is truly necessary.
"It's not even really a vitamin, it is a hormone. Everyone should take 20 milligrams of D3 every day. I take 50 milligrams daily myself," says Liikkanen.
Personally, he would leave Vitamin B and C supplements on the shelf. Instead he advises moderate enjoyment of chocolate, dark and white.
"Give in a little to your desire for carbohydrates."
3. Respect the dark season and rest
Liikkanen is not a big proponent of using bright lamps to treat seasonal affective disorders. He says people should take advantage of the dark months the northern climate supplies to store up their energy and rest.
"Respect the dark, take it easy and rest. Leave your big business and municipal decisions to brighter months. Don't try to do everything during the heart of winter," he says.
"If you feel that bright lights help you, then that's fine, of course. But you should also listen to what nature is trying to tell you."
Resist the urge to book that last-minute trip to the sun
Liikkanen says the worst solution to the annual doldrums is to book a vacation down south somewhere. Especially if you can't afford it.
"People imagine that it will cheer them up if they spend a week in a pool somewhere drinking cocktails. A trip somewhere warm is not the best cure – naturally anyone can travel if they want to – but it costs a lot of money and the climate suffers for it."
Related stories from around the North:
Canada:  The elephant in the room – Mental health in Arctic communities, Blog by Heather Exner-Pirot
Finland:  OECD 'concerned' over high suicide rates in Finland, YLE News
Sweden:  County in Sweden's North has best mental health in country, Radio Sweden
United States: Examining mental health in Arctic Alaska, Alaska Dispatch News