How Iditarod checkpoints get their straw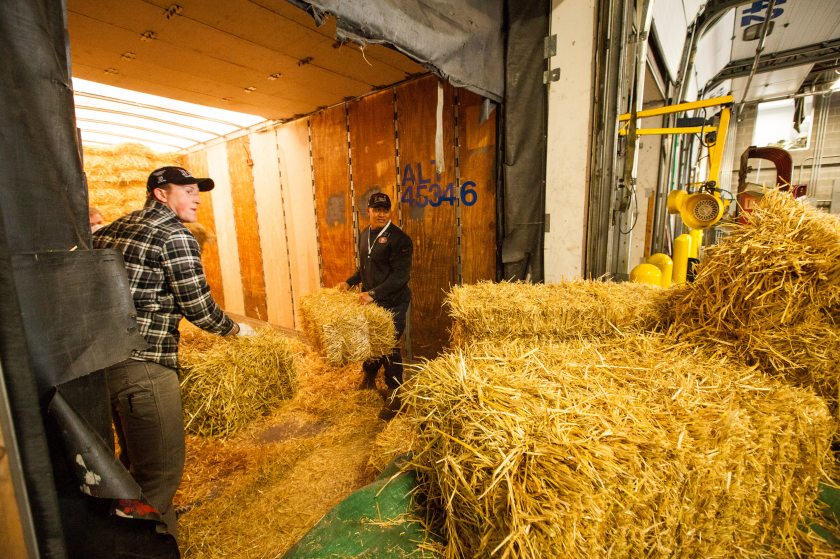 Mushers need straw — lots of straw — for their dogs during the Iditarod Trail Sled Dog Race, and on Thursday roughly 50 volunteers in Anchorage carried, bagged and stacked about 1,500 bales of it for the 1,000-mile race to Nome.
"It's a lot of heavy work," said a 19-year-old volunteer who spent hours inside Air Land Transport, hoisting straw bales out of trucks and dropping each of them into a blue bag.
Other volunteers tied the bags closed. They stacked a dozen bales onto each wooden pallet and then wrapped them together in clear plastic. The giant blue cubes were then weighed. One volunteer recorded their totals: 376 pounds, 375 pounds, 404 pounds and so on.
$15,000 of straw
Iditarod race director Mark Nordman said the straw bales were purchased from two farms in Delta Junction and then driven more than 300 miles south to Anchorage. The straw cost about $15,000 and is one of the things covered by the mushers' $3,000 entry fees, Nordman said.
Next, the straw bales will travel by plane to each checkpoint, he said. Jennifer Ambrose, who has volunteered for the Iditarod since 2000, said checkpoints get a certain number of bales based, in part, on how many mushers have rested their dogs at that location in the past.
Nordman said race organizers are also sending 15,300 wooden stakes with orange neon tips to mark the trail, along with $20,000 worth of Heet — fuel that mushers use to heat water. Nordman said the Heet was purchased from Sam's Club.
Most of the volunteers Thursday came from the Church of Jesus Christ of Latter-day Saints, Ambrose said. Others signed up as individuals or in pairs.
"We couldn't do it without them," she said of the volunteers. "It's too big."
Bagging bales
Colleen Dye, 53, and her husband Dave, 57, carried and bagged straw bales starting around 9 a.m. Thursday. They said they moved to Wasilla from upstate New York on Dec. 22 because they wanted to get involved with the Iditarod.
Dye said that for the past decade she has brought the race to students at the Mount Markham Central School District, where she worked in technology support. Last year, she live-streamed the race on a big screen so students could watch Dallas Seavey cross the finish line in Nome, pocketing his third Iditarod win.
"It inspires them," she said.
The couple arrived in Alaska on a "two-year plan" that they're already considering extending, she said.
Both have signed up to volunteer at various points throughout the race, including next week's food drop. But Thursday's task — their first taste of Iditarod volunteering —brought Dye back to her childhood.
"I find it kind of ironic that we drove 4,500 miles up the Alcan highway from upstate New York to throw bales, because I'm a dairy farmer's daughter," she said. The couple laughed.
IDITAROD DATES
Musher Food Drop — Feb. 15 in Fairbanks; Feb. 17-18 in Anchorage
Dog Handler Training — Feb. 20 in Wasilla
Jr. Iditarod Start — Feb. 27 at Knik Lake