New Obama plan eyes further Arctic protections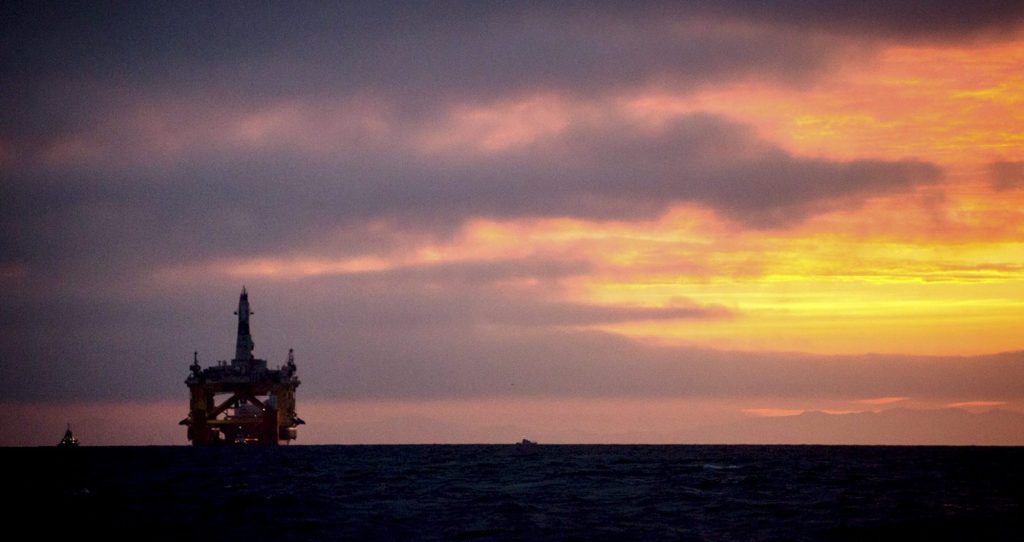 WASHINGTON — The Obama administration released its proposed five-year offshore drilling plan for federal waters Tuesday, leaning toward allowing three lease sales in Alaska, but leaving the option to close some Arctic waters to oil and gas activity.
The proposed offshore plan — from 2017 to 2022 — will still take comment on holding no lease sales, but the big shutdown news was reserved for the Atlantic coast, where the administration decided that it will not hold lease sales, after input from coastal residents, the fishing industry and the Department of Defense.
Given market conditions and opposition to drilling in that region, "it simply doesn't make sense to move forward with a lease sale in the near future," said U.S. Department of the Interior Secretary Sally Jewell.
Canceling the lease sales in Alaska "is always a possibility," Jewell said, but "that is definitely not the administration's main focus." For now, the administration still plans to hold three lease sales, one each in the Chukchi Sea, the Beaufort Sea, and the Cook Inlet area, Jewell said.
New considerations for Arctic
The proposal does scale back from the plan that governed the years 2012 to 2017, when seven lease sales were on the table. But no Arctic offshore leases have actually been sold since 2008, and Inlet lease sales were canceled last year when no interest emerged, largely due to the rough economic climate for the oil industry.
And there are new considerations at hand for the Arctic, following a yearlong process of collecting information from residents and others with an interest in Alaska drilling.
"During the public meetings to scope the Environmental Impact Statement, several North Slope communities noted additional areas that may not be appropriate for oil and gas leasing" for reasons related to ecological resources or subsistence hunting, the Interior Department said.
These "environmentally important areas" will be a key focus for the department as it works to finalize its program and asks for additional input from Alaskans.
"We recognize that the Arctic is a unique place that demands specialized planning and careful consideration," Jewell said. So during this next 90-day comment period, the administration is considering further measures to protect Arctic resources "and reduce conflicts with other ocean uses."
Whaling areas blocked
Already, the Obama administration has blocked 9.8 million acres off the coast of Alaska from consideration for oil and gas leasing. That includes whaling areas in Barrow and Kaktovik; a 25-mile shoreline buffer zone on the Chukchi; the Hanna Shoal Area, a 30-mile rock shelf off the coast that is a key habitat area for walruses and seals; and the entire North Aleutian Basin, which includes Bristol Bay and its fisheries.
The plan follows pledges by President Barack Obama and Canadian Prime Minister Justin Trudeau last week to ensure the environmental health and indigenous rights of people in the Arctic. Obama and Trudeau said they would only allow commercial drilling in the Arctic that meets the highest possible safety and environmental standards — including with respect to climate change.
In the Arctic, Natives have identified new areas "where there is a potential conflict between oil and gas activities and important ecological resources or subsistence practices," Jewell said.
She said that new areas of protection would not necessarily mean cutting off lease sales, though it may alter them.
"There is a spectrum that we would look at. If there's an area that would warrant additional protection, you have to understand that more thoroughly," Jewell said. If the issue is seasonal, like migration of a marine mammal, there may be lease stipulations to mitigate that. But if it's a very sensitive area, the agency may do a permit withdrawal, like they did with the Hanna Shoal area. Or the Interior Department could decide that an area is "sensitive enough that we're not even going to put it out for lease at all," she said.
Though the agency is headed towards new lease sales, the option is always open to do no lease sales, and that is reflected in the plan issued Tuesday.
Focus: Alaska
Environmental groups opposed to offshore drilling lauded the decision to cut off lease sales in the Atlantic, but felt the administration didn't go far enough in Alaska.
"We are disappointed that BOEM (U.S. Bureau of Ocean Energy Management) dismissed major risks and climate change concerns, and has moved a step closer to finalizing plans for further oil and gas leasing in the Arctic Ocean," said Lois Epstein, Arctic program director for The Wilderness Society. "This remote, fragile and rapidly warming environment is simply too important to drill.
League of Conservation Voters president Gene Karpinski cheered the East Coast announcement, and said his group appreciates "that areas of the pristine, fragile and remote Arctic Ocean are being considered for protection and hope[s] that this proposal results in Arctic drilling being taken off the table for good."
But those who want to see more drilling in Alaska were buoyed by the news.
"This is good news for Alaska," Gov. Bill Walker said after he was informed by Jewell Monday the plan allowed for three lease sales in the state. "Today's announcement gives Alaska flexibility in planning beyond the current price conditions."
Walker said he would work closely with residents of the North Slope going forward. "I look forward to having detailed and nuanced conversations about how we can construct lease sales so they benefit Alaska economically, but also limit risks to other activities," Walker said.
Regulatory environment challenges
Rep. Don Young said the plan to hold Alaska lease sales is good, but not good enough. "While Alaska doesn't necessary lose footing in its fight for new development opportunities in today's Proposed Program, the plan does nothing to roll back the harmful decision last year to take massive portions of the Beaufort and Chukchi Seas off the table for future oil and gas leases," and "leaves the door open" to making more areas off limits for drilling, Young said.
The areas up for leases are rich with resources, but Young said the regulatory obstacles Shell faced during its recent failed effort to drill in the Arctic is likely to warn off potential bidders.
"Unless the DOI and the agencies under its umbrella work to create a regulatory environment that truly gives exploration a chance, I have no expectation for successful development in the Arctic under the Obama administration. I find little rejoice in the inadequate number of lease sales being offered today and the regulatory environment under which they are being released," Young said.
Alaska Sen. Dan Sullivan also blamed the Interior Department and "confusing and conflicting regulations" for Shell's failure in the Arctic. To that end, he compared Tuesday's announcement to "a car dealership announcing a lease sale without providing any keys," and suggested few companies are likely to take the Interior Department up on the offer.
'Ominous warning to Alaskans' says Murkowski
Sen. Lisa Murkowski, who heads the powerful Committee on Energy and Natural Resources, said the decision to maintain lease sales is "welcome news," but noted that the change of heart on Atlantic offshore leases "is an ominous warning to Alaskans" that the state's lease sales could suffer the same fate.
The state got the "bare minimum" — three lease sales and more input on blocking off new areas, and "Alaskans must rally to remain vigilant and defend this small victory," Murkowski said.
Meanwhile, at the University of Alaska Fairbanks, some students were out demonstrating in support of climate change action during the Arctic Science Summit Week taking place at the campus on Tuesday.
The Northern Alaska Environmental Center and others planned the demonstration to coincide with the ongoing Arctic-focused events, and it was just coincidence that it happened on the day the five-year plan was announced, said Jessica Girard, program director of the center. But the plan was on her mind.
"I think it takes us into more dependence on fossil fuels," Girard said before addressing the crowd. Even if oil is found in the (Outer Continental Shelf), it would be 10 years before it could be developed, and by then alternative energy should have largely replaced oil, she said. "Instead of making decisions that take us into the past, we should be looking at energy for the future," she said.
Drilling elsewhere
There are currently 5,000 active offshore leases, mostly in the Gulf of Mexico, according to the Interior Department.
In the Gulf of Mexico, the Interior Department plans to hold 10 lease sales under the new plan. Jewell said she expects the Gulf will "remain one of the cornerstones for domestic energy production for many years to come."
The Pacific Ocean off California, Oregon and Washington will hold no lease sales, as previously proposed, considering strong opposition to offshore drilling from those states.
Public hearings
Tuesday's announcement came after a year of collecting new input on a draft offered last year. The Interior Department gathered more than 1 million comments, held 23 public meetings and scores of discussions with industry, nonprofits, and elected officials, including Walker.
The agency will take public comments on the new proposal for 90 days.
"We know the Arctic is a unique place of critical importance to many – including Alaska Natives who rely on the ocean for subsistence," Jewell said Tuesday, urging the public to get involved with the decision going forward.
Ten hearings will be held in Alaska from March 29 to April 6. Location and timing information is available on BOEM's website.
Related stories from around the North:
Canada:  Energy challenges in Canada's North, Eye on the Arctic
Finland:  Chinese energy giant plans €1bn biofuel plant in northern Finland, Yle News
Norway:  Northernmost oil platform now pumping after years of delay, The Independent Barents Observer
Russia: Arctic offshore oil more than doubled in Russia, The Independent Barents Observer
Sweden:  Will Sweden be able to produce enough energy in the future?, Radio Sweden
United States: Obama, Trudeau announce plans to fight Arctic oil and gas pollution; Alaskans criticize lack of input, Alaska Dispatch News