How soldiers and park rangers are preparing for Denali climbing season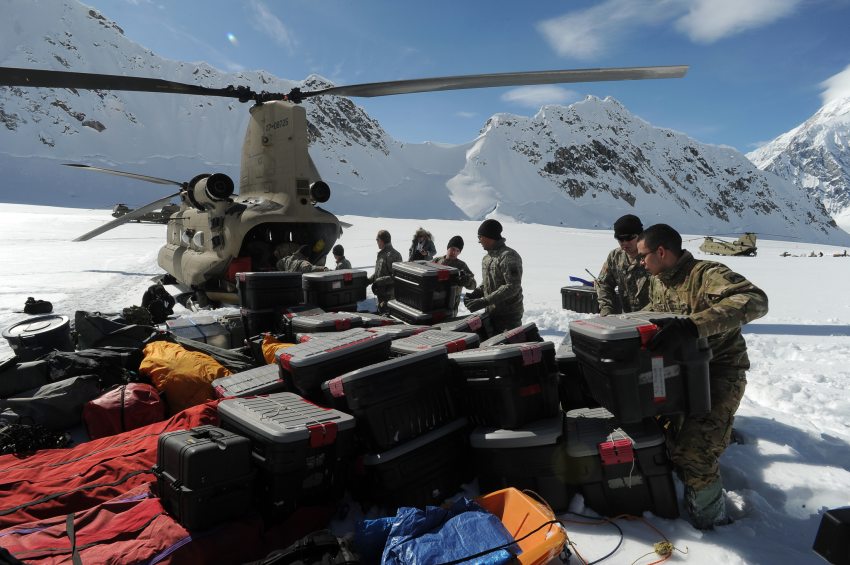 KAHILTNA GLACIER BASE CAMP — Three massive U.S. Army helicopters swept onto a stretch of snow here Sunday, surrounded by mountains and carrying more than 11,000 pounds of food, tents, medical supplies, tables, shovels, solar panels, sleds and more.
It's the start of the remote Kahiltna Glacier base camp, the main gateway to North America's highest mountain peak. By Sunday, 16 people had started the climb up Denali, which stands at 20,310 feet.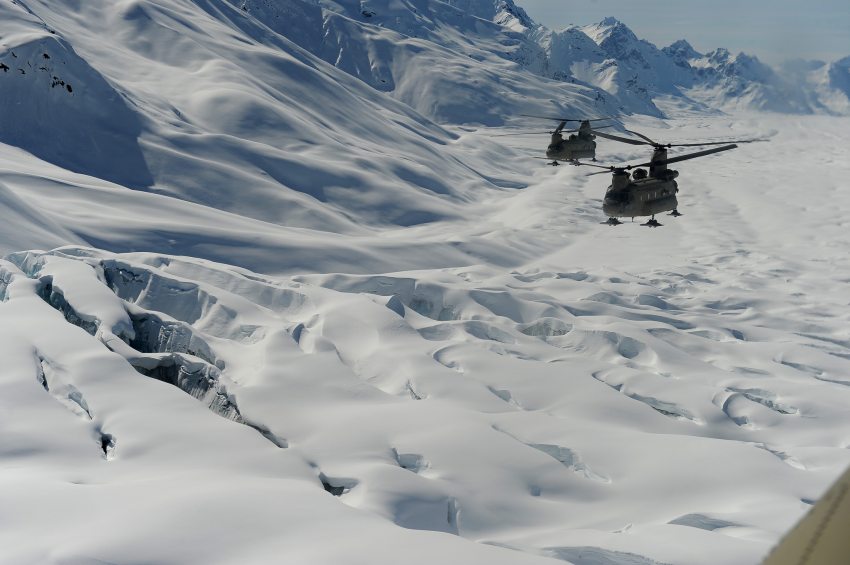 But National Park Service rangers said it's still early in the climbing season for the ascent. Most people attempt to summit the mountain from late May to early June. Then, Denali's popular West Buttress route can have between 500 and 600 climbers on it at one time.
Soldiers and rangers are preparing for their arrival.
Long-time partnership
For the soldiers, Sunday capped a week-long training session in the Alaska Range. It's part of a decades-old partnership between the U.S. Army and the Park Service.
"It's kind of an 'I'll scratch your back, you scratch mine,'" said Kirk Donovan, chief warrant officer with Company B, 1st Battalion, 52nd Aviation Regiment based at Fort Wainwright in Fairbanks.
For the Army unit, the partnership means soldiers get to use Denali National Park and Preserve as a gigantic training ground for a week. They practice flying the CH-47F Chinook helicopters at high altitudes, landing on peaks and hoisting each other off mountains. The soldiers receive their high-altitude rescue team qualification, Donovan said.
In return, the Army uses those helicopters to haul Park Service gear up to the Kahiltna Glacier. One soldier likened the helicopters to a flying school bus or a large dumpster. Each one weighs nearly 25,000 pounds.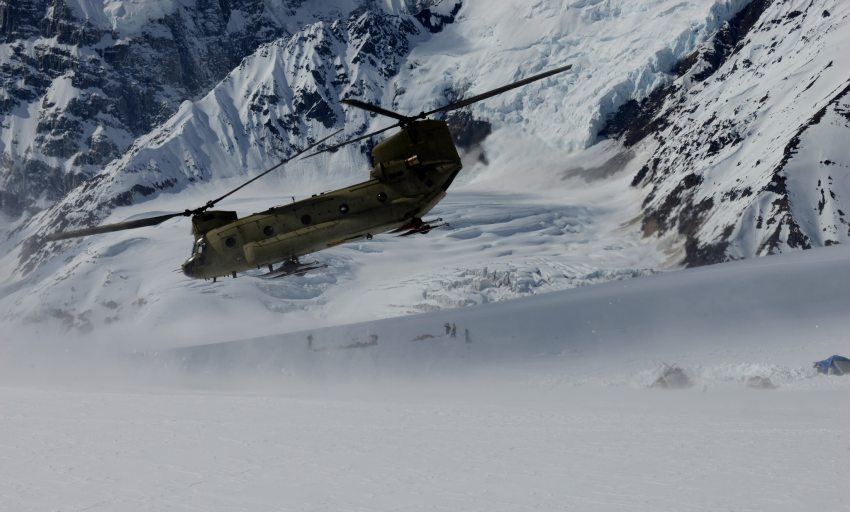 On Sunday, the Chinook helicopters took off from Talkeetna — flying over glaciers and between steep mountains amid clear skies and a bright sun. They carried the Park Service equipment, mountaineering rangers, soldiers and reporters.
Upon landing here, rangers began digging holes in the snow to store fuel. Soldiers formed an assembly line. They stood in the calf-deep snow and unloaded dozens of plastic boxes marked with labels like "All Burgers," "Spices and Oil" and "Bread."
As they passed down the boxes, they called out, "This is kind of a heavy one," or "This is is really, really light."
"It never ends," said one soldier.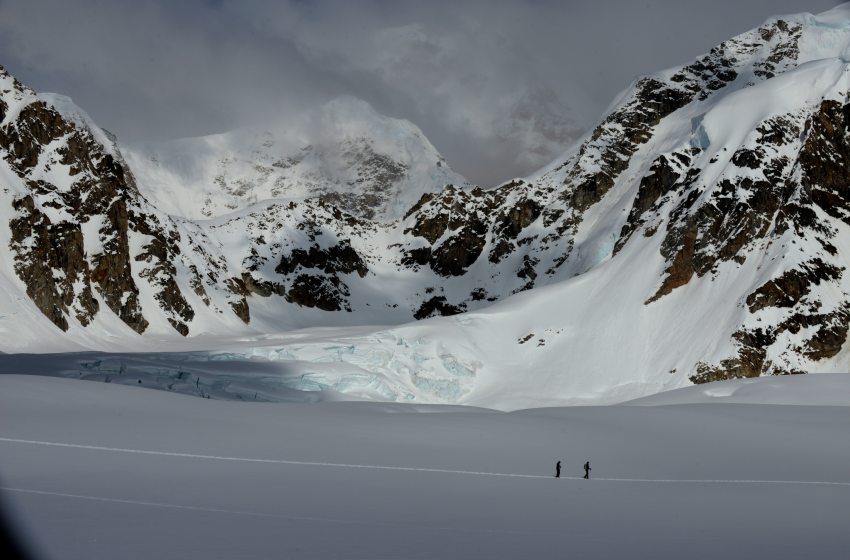 A Park Service contract helicopter will fly about two-thirds of the equipment to a Park Service camp at 14,200 feet on Denali, where rangers will set up communication and medical tents.
Other equipment will stay at the Kahiltna Glacier base camp at 7,200 feet. It's the main access point not only to Denali but also to other major peaks including Mount Foraker and Mount Hunter.
"Denali is one piece of a 1,000-mile puzzle," said Melis Coady, a Park Service mountaineering ranger. "There's a lot of really interesting, exploratory climbs."
[McKinley no more: North America's tallest peak renamed Denali]
Soon, the mountaineering rangers will start patrolling Denali in month-long shifts. They will climb between base camp and a third camp at 17,200 feet, reaching the summit if time allows. The rangers typically go at a slower pace to acclimatize and interact with other climbers, said Dave Weber, a Park Service mountaineering ranger.
"This is the best office in the world," he said. "I can't think of any set of windows at a desk anywhere in the world that has 360 degrees of this."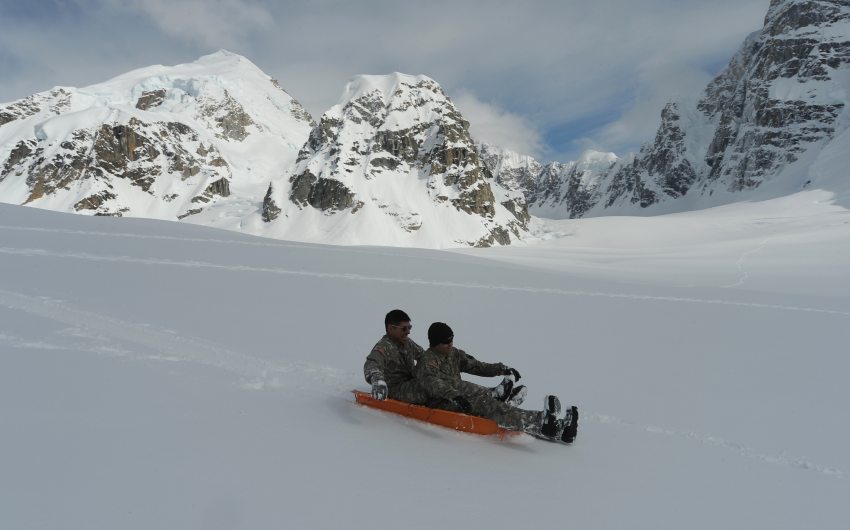 Mild temperatures
Up a small, gradual hill from the helicopters, a handful of climbers had set up colorful neon tents by Sunday afternoon. Geoffrey Johnson, 34, of Boston looked over the edge of the hill, down at the bustling scene of soldiers and Park Service rangers.
Around the tents it was quiet. Johnson, who works full time as a software developer, said he was taking a 12-day trip with a friend. They each had a tent set up next to a shared blue cooking tent.
The weather, for the most part, had remained pleasant and sunny, he said.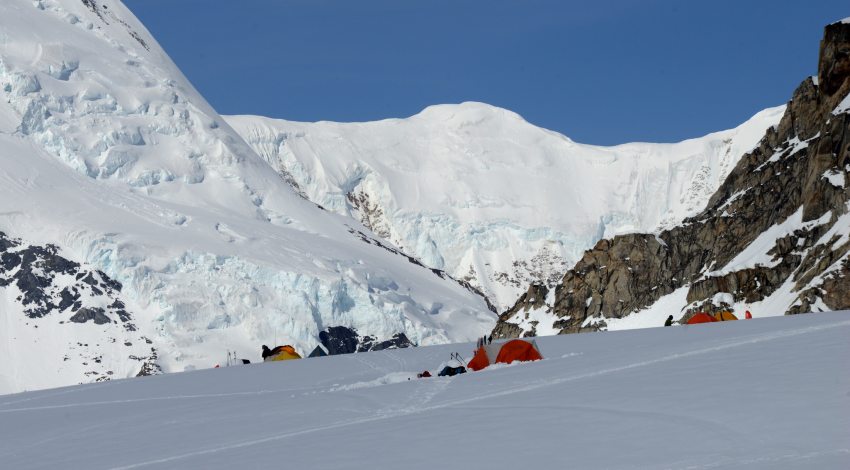 Coley Gentzel, lead mountaineering ranger at Denali, said temperatures in the Alaska Range have been milder over the past five or so years.
When Gentzel started climbing Denali about a decade ago, he said, it was common for temperatures at the Kahiltna base camp to dip below zero at the end of April. On Sunday, temperatures were around freezing.
"On the lower mountain it's a little bit of a curse and on the upper mountain it's a little bit of a blessing," he said of the warmer weather.
On the lower mountain, melting snow can reveal more problematic crevasses, he said. But on the upper mountain, it means temperatures might only dip 10 degrees below zero compared to 40 degrees below.
"That is a lot more manageable," Gentzel said.
[More photos from Denali base camp]
Meanwhile, snow accumulation has remained about normal in the Alaska Range. Any rain falling at lower elevations was typically snow above 5,000 feet, he said.
Beginning of a climb
As soldiers and rangers finished unloading gear and sorting it into piles to go to the next base camp, four California climbers arrived on two small planes.
Aaron Pessah, 28, said about a year ago he created an online group to find people who wanted to climb Denali in 2016. About 70 people responded. By Sunday, that number had narrowed to three.
"We're a team here," he said.
Since the early 1990s, the number of climbers who attempt to summit Denali has remained relatively stable, hovering between 1,000 and 1,340. The percentage reaching the summit has varied from 36 percent to 68 percent.
Last year, 1,092 people climbed Denali and 628 reached the summit. The year before that, only 429 of 1,204 reached the summit.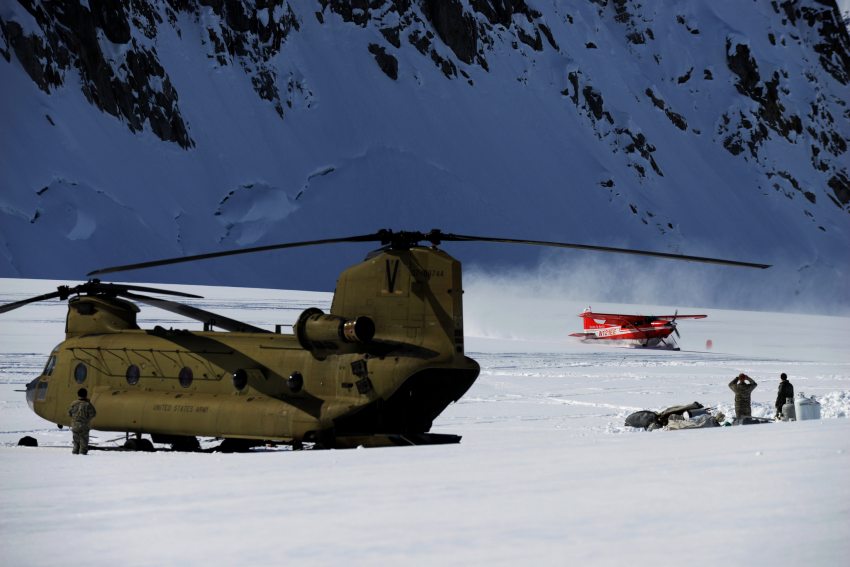 Maureen Gualtieri, public information officer with Denali National Park and Preserve, said bad weather is most likely the reason behind the lower percentages.
By Monday, more than 730 people had registered to climb Denali, Gualtieri said.
Pessah was among the 16 on the mountain.
He said his team chose to climb Denali because of its status as the tallest mountain in North America and because he considered it the most accessible mountain on the list of the world's highest peaks.
On Sunday, he wore a backpack and pulled a sled up part of the small hill at base camp, closer to the tents already assembled and away from the helicopters preparing to take off with the soldiers, rangers and reporters.
"This is an addiction. It really is," Pessah said.
His team planned to begin their ascent Monday. They have supplies for 19 days.
Related stories from around the North:
Canada:  The environmental and social impacts of Arctic tourism, Eye on the Arctic
Finland:  Arctic Finland looks for boost from Chinese tourists, Yle News
Greenland: Blog – Greenland pioneers Arctic tourism & mining, Cryopolitics
Norway:  Russia boosts tourism on Svalbard, Norway, Barents Observer
Russia: Currency drama has little impact on tourism in Barents region, Barents Observer
United States: Alaska cultural tourism comes with challenges, Alaska Dispatch News