Currency drama has little impact on tourism in Barents region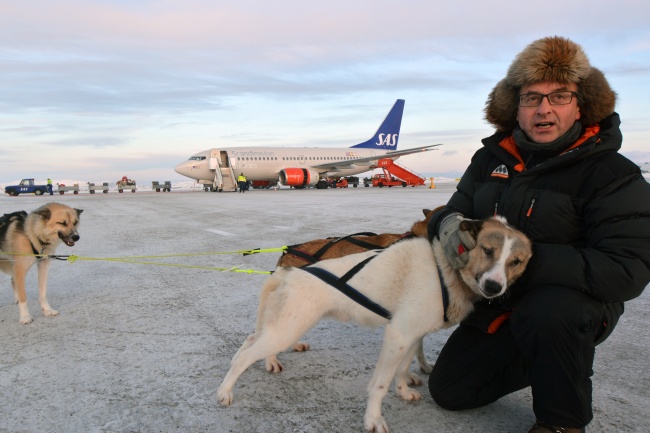 Like the Russian ruble, the Norwegian currency has been under extreme pressure amid the collapse in oil price the last few weeks.
With krone weakness, foreign tourists are more likely to visit Norway to take advantage of their dollar or euro buying power.
Russia could be even more attractive for foreign tourists, as the ruble has halved its value since the summer.
BarentsObserver has spoken to people in the tourism business on both sides of the Norwegian, Russian border.
"Our visitors to Kirkenes Snowhotel are more after the exclusive than the cheap products," says Kåre Tannvik. He believes customers to exclusive winter tours in Arctic Norway are not counting dimes when deciding destinations, although some might seek even more adventure when staying now as the krone is weak.
Kirkenes Snowhotel offers winter fun like King crab fishing on the ice, northern light tours, snowmobile trips and even a husky taxi tour directly from the airport to the hotel where you stay the night in one of the 20 rooms decorated with ice-sculptures. Room temperatures are minus four; even when it is minus twenty outside the one meter thick walls made of snow.
"Our strategy is to become better, not cheaper," Tannvik explains.
Politics more important than ruble rate
Another tour operator in Finnmark is Pasvik Turist, marketing journeys on both sides of the Norwegian, Russian border.
"We have more bookings to our tours around the Kirkenes area this winter than before," says Monika Raab, director of Pasvik Turist. She is sure a weak krone will have positive effect for the tours they arrange for in Norway.
"It will be a busy Christmas period with lots of husky-trips and other tours into the wilderness," Raab says.
Commenting on the ruble crash, Monika Raab is more reticent. "The ruble exchange rate makes Murmansk cheaper, but it is at the same time more difficult to predict how Russia will be tomorrow," she says.
"So far, we haven't seen more customers. We are actually selling fewer tours to Russia. The political situation, the uncertainties, is more important to people than the value of the ruble."
Hotel prices halved for foreigners
In Murmansk, Helge Dahl Pettersen runs Privjet – Russian Travel Service. His company on Thursday announced new campaing prices for hotels in Murmansk due to the ruble crisis.
"Yes, the prices are much nicer here in Murmansk now, even for Norwegians with a weaker krone," says Helge Dahl Pettersen.
A night in a double room at the newly renovated Hotel Arktika in the centre of Murmansk can be booked for NOK 235 (€26) per person. That is less than half the price of what customers had to pay some few weeks ago at the traditionally more popular Hotel Park Inn Polyarnye Zori.
Scepticism
"But, at the same time we do see a quite substantial drop in travels both to and from Russia. So, the question is whether cheaper rates are enough to compensate for the general scepticism foreigners have about Russia for the time being," Dahl Pettersen says.
The flow of foreign tourists drops sharply all over Russia this year, with cancellation rates of between 15 to 25 percent, as previously reported by BarentsObserver. The question is if saving up to 50 percent off a room, cheaper restaurants and travel tickets can lure more foreigners to visit the Russian north, especially now in the darkest, coldest time of the year.
Claus Bergersen is business advisor with the Norwegian Barents Secretariat. He works in close cooperation with both Norwegian and Russian tour-operators and says the current fall in currency rates will have little influence in the short-time perspective.
"Sales of tourist products is often sold a year upfront to tour-operators," Bergersen explains.
For Russians; Norway cheaper than Finland
"However, for people living near the border such rapid changes in rates will boost some travel. People from Sweden and Finland will find Norway cheaper. Also, for middle class Russians that previously drove to Finland for shopping will now find Norway more attractive for shopping and weekend tours since the euro for them is much more expensive than the Norwegian krone," Claus Bergersen argues.
Nikel is a bargain
In the Russian border town of Nikel is Denis Shirshov just ready with the latest version of a shopping, service and restaurant brochure, printed in Norwegian language for the local tour operator Barents Travel.
"We hope the ruble crisis will attract more Norwegians to come shopping and eating in Nikel," Shirshov says pointing at the variety of possibilities shown on the map now being distributed in Kirkenes.
In addition to gasoline for one third of the price in Norway, Nikel offers restaurants; beauty salons; dentists; car-service and spa. You can even participate on snowmobile tours across the mountains outside town on the Kola Peninsula.
"But, the Ukraine crisis is a problem. There are people here in the nearby town of Zapolyarny that don't want to go to Norway or to deal with Norwegians," Denis Shirshov explains.
Related stories from around the North:
Canada:  Will Russia's actions in Ukraine affect relations in the Arctic Council?, Eye on the Arctic
Finland: Rouble collapse hits Finland, Forex stops buying Russian currency, Yle News
Iceland:  From Arctic Circle 2013-2014, a big drop in the price of oil, Blog by Mia Bennett
Norway:  Norway's krone follows oil-price downhill, Barents Observer
Russia:  Ruble crash will have a huge negative impact on cross-border trade", Barents Observer
United States:  Oil price collapse prompts agency to lower Alaska credit outlook, Alaska Dispatch