Arctic nations deepen coast guard cooperation
Despite growing tensions between Russia and NATO in Eastern Europe, the heads of the eight Arctic nations' coast guards agreed on Friday to deepen their collaboration in the north.
The heads of the coast guards of Canada, Denmark, Finland, Iceland, Norway, Sweden, the Russian Federation and the United States, who were in Boston this week for a meeting of Arctic Coast Guard Forum (ACGF) Principals, signed a new joint statement at a ceremony in Faneuil Hall.
"There is no politics being discussed there at all," said Mario Pelletier, Deputy Commissioner of Operations for the Canadian Coast Guard, in a phone interview from Boston. "We were happy to have the Russians around the table and work collaboratively. The same could be said about every other country."
Laying groundwork for collaboration
The forum was envisioned as an operationally-focused, consensus based organization to provide an opportunity for the circumpolar coast guards to focus on issues of common interest in the Arctic, such as search and rescue, emergency response, and icebreaking.
"Our experts were meeting earlier this week and they've made great strides in moving the forum forward," said Pelletier. "They've worked on a process guide that will lay the basis of the logistics of the forum. They worked on a combined operation module that will be used when we have to collaborate in the Arctic."
Listen to the interview with Mario Pelletier:
The new joint statement builds on the foundation laid by the ACGG Experts Meeting that took place at the U.S. Coast Guard Academy in New London, Connecticut, in late October 2015, said Pelletier.
The parties agreed to continue to work on the framework for combined operations, he said.
"Basically that's an accumulation of procedural guidelines that will be used when we have to work together in the Arctic, so we can expect what the other country is doing, how they are going to react in certain situations" Pelletier said.
The joint statement also establishes the frameworks for the development of a multi-year strategic plan, avenues to share information, highlight best practices, identify training exercises, and conduct combined operations in the Arctic.
The heads of Arctic nations' coast guards also agreed to have yearly meetings of experts and principals, Pelletier said.
Avoiding duplication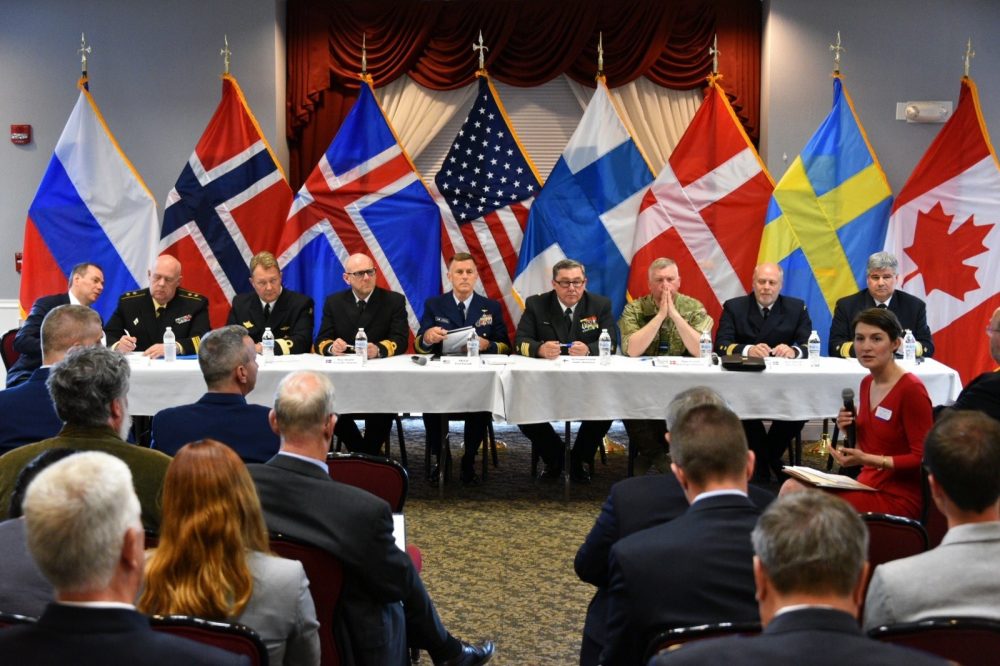 "The Arctic is a vast territory and we have very limited resources up there," Pelletier said. "So by the eight countries coming together and sharing their knowledge, sharing their best practices and the expertise they have developed we will be much more efficient to deal with what we can expect in the future."
The collaboration between Arctic coast guards could also help avoid costly duplication, he said.
"This territory is so vast we cannot work in silos," Pelletier said. "If we can sit down together, understand what each of us is doing, we can complement our work as opposed to duplicating our work."
Training is one area where complementing each other's strengths is seen as paramount, he said.
"If each neighbouring country is doing its own exercises, then that's very inefficient," Pelletier said. "If we put all the resources together, we can make a much more in-depth exercise and learn much more from it too."
Search-and-rescue success
The collaboration between Arctic coast guards has already bourn its fruits, he said.
"We had a major search-and-rescue a few months ago in Davis Strait and we were able to sit down with our colleagues from Denmark and it was a very successful search-and-rescue," Pelletier said. "We put our efforts together and that was mainly made possible by the good collaboration and relationship we've built through that forum."
Another good example of collaboration is the upcoming transit of the Crystal Serenity cruise ship through the Northwest Passage this summer, he said.
"We were able to sit down with our colleagues from other countries and look at the risks and what is it that we can do," Pelletier said. "And I can say that we are very, very well prepared for that passage."
Apart from exchanging detailed contact lists of experts and coast guard managers, forum participants also exchanged information about the inventory of the equipment that each country has to respond to various emergencies in the Arctic, he said.
"That was part of the expert discussion this week where every country came and said, 'This is how we deal with some situations, this is the equipment we have, these are the assets that are available,'" Pelletier said. "So we have a better understanding of what's where."
Related stories from around the North:
Canada:  Arctic nations to sign 'historic' coast guard agreement, Radio Canada International
Denmark:  Faroe Islands cashing in on Russian sanctions, Barents Observer
Finland: Finland and Russia talk Arctic in Oulu, Yle News
Norway:  Russian sanctions hit Norway hard, Barents Observer
Finland:  Russians no-show at Barents conference, Yle New
Russia:  The new Barents priorities, Barents Observer
Sweden:  Sweden's dairy farmers hit hard by sanctions against Russia, Radio Sweden
United States: US pushes ambitious Arctic Council goals, Alaska Dispatch News