Sweden considers higher fees for plastic bags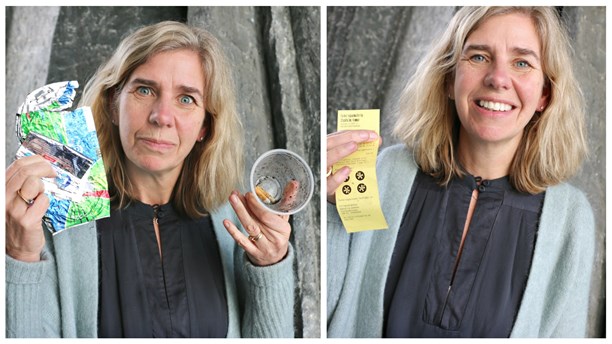 France's ban on certain plastic bags in stores went into effect this month, and while Sweden also aims to dramatically reduce plastic bag usage, officials have instead proposed doubling their cost.
On 1 July France began its ban of single-use plastic bags in stores, hoping to cut the usage of the country's usage of bags by half by 2025, following a European Commission directive.
In both France and Sweden, individuals use on average 80 plastic bags per year, but the two countries have chosen different paths to reach the 2025 goal of reducing this usage to 40 per year. Instead of banning plastic bags, Sweden's Environmental Protection Agency (EPA) has proposed to raise the fee for plastic carrier bags to a minimum of five kronor, compared to the current fee, usually between 1.5 and two kronor.
Need to improve statistics
Sandra Backlund, an economist at the EPA, told Radio Sweden that though they need to improve the accuracy of their statistics, they hope that such a drastic price increase will have the desired effect.
"We have also considered banning plastic bags but when we looked at the biodegradable bags that would replace the plastic bags, we realized that they were not actually degradable out in nature and are also not compatible with our recycling system so we decided to go in another direction to fulfill the consumption target," Backlund said.
Viktor, a customer at a large supermarket in Stockholm, bought two plastic bags to carry his groceries home.
"I buy these plastic bags so that I can use them in my trash can. I try to save them and buy as few as possible," Viktor said.
Ban could move people towards paper
At a smaller supermarket around the corner, store manager Alexander told Radio Sweden that plastic is the most common bag customers choose. He believes that the French system of banning plastic bags would affect his store.
"I think we would sell more paper bags," Alexander said.
Johanna Ragnartz, the CEO of "Keep Sweden Tidy," which advocates for recycling and combats litter through public awareness campaigns, awards and environmental education, is supportive of the EPA's proposal but believes it does not go nearly far enough.
"We are all getting more and more aware about the problem of plastic in the oceans. And if we don't do a lot to try and stop it, I think it will end in a catastrophe," Ragnartz said.
Related stories from around the North:
Canada:  Plastic microbeads- a toxic substance in waterways-from the Great Lakes to the Arctic, Radio Canada International
Finland: Microplastics – the latest threat to the Baltic, Yle News
Greenland: Study finds increase in litter on Arctic seafloor, Blog by Mia Bennett
Norway: Microplastics found in waters off Svalbard, Alaska Dispatch News
Russia: Submariners feed polar bears with garbage, Barents Observer
Sweden:  Sweden tackles microplastics problem, Radio Sweden
United States: Tackling Alaska's $100-million plastic pollution problem, Alaska Dispatch News