Closure of Canada's only deep-water Arctic port 'shocking'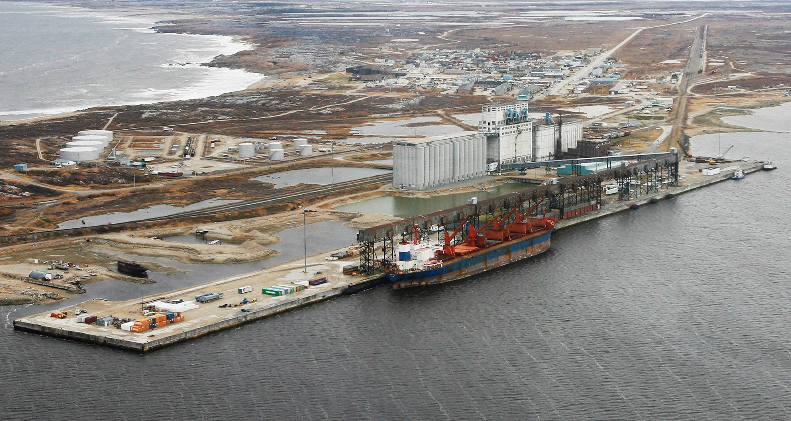 The chorus of concern over the sudden closure of Canada's only deep-water Arctic port continues to grow as politicians, trade union representatives and farmers say they were blindsided by news that the Port of Churchill in northern Manitoba is effectively shutting down.
"It was very shocking piece of news," said Niki Ashton, Member of Parliament for the opposition New Democratic Party whose constituency includes Churchill. "The first I heard of it was actually from the family members of the people who had received layoff notices."
The Union of Canadian Transportation Employees said workers at the seasonal port on the western coast of Hudson Bay were told Monday afternoon they were being laid off and the facility will not operate this year.
Many of the workers and their families were devastated by the news, Ashton said in a phone interview with Radio Canada International.
The port has been the biggest employer in the subarctic town of 800, famous with international tourists for its polar bears and beluga whales. Port employees make up about 10 per cent of the population.
"Many of these people have worked for the port for years, people that obviously rely on this seasonal work, whose families rely on this work and they were left with no indication that this was going to happen," Ashton said. "And of course people need to remember that Churchill is an isolated community and it's a small community, so the opportunities for other employment are not there."
'Domino effect'
The situation could force many people to leave the town, she said.
"The domino effect is very troubling," Ashton said. "That's why there needs to be immediate action, many of us are calling for the situation to rectified and the jobs need to be protected."
Ashton said she has also heard from farmers who worry about their grain shipments.
Manitoba's largest farmers group, Keystone Agricultural Producers, said the port is needed to help handle a large grain crop expected this year. The port's closure will hit farmers in northern Manitoba and Saskatchewan hard because the cost of transporting their grain to southern ports is higher, the Ashton said.
"So it's not as though there aren't shipments that could go through," Ashton said. "This is clearly the case of a company that is not willing to find a solution, not willing to work with partners in difficult times  and that's why we need to change course."
No comment from the port owner
Omnitrax, the U.S. company that owns the port, could not be reached for comment.
Omnitrax has been trying to sell the port, along with the rail line that connects Churchill to southern Manitoba, and announced a tentative agreement in principle with a group of First Nations last year.
Workers had been negotiating a new collective agreement and were shocked by the company's decision.
"They had mentioned that our numbers were low, that our shipments were low … but they never, ever gave us any indication that they were going to shut the doors," union representative Teresa Eschuk told The Canadian Press.
Ashton said she hopes the federal government, which ran the port until it was sold to Omnitrax in 1997 under then Liberal Prime Minister Jean Chretien, will step in to ensure it survives.
"There is no shortage of capacity at the federal level but what we're not seeing right now is the willingness to act and show leadership," Ashton said. "That needs to change because the current situation is one that doesn't just hurt Churchill, it hurts all of us."
Related stories from around the North:
Canada: How Arctic shipping could boost Canada's trade relationship with Asia, Radio Canada International
China: Chinese company mulls more Arctic shipping, Barents Observer
Iceland: Calls for action at Arctic shipping conference, Alaska Dispatch News
Norway:  Arctic shipping – The myths, the realities & the challenges ahead, Eye on the Arctic
Russia: Korean shipping industry watching Northern Sea Route, The Independent Barents Observer
Sweden: Swedish icebreakers gear up for Arctic role, Radio Sweden
United States:  Arctic no shipping rival to Suez: expert, Alaska Public Radio Network