Warming lake waters defy Jaakko's Day legend in Finland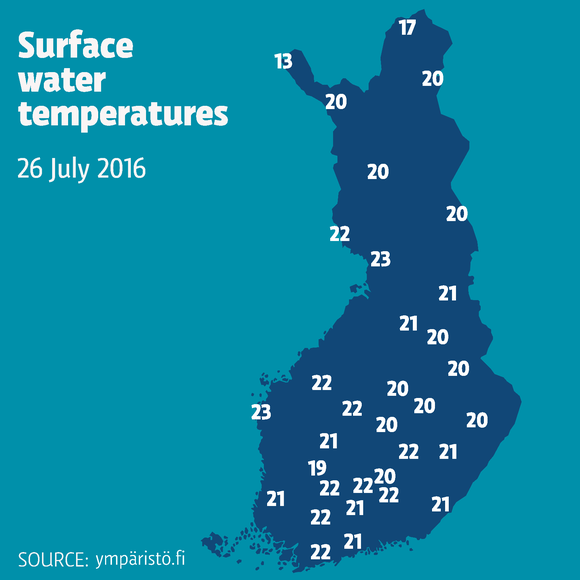 Although according to ancient Finnish legend, sea and lake waters begin to cool on July 25, the opposite seems to be true.
Monday and Tuesday have brought this year's highest readings at many of the nation's 180,000 lakes, especially in Lapland.
The usually-frigid lakes of Finnish Lapland are exceptionally warm at the moment. On Monday the temperature of Lake Inari rose to 20.8 degrees Celsius, the highest temperature in more than 60 years.
Nationally the warm weather of recent days has raised lake surface temperatures well above the long-term average, the Finnish Environment Institute (SYKE) said on Tuesday.
In most areas waters are 1-2 degrees Celsius warmer than usual, says SYKE hydrologist Johanna Korhonen.
In southern and central areas, waters rose by one or two degrees on Monday, which is dubbed Jaakko's Day in Finland.
Ancient calendar mix-up
In the Finnish nameday almanac, July 25 is Jaakko's Day. According to tradition, the country's waters begin to cool on this date because that's when someone named Jaakko threw a cold stone into the water.
Finland's tongue-in-cheek Unscientific Society celebrates the day annually by casting a frozen rock into Helsinki harbour's Cholera Basin and then measuring the temperature.
Based on a conversion of the old Julian calendar, though, the date of Jaakko's Day should rightly be August 5th, which is closer to the average onset of cooler temperatures.
Indeed, SYKE figures show that historically waters are more likely to warm than cool around July 25, but typically cool in August.
After several chilly weeks in much of the country, temperatures are now finally reaching the maximum temperatures of a normal summer, notes Korhonen.
With air temperatures approaching 30 degrees in some areas, she predicts that water temps may reach 25 degrees locally within the next few days.
Warm swimming until schools open
Lapland's waters are now exceptionally warm, with both Inarijärvi and Ounasjärvi setting records on Monday.
"These are the kinds of readings we only see about once every couple of decades," says Korhonen.
On Tuesday, Inari's surface water edged down slightly to 20.1 degrees, but that is still 4.4 degrees above average.
Korhonen predicts that lake waters in southern and central Finland will remain unusually warm at least until early next week, the final days of summer holidays for most kids.
Next week – when the original Jaakko's Day would have been – waters should begin to cool off, she says. However no dramatic plunge is in sight, with temperatures incrementally declining by a few tenths of a degree daily.
Related stories from around the North:
Canada:  First half of 2016 breaks heat records, Arctic sea ice reaches lowest levels: NASA, Radio Canada International
China: Hottest year – scary, but not for Arctic shippers from China?, Deutsche Welle's Iceblogger
Greenland: New model predicts flow of Greenland's glaciers, Alaska Dispatch News
Norway:  John Kerry to visit Arctic Norway to witness climate impacts, The Independent Barents Observer
Russia: Extreme heat on the Russian tundra, The Independent Barents Observer
Sweden:  How will global warming affect the average Swede?, Radio Sweden
United States: NASA projects tracking changes in Alaska's glaciers and Arctic atmosphere, Alaska Dispatch News