Alaska village, long dry, in close vote on whether to allow a city liquor store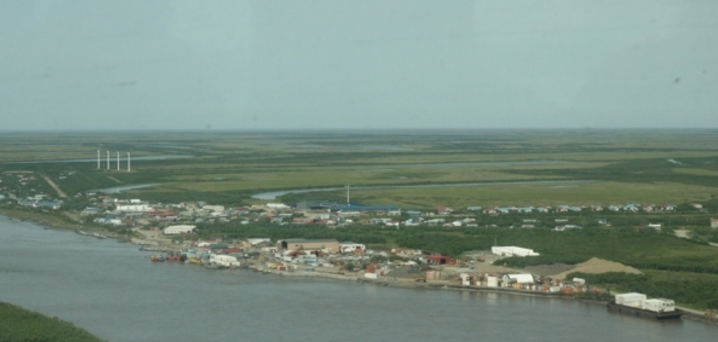 BETHEL – The Southwestern Alaska village of Emmonak split 133 to 119 in Tuesday's voting for a city liquor store, according to an unofficial count. But another 38 questioned and absentee ballots were not included in that total, and they could change the outcome.
The vote wasn't on whether to go wet, but rather on a proposed change from dry to a city-run store under state local-option laws.
Back in 1991, when residents agreed to ban alcohol sales, importation and possession, the vote was 104-89, according to the state Alcoholic Beverage Control Board. The ban took effect in 1992, according to the board.
Just like in the bigger hub city of Bethel before a liquor store opened this year, Emmonak has long struggled with violence, suicide and despair connected to bootleg alcohol and homebrew. Residents in the community of fewer than 800 people were split over whether legal sales would make things better or worse.
Teenage voters supporting sales seemed to turn out in big numbers, said City Council member Herman Hootch, an opponent of a liquor store who thought the youth vote was mainly in support of sales.
"There is so much crime related," Hootch said. "There is a lot of bootlegging. There is a lot of homebrew."
A bottle of black-market liquor goes for about $200 in the village, in one of the poorest areas of the country, he said.
"That takes a lot of money from families that are suffering," he said.
Mayor Wilbur Hootch said he saw the troubles from alcohol but supported a store if it cut demand for expensive bootleg liquor that drinkers can't afford. He wants to see revenues go for improved city services such as firefighting and an ambulance.
Emmonak voters also voted by a wide margin to increase the city sales tax from 3 percent to 4 percent to pay for landfill services.
Women's groups fought hard against store
The Yup'ik Women's Coalition and Emmonak Women's Shelter fought hard against a liquor store. Leaders of nearby villages of Kotlik and Scammon Bay spoke out against it too.
The women's organizations listed concerns of more suicides and murders, vandalism and break-ins, child neglect and abuse.
"Hungry, neglected children from drunken hung over parents," the groups said in a testimonial urging a "no" vote. "School starting will have absent children and/or late from staying up all night with drunken parents."
Scammon Bay's tribal council was worried about an increase in accidents involving snowmachines, four-wheelers and boats. Della Hunt, a child welfare worker in the nearby village of Kotlik, warned of increased numbers of families breaking up and more children in foster care.
Wait and see
Elder Nicholas Tucker said Emmonak was not ready on any level for a liquor store and what it will bring.
Emmonak City Manager Martin Moore said the council was waiting for the vote results before figuring out the details.
"We're sort of ready," he said.
The council could set rules for local control of sales and particulars of operating a store at a site yet to be determined. The city might decide not to sell to felons, for instance, he said. The city also will examine a separate alcohol tax, to bring in more revenue, he said.
But on a more basic question, Moore said he had no doubt.