Troopers: 'No survivors' in midair collision near Russian Mission
BETHEL – None of the five people aboard two planes that collided Wednesday morning in the skies above a Yukon River village survived the crash, Alaska State Troopers said.
The planes collided on a sunny day about 6 miles northwest of Russian Mission and some 60 miles from the Southwest Alaska hub of Bethel.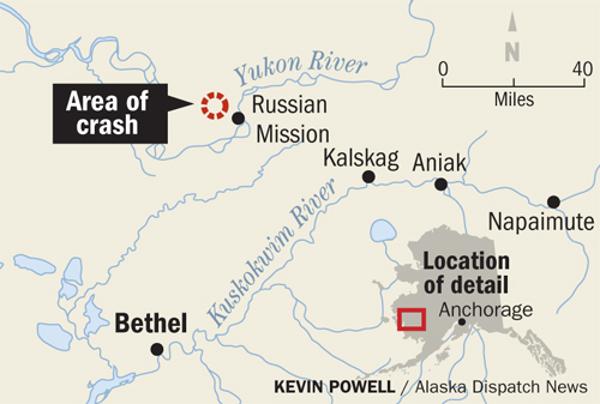 Troopers identified three victims aboard a Hageland Aviation Cessna 208 Caravan as pilot Harry Wrase, 48, of Wasilla; and passengers Steven Paul Andrew, 32, of Kenai, and Aaron Jay Minock, 21, of Russian Mission.
The other aircraft was a Piper PA-18 Super Cub operated through Renfro's Alaskan Adventures that took off from Bethel flying to a hunting camp with pilot Zach Justin Babat, 44, of Montana, and passenger Jeff Thomas Burruss, 40, of Haines.
Complex investigation
Two National Transportation Safety Board investigators flew on a trooper helicopter from Anchorage to the extensive crash site, said Clint Johnson, NTSB lead investigator for Alaska. A third investigator was headed to Bethel from the Lower 48. The Federal Aviation Administration is also investigating, said spokesman Allen Kenitzer.
Midair crashes are usually technical and complex, Johnson said.
"Ultimately what we are trying to do is to see how the airplanes came together," Johnson said. "What we want to do is to see if either one of these airplanes was able to see one another, either electronically or visually."
Past scrutiny
Hageland now operates under the Ravn Alaska umbrella, the busiest commuter service in Alaska. Hageland came under scrutiny after a string of crashes in 2013 and 2014, including one that killed four passengers and another that killed two pilots on a training flight.
Reports and interviews released by the NTSB last year suggested Hageland had been operating with loose controls and a bush-pilot culture of tight landings and flights in extreme weather. But improvements were made, including creating a tracking and control system directed from Palmer, according to news reports.
"They did a very good job as far as changing their operations," Johnson said Wednesday. "As far as we are concerned, that's in the past."
The Cessna 208 is "the mainstay of Bush carriers," he said. The Piper Super Cub is also a popular aircraft that's been around for years.
Mid-air collision
At 11 a.m. on Wednesday, an aviation company reported to the Alaska Rescue Coordination Center at Joint Base Elmendorf-Richardson it had lost radio contact with a plane that was overdue, said Lt. Col. Candis Olmstead, an Alaska National Guard spokesperson.
Fifteen minutes later, troopers alerted the center about a different plane, also overdue.
"It didn't take too long for the rescuers to figure out we were dealing with a midair," Johnson said.
A third aircraft spotted wreckage on the ground. Johnson said there are essentially two crash sites.
The rescue center enlisted a Bethel-based Army National Guard UH-60 Black Hawk helicopter carrying medics, which took off at noon, Olmstead said.
Ravn released a statement Wednesday night saying the company was working with local officials and the NTSB,  and it did not have additional information about the crash.
"On behalf of all the employees of the Ravn family we are deeply saddened by this news," the statement says.
Employees at Renfro's didn't return calls Wednesday morning and afternoon.
Offers of help
Around noon, before rescuers got to the scene, the Yukon-Kuskokwim Health Corp., which operates a clinic in the village and hospital in Bethel, was alerted that medical help might be needed. Within 12 minutes, it had activated an emergency operations center in Bethel to make sure medical staff, equipment and transportation were ready to go, said Tiffany Zulkosky, vice president of communications.
Then around 2:15 p.m., troopers announced no one survived. "YKHC has stood down," the health agency said.
YKHC still is offering help; emergency clinicians for families of those in the crash were standing by at YKHC's family center at 837 Chief Eddie Hoffman Highway. Behavioral health aides in village clinics are available too.
The terrain in the area features rolling hills and heavy vegetation, with elevation between 600 to 800 feet. Skies were clear. The temperature was warm for late summer, 63 degrees.