UN maritime body sets rules to cut sulfur emissions by ships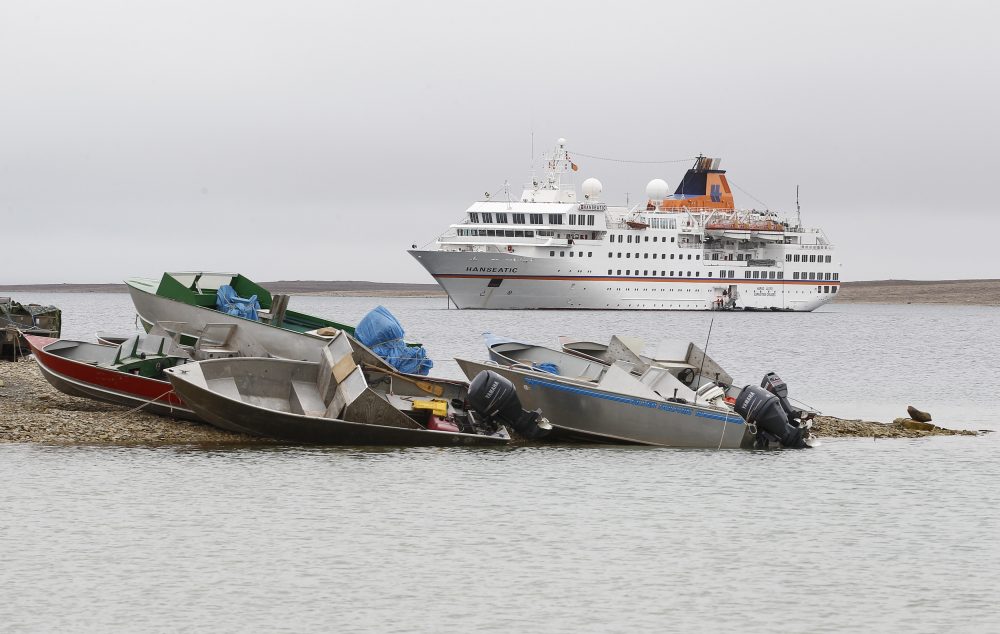 A session of the International Maritime Organization's (IMO) Marine Environment Protection Committee in London set the new requirements, which will see sulfur emissions fall from the current maximum of 3.5 percent of fuel content to 0.5 per cent.
"We're calling it a historic decision," said Andrew Dumbrille, senior specialist in sustainable shipping at World Wildlife Fund (WWF) Canada, speaking on the phone from London, where he attended the IMO session.
"And from a Canadian perspective, the Canadian delegation was on the right side of history today."
Listen to the full interview with Andrew Dumbrille:
Good for global air quality
The Canadian delegation was in favour of the regulation, despite some opposition from the shipping industry, which is worried about rising fuel costs, Dumbrille said.
"Now ships will have to use fuels which can meet that emission standard and it's very significant for atmospheric air quality around the globe," Dumbrille said.
The regulation tips the scale in favour of less polluting fuels such as diesel or liquefied natural gas (LNG), away from heavy fuel oil (HFO), favoured by many ship owners because of lower cost, Dumbrille said.
"Now operators and owners, and shipping companies will have to use low-sulphur fuels and HFO is known high-sulphur fuel," he said.
Good news for Arctic too
It's also a welcome news for environmental groups and Indigenous organizations that had campaigned for a ban on HFO in the Arctic.
Critics say HFO poses a significant hazard to the Arctic marine environment, including to wildlife and coastal communities, through the risk of spills that would be difficult if not impossible to clean up.
"In the Arctic context many operators use HFO because of its low cost and its relative availability around the world," Dumbrille said. "But now with this decision non-HFO fuels like diesel and LNG will become more attractive. And I think we will see globally a gradual switch away from HFO fuels, which is a great result for the Arctic."
The regulation also increases the chances of a complete ban on HFO in the Arctic shipping industry by 2020, Dumbrille said.
"This pushes up the timeline significantly," Dumbrille said. "We were asking for 2020, which I think is ambitious, but I think right now with this new ruling we could see a decision by that date."
Arctic voices
Six Arctic Indigenous leaders from Alaska, Canada, and Russia had travelled to London to address the IMO session regarding the impacts of shipping on food security in the Arctic Indigenous communities.
"They were very well received, it was a warm reception, specifically from the secretary-general of the International Maritime Organization," said Dumbrille, who is part of a coalition of environmental groups that is calling on the IMO to give global Indigenous groups, and Arctic Indigenous groups in particular, a permanent voice at the table in the UN body.
The six Arctic Indigenous leaders had a one-on-one meeting with IMO Secretary General Kitack Lim on Tuesday.
In the first meeting of its kind, they discussed a wide-range of issues surrounding climate change and the resulting increase in the number of ships plying Arctic waters.
Lim outlined IMO's work in this field, in the form of IMO's Polar Code, which will enter into force in January 2017.
"Mr. Lim's staff was very supportive and wanted to discuss ways for their voice to be permanently heard at the IMO and Indigenous delegates were very pleased with that interaction," Dumbrille said.
Still, Dumbille thinks there is a long way to go until Indigenous voices have a permanent representation in the IMO.
"The UN Declaration on Indigenous Rights is something that has to be taken on board, so to speak at the IMO and right now these leaders are challenging the secretariat and member states to do just that by granting them a seat at the table when the global regulator puts new rules in place for the Arctic, when it builds on Polar Code, when it looks at phasing of heavy fuel oils," Dumbrille said.
The formal discussion on HFO is expected Friday.
"We'll see how many countries support the movement for phasing out the HFO in the Arctic tomorrow," Dumbrille said. The United States and Canada have already expressed their support, he said.
Related stories from around the North:
Canada: Ban use of heavy fuel oil in the Arctic by ships: environmental groups, Eye on the Arctic
Canada:  Report urges creation of new governance structure for oversight of Arctic shipping, Radio Canada International
China: Chinese company mulls more Arctic shipping, Barents Observer
Iceland: Calls for action at Arctic shipping conference, Alaska Dispatch News
Russia:  Arctic cruise industry expands, Cryopolitics Blog
Sweden: Swedish icebreakers gear up for Arctic role, Radio Sweden
United States:  Arctic no shipping rival to Suez: expert, Alaska Public Radio Network