Alaska Senator Lisa Murkowski cruises to 3rd term in US Senate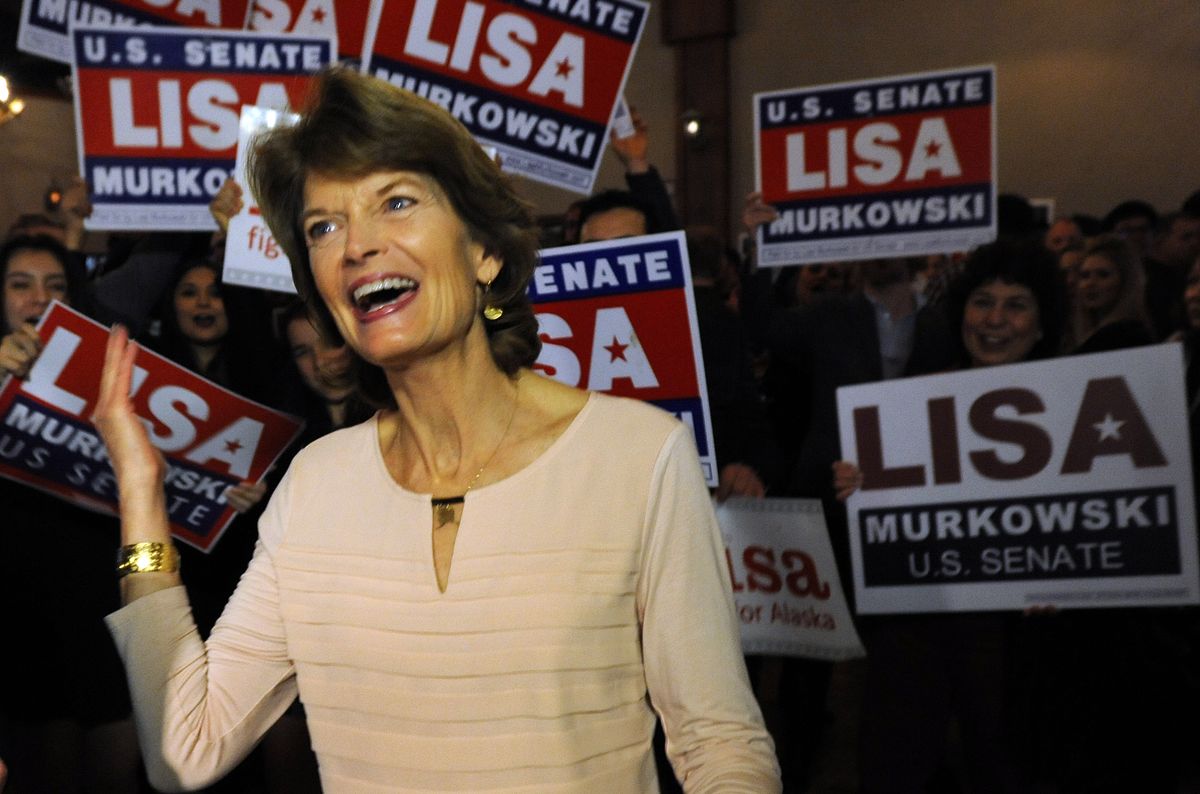 Alaska Sen. Lisa Murkowski sailed into a third term Tuesday, more than 10 points ahead of her next closest challenger.
Murkowski, 59, faced a bevy of challengers: Democrat Ray Metcalfe, independent Margaret Stock and conservative Joe Miller, running on the Libertarian ticket.
With 94 percent of precincts reporting early Wednesday, Murkowski held 44 percent of the vote to Miller's 29 percent. Independent candidate Stock held 14 percent of the vote and Democrat Metcalfe had 11 percent.
From the start this year, Murkowski's campaign had an internal mantra: "2010 never again." She wanted nothing close to a repeat of 2010, when she ran — and won — as a write-in candidate after a surprise loss in the Republican primary to Miller.
'Surprised' at Trump's win
Murkowski crisscrossed the state this summer before the Republican primary. By the eve of Election Day, her campaign workers had knocked on 57,000 doors, according to campaign manager Steve Wackowski. He described a highly technical "get out the vote" operation ready to be deployed to make sure likely Murkowski voters made it to the polls Nov. 8.
But Miller surprised Murkowski by entering the race after the primary was over. He ran on the Libertarian ticket and positioned himself to the right of Murkowski, as a conservative choice for voters.
That became more of a sticking point as Murkowski found herself drifting from — and ultimately denouncing — Republican candidate Donald Trump in the weeks before the election.
But Trump's concerns about the direction of the country clearly resonated with many in America, Murkowski said Tuesday night, just before the president-elect gave his victory speech.
You can "count me among the millions of people across the country" who were surprised at Trump's victory, Murkowski said.
Trump's energy statements 'encouraging'
While the president-elect has no legislative record, she said, his statements on energy production have been "very encouraging."
"It has been some trip to get here," she said to supporters Tuesday night. Tomorrow the excitement turns to work, she said.
The evening's returns indicate that Republicans will continue to hold the majority in the Senate. That means Murkowski will keep her position as chairman of the Energy and Natural Resources Committee.
With a Republican majority in the House and Senate, and control of the White House, "you bet people will demand answers," Murkowski told reporters. There will be "pressure" on the Republican party to govern, Murkowski said.
Several issues quickly rose to the top: opening the Arctic National Wildlife Refuge to drilling ("I'm going to work to push that"); dealing with high health care costs; easing regulatory restrictions; and allowing the community of King Cove to build a road, Murkowski said.
Murkowski was a member of the state House before her father, Frank Murkowski, appointed her to fill his Senate seat when he became governor of Alaska in 2002. She ran for the seat and won in 2004 and 2010.
Related stories from around the North:
Canada:  Trudeau and Obama's Arctic endeavours, Deutsche Welle's Ice-Blogger
Denmark:  Obama and Nordic leaders pledge Arctic cooperation, Alaska Dispatch News
Finland:  UN rep. urges suspension of Sámi elections, Yle News
Greenland:  Greenland, Alaska elections bolster Arctic resource extraction, Blog by Mia Bennett
Iceland:  Iceland's Pirate Party leads polls few days before elections, The Independent Barents Observer
Russia:  Russian Foreign Ministry dismisses Supo property fears as Russophobia, Yle News
Sweden:  Land, water rights big issues in Sweden's Sami elections, Radio Sweden
United States: Alaska's largest Native organization endorses Clinton for president, first endorsement in history, Alaska Public Radio Network