Cretaceous-era prints in Alaska park suggest newborn hadrosaurs walked on all fours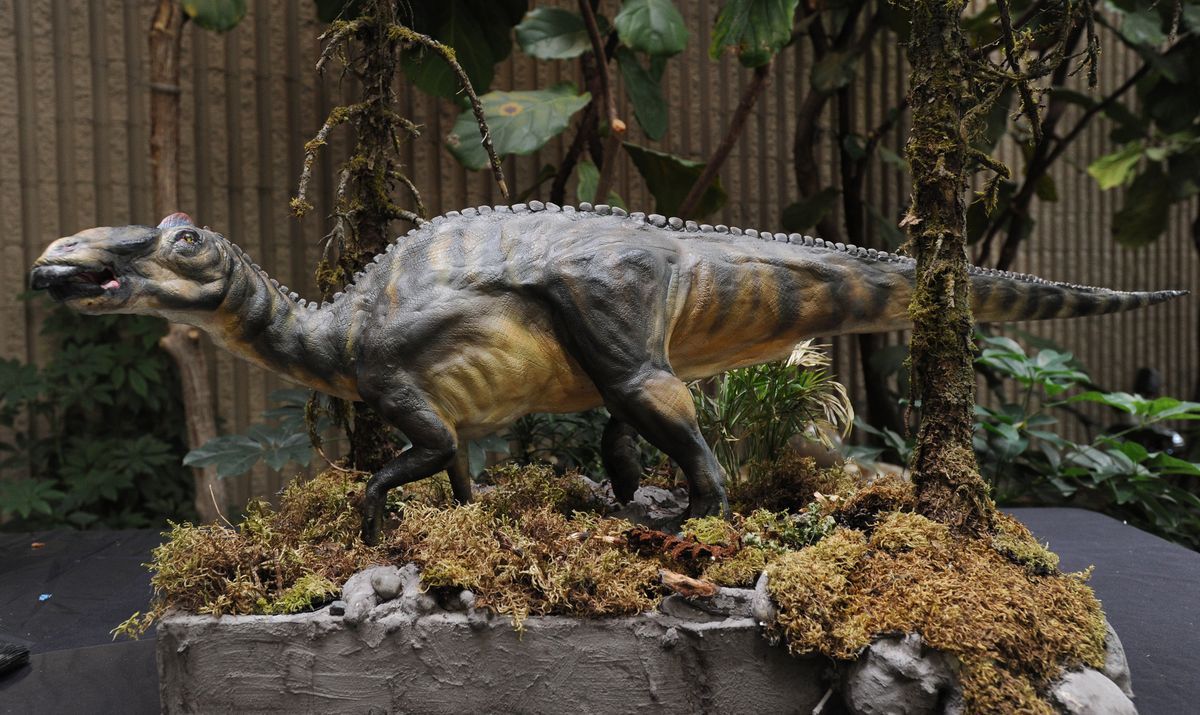 Did baby duck-billed dinosaurs walk on two limbs or four?
Paleontologists have long wondered. Now information gleaned from tracks found in a Denali National Park rock formation might help answer that question.
A set of prints left there by a juvenile hadrosaur includes both foot impressions and hand impressions, suggesting that the Cretaceous-era dinosaur, at least, walked on all fours, according to research by Tony Fiorillo and Ron Tykoski of the Perot Museum of Nature and Science in Dallas.
In a new paper published in the journal Palaios, they describe the impressions left in the geologic feature known as the Cantwell formation.
The set of small prints, discovered in 2010, was clearly made by all four limbs — the bigger feet and the smaller arms.
Previous research, based on analysis of dinosaur bones, led to a hypothesis that baby hadrosaurs walked on their back feet, Fiorillo said. The hypothesis was that these dinosaurs had to grow older to be hefty enough — and to have their arms muscular enough — to allow them to walk on all fours, he said.
But this particular set of tracks suggests otherwise, at least for this animal and possibly for others of its type in what is now Denali, he said.
New evidence
The animal left footprints that were about 11 centimeters (4.3 inches) long and handprints that were only 3.6 centimeters (1.4 inches) wide and 2.75 centimeters (1 inch) long, the study said.
Fiorillo and Tykoski estimate the animal had a hip height of 44 centimeters (17.3 inches), about one-sixth the hip height of an adult.
Fiorillo said he could not speculate on the age. "I wouldn't want to guess, other than very, very young," he said.
Adult hadrosaurs are believed to have been "facultative bipeds," meaning they alternated between two legs and all fours for running and walking.
Treasure trove of tracks
Whatever baby hadrosaur prints were at that discovery site were probably mixed with others, many superimposed on each other, and difficult to analyze for walking style, Fiorillo said. "That site was so heavily trampled," he said.
The juvenile tracks used in the new study, found on a steep slope in the park, were a bit isolated, he said. "It was pretty far off the beaten track," he said.