5,000 troops train for winter war in Arctic Norway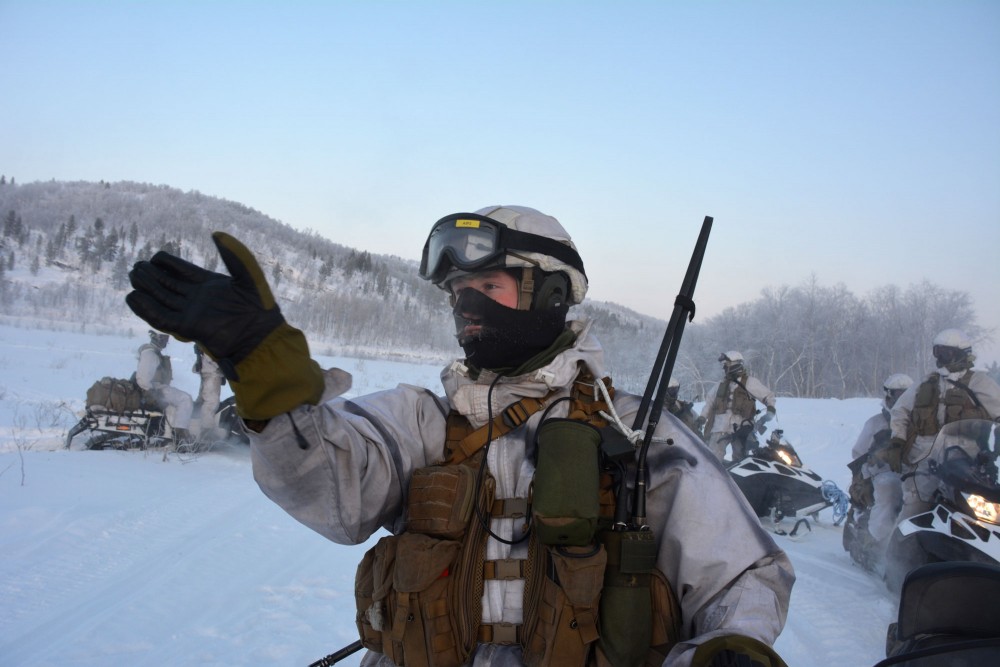 It is named Joint Reindeer and is unfolding in parts of northern Norway this week. The exercise is this year's second biggest military drills in the country.
It takes place in an Arctic environment in the Troms County, the second northernmost region in Norway.
To train under harsh climatic conditions with allied forces is the key purpose, the Norwegian Armed Forces say.
Hundreds of vehicles were early this week transported by train and ship to the training areas between the towns of Evenes and Bardufoss as the training started on 5th March.
A total of 5,000 troops take part, of them are 350 soldiers from the U.S Marines and the Royal Netherlands Marine Corps (RNLMC), a press release informs. Included are also 600 forces from the Norwegian Home Defense.
A core combat force in the Norwegian Army
The Brigade North constitutes the centerpiece of the force taking part in the training. It includes nine battalions as well as a military police unit, and constitutes a core combat force in the Norwegian Army.
During parts of the exercise, there will be GPS jamming, the military says. There will be activities on the ground, at sea and in the air.
It is all in safe distance from the Russian border – about 500 km in air distance – but it will not go unnoticed by the Russians. On previous occasions, Russian fighter jets have moved closely up to Norwegian exercise areas.
Russian exercises
As confirmed this week by Lieutenant General Morten Haga Lunde, Director of the Norwegian Intelligence Service, Russian aircrafts were flying tactical flights towards a fleet of NATO vessels exercising in the Norwegian Ocean on the 22nd of May 2017.
«A total of 12 aircraft participated in this operation, including MiG-31, Fencer [Su-24], Fullback [Su-34] and Backfire [Tu-22M].»
Less than a week later, on May 27, there was a similar mission directed towards military installations in the Bodø area. This happened in connection with a larger allied air force exercise led by Norway in cooperation with Sweden and Finland, Haga Lunde said.
There is a high level of alert regarding Russian aircrafts also during the the Joint Reindeer. That will clearly also be the case during the upcoming Trident Juncture exercise later this year. The Trident Juncture will include tens of thousands of NATO soldiers from several countries and be the largest military exercise in Norway for decades.
It will consist of a live exercise in October and November and a Command Post Exercise in November 2018. The Trident Juncture 2018 will take place in an area north of Trondheim in central parts of the country.
Related stories from around the North:
Canada: Surveillance and search and rescue top Canada's Arctic defence priorities, Radio Canada International
Finland: Finnish Defence Minister slams government over planned defence spending cuts, Yle News
Norway: Norway beefs up border patrol with powerful new snowmobiles, The Independent Barents Observer
Russia: Simulated attack on Northern Norway targets by Russian bombers revealed, The Independent Barents Observer
Sweden: Swedish military wants to double in size, Radio Sweden
United States:  Trump signs defense bill to allow more missile interceptors in Alaska, Alaska Public Media