At Native Youth Olympics in Alaska, free the mind and the body will follow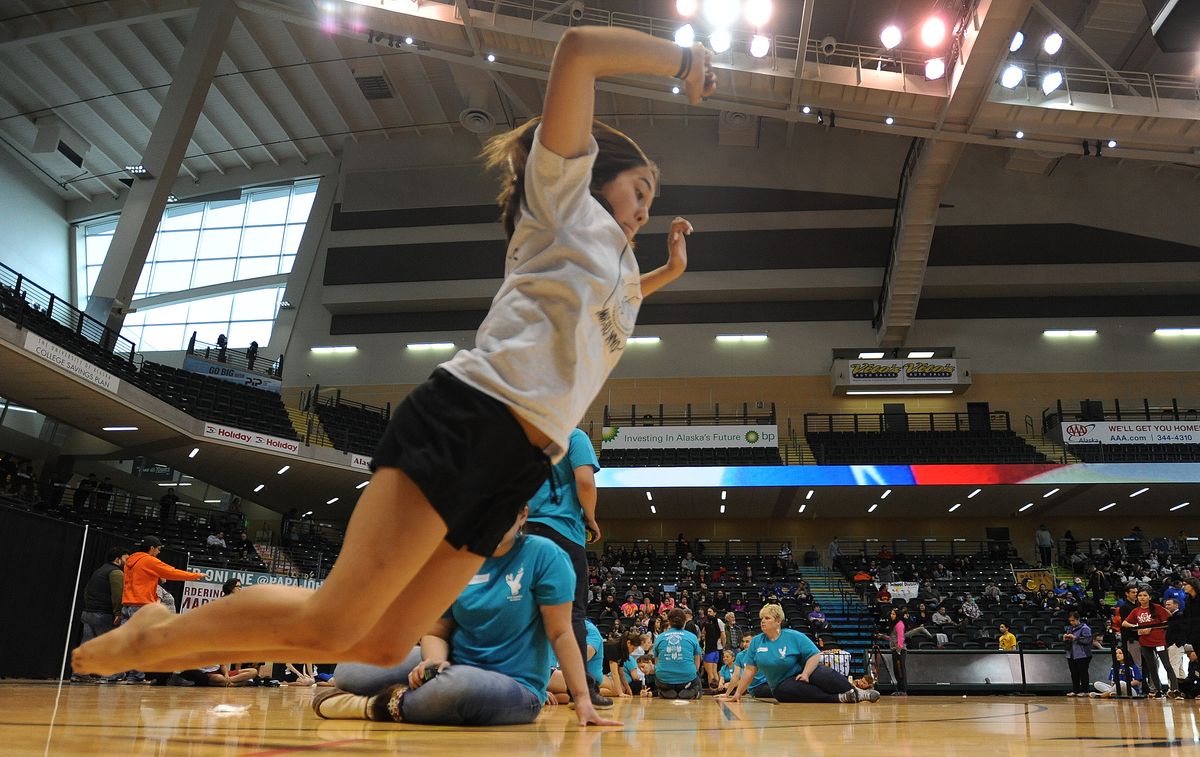 The physical requirements in the kneel jump — explosive power, core strength, coordination, rhythm, flexibility and balance — pack a lot into an event that, from launch to landing, takes only one second.
And yet, to accommodate all of those athletic attributes in one burst in a pressure-packed environment, both winners of the event Thursday at the Native Youth Olympics said they find it best to free their mind before launching forward from a kneeling position to a standing position.
"Sometimes, when I think, it messes me up," said girls winner Kaye Gumera of Unalaska. "When I jump best, my head's pretty empty."
Ditto for boys winner Wilton Charles of the Lower Kuskokwim School District, who said he followed a friend's advice to stay calm before jumping.
Think of it as zen equals win, which explains why so many of the athletes on the opening day of three days of competition at the Alaska Airlines Center exhaled deeply several times before launching.
"I just empty my head," Charles said.
The kneel jump, a life-saving move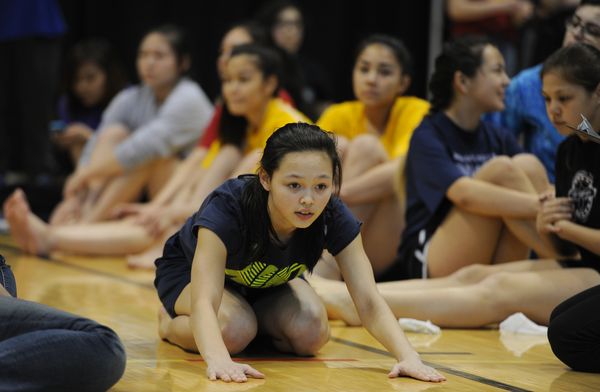 Like myriad Native games, the origin of the kneel jump traces to traditional skills necessary for subsistence living. Say a hunter is kneeling on an ice floe that suddenly begins to break. The ability to quickly jump to a safer, adjacent ice floe could be a life-saving move.
A kneel jumper – barefoot for better traction upon landing, Gumera said — begins the event by kneeling on the floor, lower legs tucked beneath the body, the top of the feet flat against the floor.
Most of Thursday's jumpers swung their arms forward and back to generate momentum and establish rhythm, and then launched forward. They landed in a deep squat, butt nearly touching the floor, and rose to a standing position. Jumpers are required to stick the landing on both feet and remain still until officials measure the distance from the start line to the athlete's heel closest to the start line.
Both Gumera and Charles delivered personal bests in the event, and each was excited as much about their improvement as their gold medal. That's keeping in the theme of NYO, which is as much about community as competition, as much about personal rewards as the reward of winning a medal. More than 500 students, representing 50 teams and more than 100 communities across Alaska, will compete in these Olympics.
The NYO motto: Teamwork. Leadership. Respect.
"Respect every opponent and respect the game"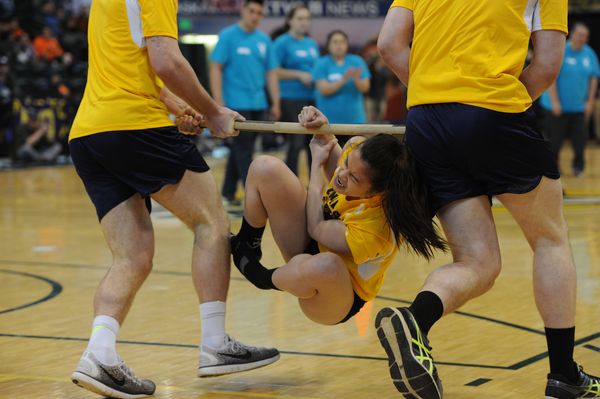 Gumera went 51.50 inches, nearly six inches farther than she covered last year in finishing second, and won by more than five inches over Arianna Smith of Bethel (46.25). Charles jumped 64.25 inches to win by three inches over Orlin Gologergen of Mt. Edgecumbe (61.25 inches).
Gumera, 18, placed second  in Thursday's wrist carry, behind Mia Weiss of Mat-Su. In the boys competition, Justin Dye of Dillingham won for the second straight year.
Last year, Gumera was the girls' co-overall top athlete at NYO, a result she called "super-unexpected." Even so, she came into Thursday's event humble.
"My mentality is, respect every opponent and respect the game, because you don't know what will happen," Gumera said.
She said she prepared for NYO by practicing the multiple events in which she competes, lifting weights and doing conditioning work. It didn't hurt, Gumera said, that she got some kneel jump coaching from Dylan Magnuson, whose jump of 67 inches in 2013 remains the boys state record.
Generosity and hard work
Gumera also said her experience at NYO last year, when she sought out competitors for pointers, aided her both then and again Thursday, when she also finished second in the wrist carry for the second straight year.
"You can talk to anyone and they'll give you advice," she said.
That kind of generosity is one of the things Charles, 17, loves about NYO.
"Being in NYO is like being in your own family, where everyone encourages each other and gives advice," he said.
For Charles, Thursday's victory was a culmination of eight years of work – he said he's been practicing the kneel jump since third grade, when he reckoned he went "like four inches."
"It's just breathtaking," Charles said of winning. "I didn't know what to expect.
"I hoped to win a medal" – he paused and looked at the medal hanging around this neck – "and it appears I got a gold medal."
Related stories from around the North: