Russia ordered to pay €5.4 million for seizing Greenpeace vessel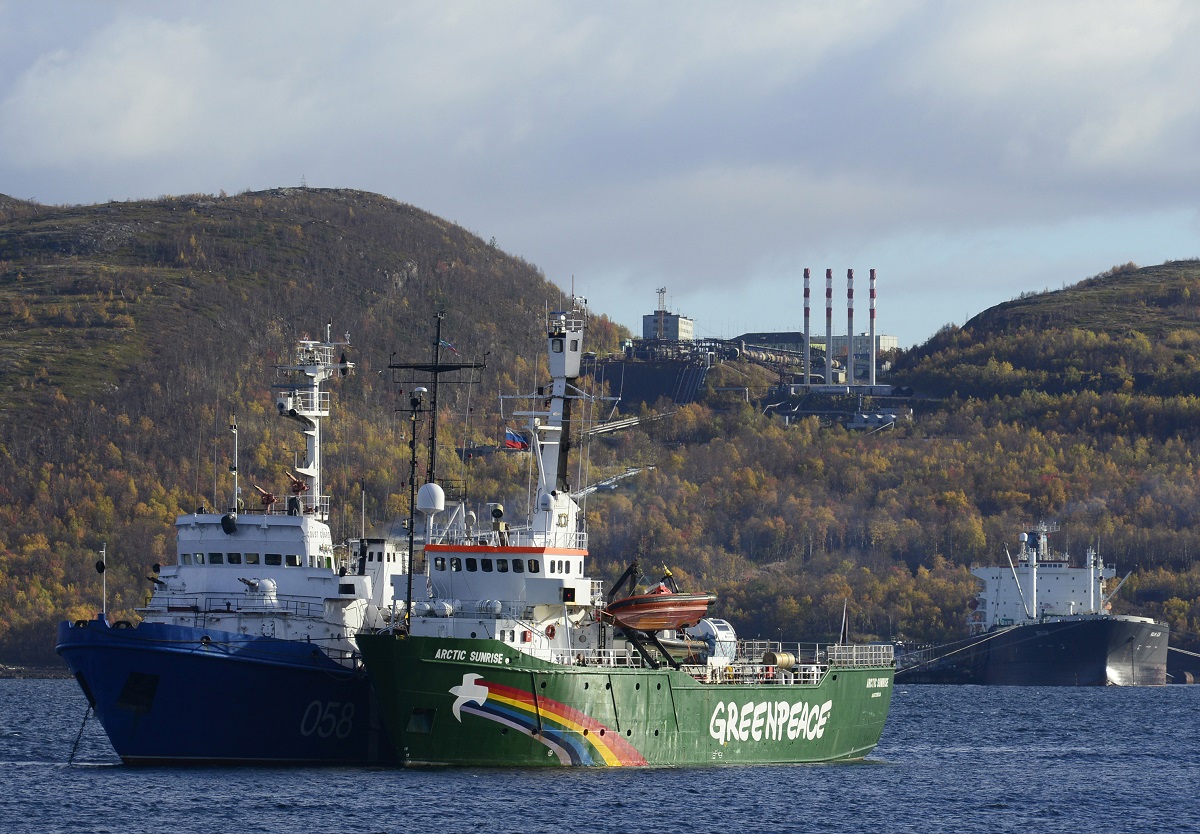 An international tribunal formed under the UN Convention on the Law of the Sea has ruled that Russia will have to pay the Netherlands €5.4 million in damages over the 2013 seizing of Greenpeace's vessel «Arctic Sunrise» and its crew following the protest against GazpromNeft's Prirazlomnoye drilling in the eastern Barents Sea.
«Russia breached its obligations under the Convention by boarding, investigating, inspecting arresting, detaining, and seizing the Arctic Sunrise, a vessel flying the Dutch flag, without the prior consent of the Netherlands, and by arresting, detaining and initiating judicial proceedings against the thirty persons on board that vessel,» the court ruling reads.
Russian Coast Guard soldiers boarded and took over the vessel in September 2013 and sailed it to Murmansk where it was held in port for nine months. The 28 Greenpeace activists and two freelance journalists on board spent two months in prison, first in Murmansk and later in St. Petersburg before being released by an amnesty.
When given back to Greenpeace in the spring 2014, «Arctic Sunrise» had suffered considerable damage. So had the inflatable boards and other equipment on board.
Will Russia comply?
Jasper Teulings, General Gounsel of Greenpeace International welcomes the court ruling. «The road to justice can be long but today's award emphatically upholds international law and the right to peaceful protest against oil drilling in the Arctic – and at sea worldwide.»
Greenpeace says in a statement that it is not clear whether Russia will comply with the ruling to pay for the damages. «Throughout the case, the Russian government refused to participate at any stage of the legal proceedings or to pay its share of the legal costs set by the Tribunal.»
This week,«Arctic Sunrise» made port call to Tromsø in northern Norway before sailing into the Barents Sea on Wednesday.
«The main aim is to campaign against exploratory drilling in the Barents Sea by Norwegian company Statoil, which is ploughing further north than ever before,» Greenpeace Norway says.
This is the first campaign voyage for «Arctic Sunrise» after the ship was repaired.
Related stories from around the North:
Canada: #SavetheArctic… from Greenpeace, blog by Heather Exner-Pirot
Finland: Greenpeace activists divert Helsinki-bound coal ship, Yle News
Norway: Climate trial against Norway to start in November, The Independent Barents Observer
Sweden: Sweden's climate minister : U.S. withdrawal from Paris sends a bad signal, Radio Sweden
Russia: New Greenpeace protest against Arctic oil, The Independent Barents Observer
United States: What environmentalists won by losing the Trans-Alaska Pipeline battle, Alaska Public Media