Climate trial against Norway to start in November
Greenpeace and Nature and Youth intend to put a stop to upcoming drilling in the Barents Sea.
The Oslo City Court has set the date for the climate trial against the Norwegian state. Hearings will start on 13 November, Greenpeace informs.
The environmentalist argue that the opening of new drilling acreage in the Norwegian Arctic is in conflict with the country's Constitution Paragraph 112. The paragraph states that «natural resources shall be managed on the basis of comprehensive long-term considerations which will safeguard this right for future generations» and that «the authorities of the state shall take measures for the implementation of these principles".
Representatives of the two organizations this week assembled in front of the Oslo City Court to mark the soon-to-be start of the trial.
A «tragedy for the climate»
«To open up for oil drilling in our most vulnerable areas in the Arctic is not only a tragedy for the climate, but also in direct conflict with the targets which we have committed ourselves to under the Paris Agreement, as well as the environmental paragraph in the Norwegian Constitution», leader of Greenpeace Norway Truls Gulowsen says in a press release.
«What the politicians call an «oil fairytale» will actually be a nightmare for the ones who are to inherit the planet», leader of Nature and Youth Ingrid Skjoldvær, adds.
It is expected that the case will last about two weeks.
By February 15th, almost 160,000 people had signed the «Save the Arctic» petition again oil drilling in the region.
Well-rehearsed arguments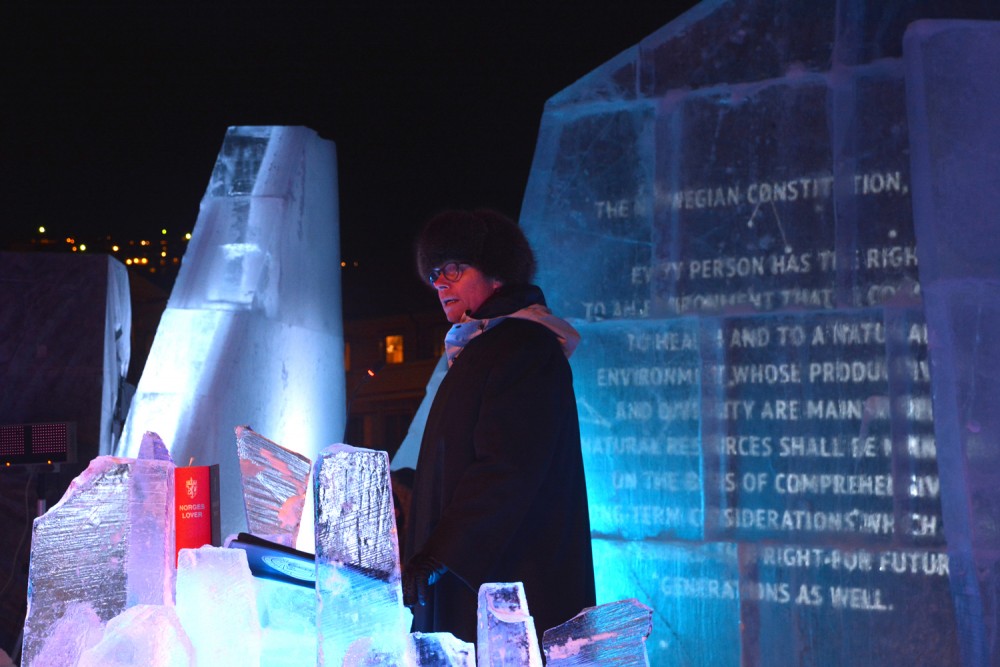 In a recent show trial in Kirkenes, Norway, Law Professor Hans Petter Graver told the Barents Observer that he believes the environmentalists have slim chances for a win against the state.
«Seen with a traditional legal approach, it is unlikely that they win». At the same time, he did not fully rule out that the result could ultimately be otherwise.
«Our democratic and political bodies both nationally and internationally have failed to address the climate change issue. If people agree with that, the case could get an unexpected outcome», he said.
Related stories from around the North:
Canada: Arctic offshore drilling too dangerous: Trudeau, Radio Canada International
Russia: Big growth for Russian Arctic oil in 2016, The Independent Barents Observer
Norway: Norway loses Arctic oil mock trial during Barents Spektakel festival, The Independent Barents Observer
Russia: No alternative to Arctic oil says Russia environment minister, Barents Observer
Sweden: Swedes discover new Barents oil and gas, The Independent Barents Observer
United States:  Alaska House Democrats introduce oil-tax bill to heated debate, Alaska Dispatch News