King salmon from Alaska's Yukon River briefly sold for first time in years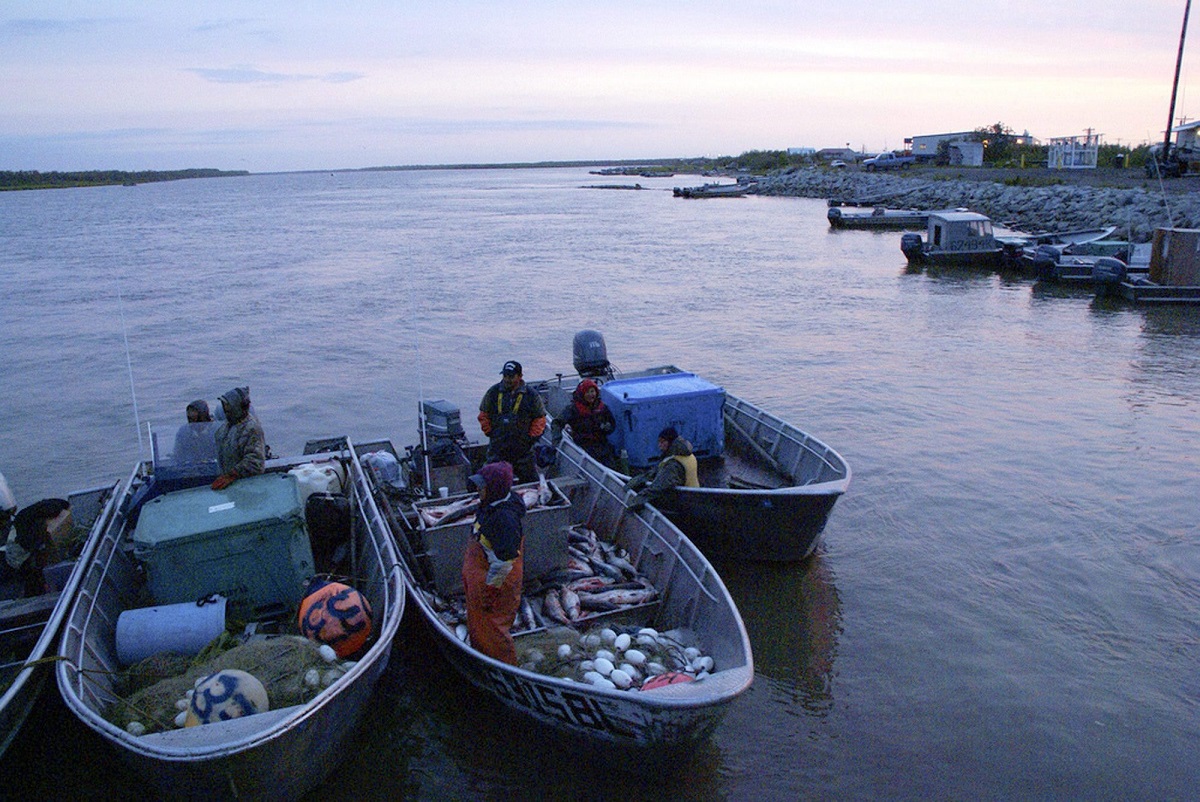 The first commercial sale of Yukon River king salmon meant steep prices for consumers and an outcry from subsistence fishermen, who after years of restrictions were surprised to hear of sales in the first place.
The 12-hour opening on July 17 would be the only one for fishermen who were primarily targeting chum salmon but were allowed to sell any kings caught during the harvest. State managers decided to halt sales of the fish for the rest of the season after receiving pushback from fishermen on other parts of the river.
The Alaska Department of Fish and Game allowed sales of the highly prized king salmon for the first time since 2011; the department made the decision after counting the most kings in the river since 2005.
Many people were surprised by the announcement allowing sales, according to Stephanie Quinn-Davidson, director of the Yukon Intertribal Fish Commission. A weekly fishing teleconference call with the Yukon River Drainage Fisheries Association was filled with concerns from upriver fishermen.
"It's twofold," Quinn-Davidson said. "(Subsistence fishermen) weren't expecting (the sales), and after years of sacrificing, maybe it was a little too early to open up that door."
Frustration from fishermen
Commercial and subsistence fishermen on the Yukon have faced serious conservation restrictions in recent years due to low king returns. Last year was the first time subsistence fishermen were allowed to target kings since 2012.
Quinn-Davidson said fishermen seemed to recognize that selling fish was a sustainability issue, since escapement was close to being met and most fishermen had already caught enough for their subsistence harvest. But she's heard frustration from fishermen who wanted more discussion about commercial openings.
"A lot of it was perception and messaging," she said.
Fishermen targeting chums caught 150 kings as unintended catch, according to Jack Schultheis, general manager at Kwik'Pak Fisheries in Emmonak, the lower Yukon River fish processor.
So far, more than 260,000 kings have passed the sonar at Pilot Station, located 121 miles from the mouth of the river, as of Wednesday. More than 49,000 fish passed by the sonar in Eagle, above the low-end escapement goal for the Canadian border.
The small catch of kings paired with the fact that it was the first commercial sale in years led to high demand. Yukon River kings are prized for their high fat content and buttery texture. At FishEx, an Anchorage-based fish processor, the kings were selling for $99.95 a pound. Marx Bros. Cafe in Anchorage sold 40 of the 8-ounce portions of the fish — served with a smoked piquillo pepper vinaigrette and vegetables — for $45 a plate.
For commercial fishermen in the region, the catch was considered a significant cash boost for the mostly Alaska Native fleet. Kings sold for $5.50 per pound to fishermen, well above the 60 cents per pound for chum salmon. Schultheis said the king salmon averaged about 15 pounds per fish, or about $80 per king.
Forrest Bowers, Alaska Department of Fish and Game division of commercial fishing deputy director, said the department's Yukon River king salmon management plan — the document approved by the Alaska Board of Fish that dictates how to manage salmon in the river — gives guidance on when to prohibit the sale of king salmon.
"But it's not crystal clear on what point you would allow sale again," Bowers said.
Preseason estimates had forecast 195,000 kings returning to the Yukon River drainage this year, higher than last year but still lower than average. Bowers said in meetings ahead of the fishing season there was no discussion of a possible sale, and when the sale was announced, the department quickly heard outcry from fishermen.
"The conservation measures we've had in place have been a hardship on many users, and there was a lot of consensus building to get buy-in on those restrictions," Bowers said.
"I think users kind of felt like they were part of the process and maybe this period where we allowed the sale of king salmon that was something we hadn't discussed the same way we had the restrictions."