Ottawa reaches 'agreement in principle' with Indigenous victims of Sixties Scoop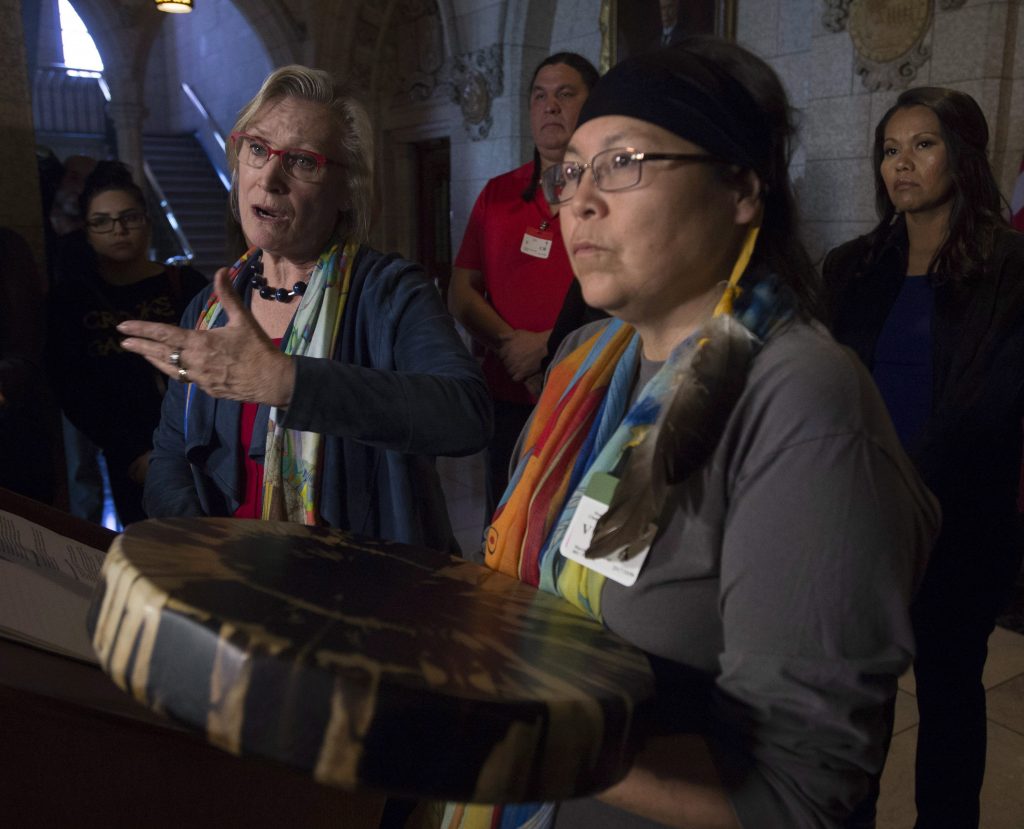 The Canadian government has reached an agreement in principle to pay hundreds of millions of dollars in compensation to thousands of Aboriginal survivors of the so-called Sixties Scoop, Crown-Indigenous Affairs Minister Carolyn Bennett announced Friday morning.
The term refers to a practice in the 1960s and up to mid-1980s when Indigenous children were taken away from their parents by child welfare authorities and placed with non-Indigenous foster families.
Speaking at an emotionally charged press conference in Ottawa, Bennett said there will be up to $750 million in direct compensation to the estimated 20,000 Indigenous survivors.
The government will also set aside $50 million towards a foundation "to enable change and reconciliation," and another $75 million to pay their legal fees.
The proposed foundation will provide access to education, healing and wellness and commemoration activities for communities and individuals and help ensure the preservation, protection and revitalization of First Nations, Inuit, and Métis languages and cultures, Bennett said.
"Language and culture, apology, healing, these are essential elements to begin to right the wrongs of this dark and painful chapter," Bennett said.
'Great harm'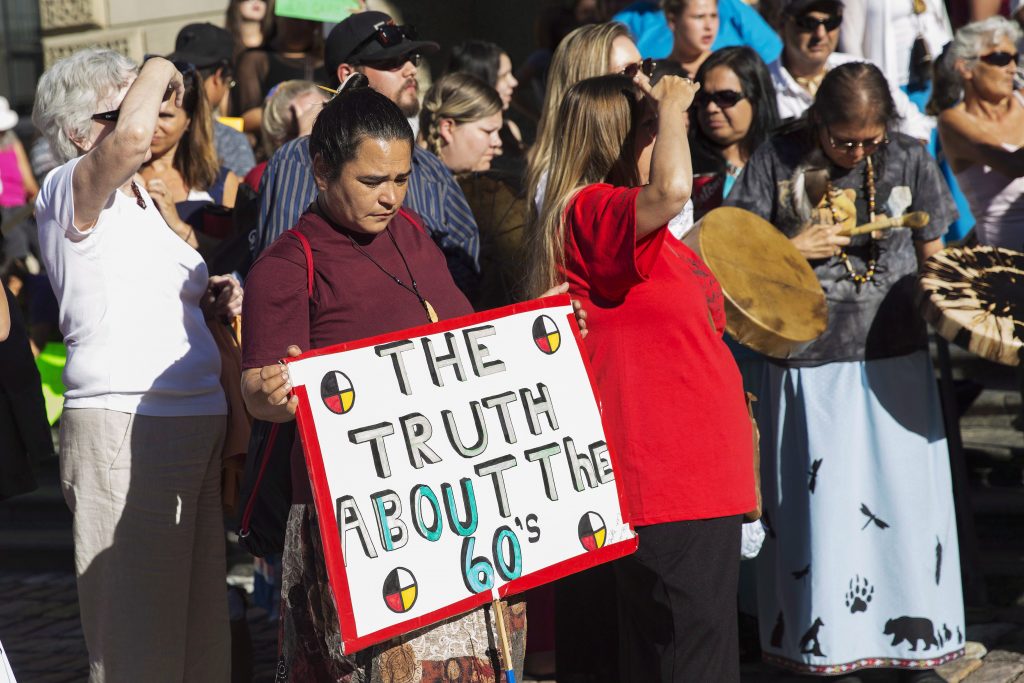 The announcement comes after the federal government lost a key legal battle in February when an Ontario judge ruled that Ottawa failed to take reasonable steps to ensure that the children who were forcibly removed from their families on Aboriginal reserves were able to hold on to their Indigenous heritage.
"Great harm was done," Ontario Superior Court Justice Edward Belobaba ruled. "The 'scooped' children lost contact with their families. They lost their [Aboriginal] language, culture and identity. Neither the children nor their foster or adoptive parents were given information about the children's [Aboriginal] heritage or about the various educational and other benefits that they were entitled to receive. The removed children vanished 'with scarcely a trace.'"
The settlement is intended to resolve a number of lawsuits by the Sixties Scoop survivors filed across Canada.
"Those affected by the Sixties Scoop identify the loss of their culture and language as among the greatest harm they suffered, which is why the government is responding directly to address this underlying impact of misguided past policies," Bennett said.
'Great hope'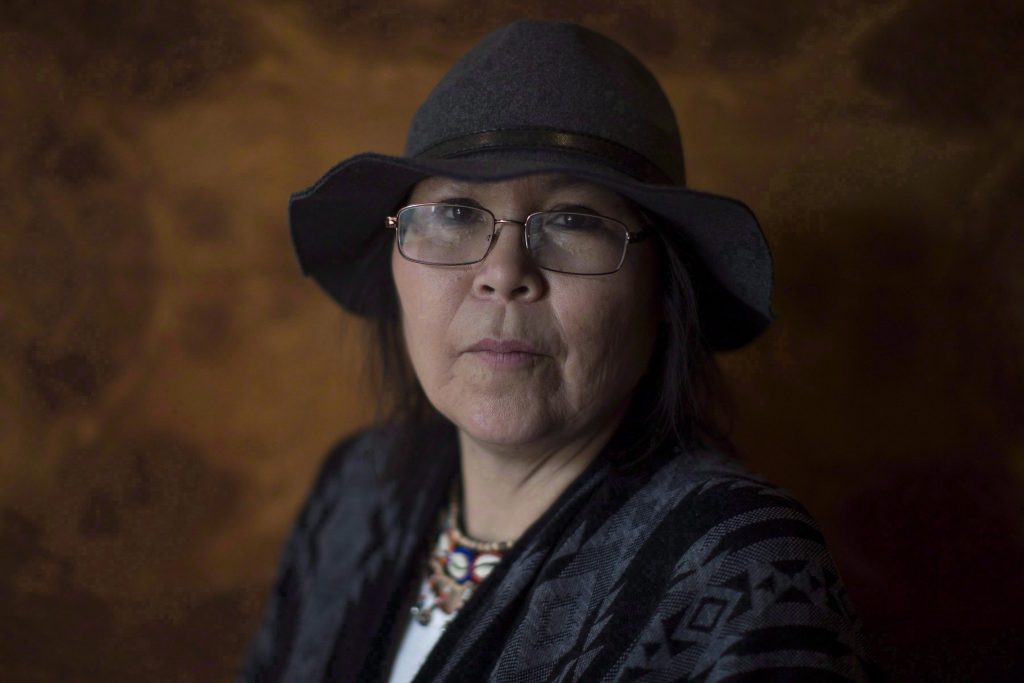 Speaking at a press conference in Ottawa, Marcia Brown Martel, lead plaintiff in the Ontario action, said she hoped the ruling meant that no other Indigenous child will ever lose their culture.
"There is great hope within myself that Indigenous children in this country … will never again be taken from their culture. The time of stealing children and placing them into something that is not their lifestyle, their culture, gone from their language, those days are coming to a close," she said.
A member of the Temagami First Nation near Kirkland Lake, in northeastern Ontario, she was adopted by a non-indigenous couple as young child. When she returned to her community to reconnect with her roots at the age of 17, Brown Martel discovered the Canadian government had declared her original identity, Sally Susan Mathias, dead.
Now the chief of the Beaverhouse First Nation, Brown Martel sued the federal government in February, 2009.
The settlement is only the first step in the painful reconciliation process, the minister acknowledged.
"This does not close the chapter on the Sixties Scoop," Bennett said. "There is more work to be done to address the harm suffered by other Indigenous children during this period."
Parties are working to finalize the agreement by the end of 2017, and will seek court approval through a fairness hearing targeted for Spring 2018, she said.
With files from CBC News
Related stories from around the North:
Canada: Ontario court sides with Indigenous survivors of Sixties Scoop, Eye on the Arctic
Finland: Sámi politician calls Finland "racist country", Yle News
Greenland: What the EU seal ban has meant for Inuit communities in the Arctic, Eye on the Arctic
Sweden: Sami win case for rights to hunt, fish in Sweden, Radio Sweden
Russia:  Indigenous Peoples activist detained in Moscow, Barents Observer
United States:  Arctic conference spotlights indigenous issues, Alaska Dispatch News