Teacher housing teaches life lessons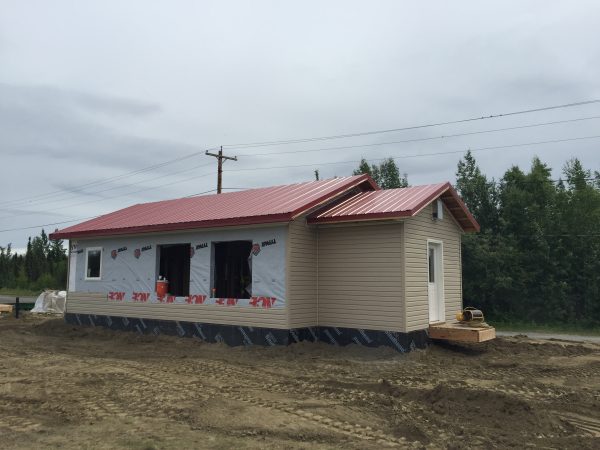 The school in Nikolai, until recently, had a problem. There was nowhere for the high school teacher to live.
"And the last two years our high school teacher actually had to live in the school in a teeny-tiny little room that contains a bunk bed and a dresser and a desk," said Principal Tara Wiggins. "There's nothing else."
She said the problem made it really hard to recruit a teacher. "I've been told that several teachers were interested and then didn't come because they had families and didn't want to stay in the school."
Housing in Nikolai, a village of about 100 people on the south fork of the Kuskokwim River, is scarce. It's expensive and difficult to get building supplies there.
But the school district had another problem, too: they needed more classes to help their students develop real-world skills for getting jobs later in life.
The solution? Have the kids build the house with professional supervision during a special summer program.
Student Thomas Owrey showed off the classes work on the two-bedroom home. "So we layered plastic down here," he said, pointing to the crawl space. "We've got foam boards on the floor."
Technical difficulties and problem solving
By late June the exterior walls were up and the roof was on, and the house was connected to the septic system.
Owrey said the project wasn't as straightforward as he hoped, even though they are building it from a kit that theoretically comes with everything they need.
"You get the blueprints and all the supplies [with a kit]," he said. "But they sent us one house and they sent us another thing of blueprints."
And it wasn't like the students and their instructors could just walk to the store and get the correct plans – everything was shipped in from hundreds of miles away in Anchorage. They didn't have all of the supplies yet either. The windows had to be brought up river from six hours away because they wouldn't fit on the small airplane. That delay meant they couldn't finish the siding or other parts of the house.
The students were running out of options for things to do, and the kids couldn't just go home and come back later. They came from schools across the region and two different school districts and were living near the job site in the main school building.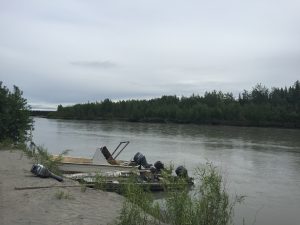 But learning problem-solving and improvising is part of the job, said student Harlan Standish.
"You're constantly using your reasoning skills," he said. "You're not just learning how to put a building together. You're learning how to think ahead or think about different ways of doing things. Like if you make a mistake on a wall or something, you gotta fix it. You gotta kind of think about how to fix it without taking it all apart."
Though Standish said he was enjoying learning new skills, the whole process wasn't exactly fun when it involved precarious balancing acts.
"I hate putting up the blocking between the rafters," he said, pointing at boards in the roof above the window. "Because you have to stand up on this little ledge right here and try to use a nail gun to put them in without falling over the sides."
Standish was afraid of heights and the drop below the window was pretty long before backfill was added.
But he felt he had to do it, "because it's on a job site so you just gotta buckle up and do the job."
"They've matured in a lot of ways," teacher Troy Tubbs said of his five students.
"For most of them, I think they've never been away from home, especially not for this long of a period," Tubbs explained. "And so there was a little bit of an adjustment there where they had to get used to living with roommates. Finding out how to manage their own time. Being responsible for getting up on time, getting their meals squared away, and getting out to the job site when they're supposed to be."
They're also getting high school and college credit for the class and getting paid.
Iditarod Area School District Superintendent Connie Newman said the district didn't save any money by building the new teacher housing with students, though the project allowed them to use funds for career and technical classes for two purposes. Because of delays with supplies, the house eventually had to be finished by professionals at the beginning of the school year, more than a month behind schedule.
But the project was successful enough that they plan on holding a similar class to build school housing in Grayling next summer. The district may also partner with the tribe in Nikolai to build housing for elders.
Related stories from around the North: