34th Annual Elders and Youth Conference kicks off in Alaska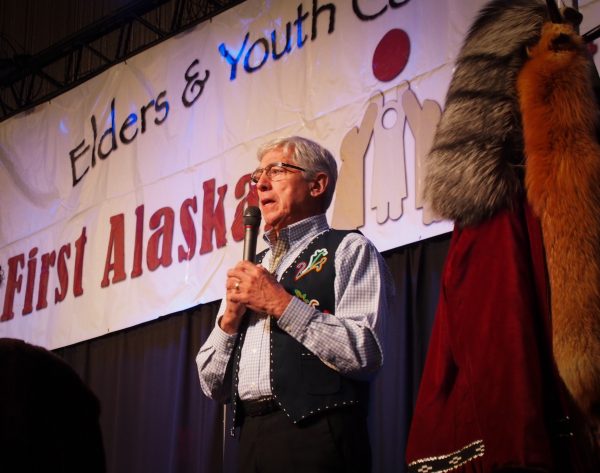 The first full day of the 34th annual Elders and Youth Conference kicked off in Anchorage Monday morning. The gathering of more than a thousand people from across Alaska takes place just ahead of the Alaska Federation of Natives convention each fall. It aims to promote indigenous identity and share cultural knowledge between generations.
The event is organized by the First Alaskans Institute. In opening remarks, FAI vice president Jorie Paoli spoke of this year's theme: "Part Land, Part Water – Always Native."
"Alaska is, always has been, and always will be a native place," Paoli said. "And Alaska is better because we're here."
The crowd heard remarks from both Governor Bill Walker and Lieutenant Governor Byron Mallott, both of whom then took questions on a range of topics. Multiple times, the two mentioned a forthcoming administrative action on climate change, but did not elaborate on specifics or a timeline. Walker said he's been moved to act on the issue, particularly since visiting subsistence communities across the state.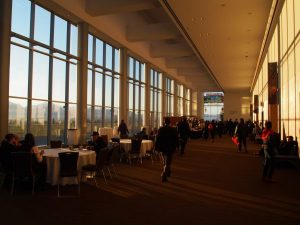 "When I was at Kivalina and I saw what was happening there with the erosion, uh, this is not in theory, this is not in theory, this is real life, day to day, issue," Walker said. "Some of the discussion, some of the whaling has changed because thickness of the ice, you can't pull a whale up onto the ice because the ice isn't as thick as it was before. These are life changes that will change the life of Alaskans, of Alaska Natives. We need to make sure that we're at the front lines because we are as a state at the front lines."
Walker and Mallott also spoke of the state "not doing enough" on public safety in rural communities, even referring to the issue as a "crisis." The men also touched on the importance of protecting subsistence resources, although on that topic the youth keynote speaker brought the room to its feet with applause and cheers.
"I am Agragiiq Chris Apassingok, and as you see in the pamphlet, I am the son of Daniel and Susan Apassingok."
The 17-year-old whaler from Gambell on St. Lawrence Island delivered the first part of his speech in Siberian Yupik. He then switched to English to recount his education in subsistence hunting, starting with mice, squirrels and birds, all the way up to the bowhead whale he struck on a hunt with his family this past spring. The incident caused a backlash against the teen on social media when a radical animal rights activist criticized Apassingok online – an event the young man said strengthened his resolve to keep practicing traditional hunting.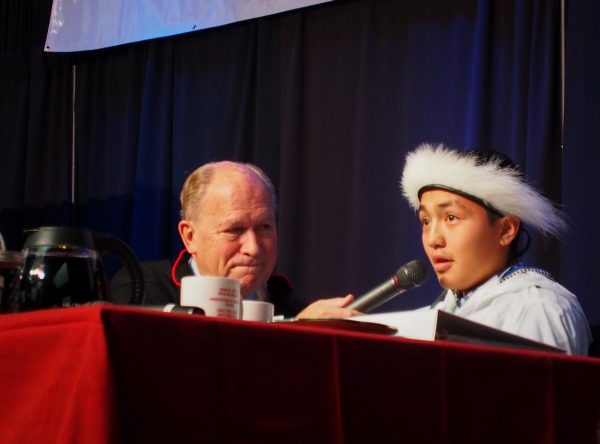 "We must never be discouraged by any accident or anybody that may threaten us. I am part land, I am part water, I am always Native," Apassingok said to the crowd, drawing applause. "Will you stand with me as I continue my hunting? Will you stand with me as we all continue our subsistence activities."
And the crowd did stand, giving the young man an ovation. Elsewhere in his speech, Apassingok talked about how even in his own short lifetime he's seen hunting conditions change, with less sea ice and rougher seas hampering traditional hunting.
The Elders and Youth conference continues through Wednesday at the Dena'ina convention Center in downtown Anchorage.
Related stories from around the North:
Canada: Colonialism still present in Arctic, says premier of Canada's Northwest Territories, Eye on the Arctic
Finland: Barents bishops ask Arctic Council to promote fossil-free future, Yle News
Greenland:  Companies ill-prepared to respect indigenous rights in Arctic, study finds, Blog by Mia Bennett
Iceland:  Norwegians and Icelanders let Alaskans in on the secrets to economic prosperity, Alaska Public Radio Network
Norway: Establishment of Álgu Fund marks new beginning in Arctic Council, indigenous peoples say, The Independent Barents Observer
Russia: More protected lands on Nenets tundra in Arctic Russia, The Independent Barents Observer
Sweden: Treatment of Sami people among Swedish shortcomings : Amnesty International report, Radio Sweden
United States: New bill aims to reverse Obama restrictions on Arctic offshore drilling, Alaska Public Radio Network