New terminal tanker arrives in Russian Kola Bay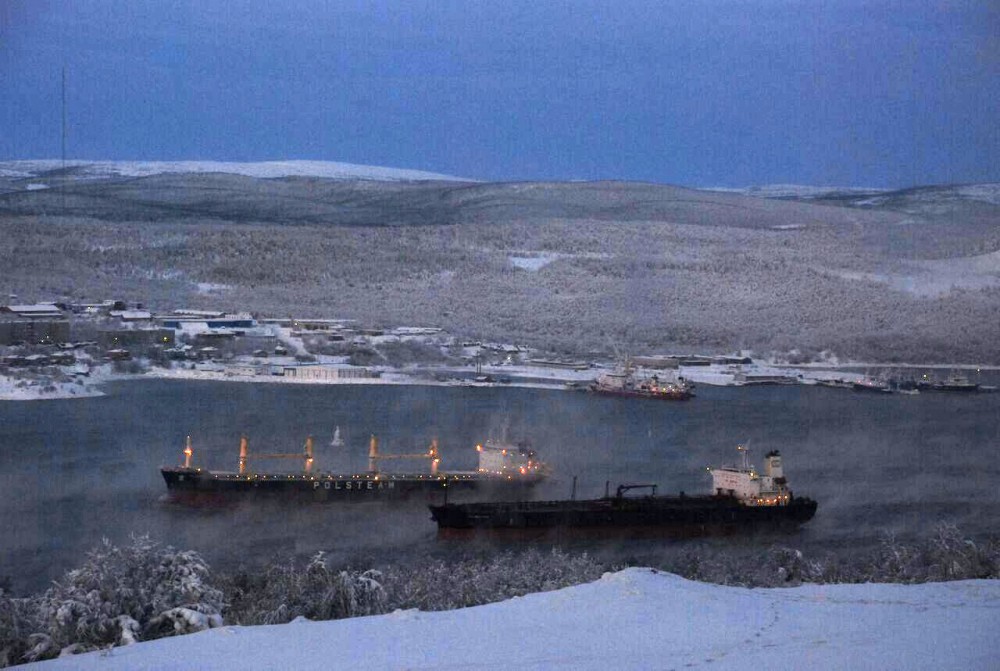 The tanker named «Kola» found its permanent location near Cape Filinsky on December 17th, a site few kilometres from the Murmansk city, port authority Rosmorport informs.
The operation included complicated manoeuvring in the Kola Bay, and the local harbour masters spent almost 24 hours to get the ship anchored up and in safe position, the local harbour masters say.
The 335 meter long «Kola» has a deadweight of 309,000. It will be ready for operations early 2018, PortNews reports.
Lukoil is a leading company in Russian Arctic oil shipping. It owns and operates the Varandey terminal on the coast of the Pechora Sea, from where major volumes of oil is pipelined from fields in the nearby Nenets Autonomous Okrug. According to data from the Russian Association of Sea Ports, the Varandey terminal in the course of the first ten months of 2017 handled a total of 7,0 million tons of oil, an increase of 5,4 percent compared with the same period in 2016.
All oil from Varandey is shipped out through the Pechora Sea and to Murmansk, where its is reloaded into terminal tankers and subsequently shipped to buyers abroad. It will now be the «Kola» which is to serve as the company terminal hub in Murmansk.
Not the first one
It is not the first terminal tanker of its kind in the Kola Bay. From before, Gazprom Next operates the «Umba», a 300,000 ton tanker, located in the Arctic fjord. The «Umba» receives oil from Prirazlomnaya, Russia's only oil-producing offshore field in the Arctic, as well as the Novy Port field in Yamal.
Lukoil before 2016 used oil reloading facilities in nearby Norwegian waters for its Varandey oil. In 2015, a total of 6,5 million tons of Lukoil's Arctic oil was reloaded ship-to-ship on a site near Kirkenes, the Norwegian border town.
The oil reloading was subsequently moved to Murmansk where ship-to-ship reloading was conducted with Russian tankers, among them the ships «Kapitan Gotsky" , «Proteas» and «Vasily Dinkov».
Related stories from around the North:
Canada: Arctic nickel, not oil, could soon power the world's cars, Blog by Mia Bennett, Cryopolitics
Finland: U.S. pullout from Paris climate pact condemned by Finnish leaders, Yle News
Germany: Cheap oil from the Arctic? Fake news, says climate economist Kemfert, blog by Irene Quaile, Deutsche Welle
Norway: Statoil greenlights northernmost drilling project in Arctic Norway, The Independent Barents Observer
Russia: Foreign shipments of oil, natural gas and coal banned along Russia's Northern Sea Route, The Independent Barents Observer
Sweden: Sweden's climate minister : U.S. withdrawal from Paris sends a bad signal, Radio Sweden
United States: Big questions emerge over $43 billion gas-export deal between Alaska and China, Alaska Dispatch News