Lahti, Finland to reward residents for cutting emissions
Lahti will apparently be the first city to let residents track their transport emissions – and earn awards for reductions.
The south-central Finnish city of Lahti expects at least 1,300 residents to begin using a mobile app that will calculate their transport emissions. It will also offer prizes for lowering them, including bus tickets and shared car use. The EU-funded scheme is touted as citizens' cap-and-trade system for CO2 emissions.
Lahti is by all accounts the first city in the world to encourage inhabitants to adopt Personal Carbon Trading (PCT) through its CitiCAP project. Under the PCT plan, locals will receive direct benefits from lowering their emissions.
Every weekday, Lahti resident Jussi-Pekka Hakkarainen, 41, cycles about five minutes to the train station and hops on a train to Helsinki, some 100 kilometres to the south. His commute to his job at a library takes less than an hour.
His family had to buy a car, though, as Hakkarainen's partner needs it to get to work and to take their four-year-old to day care.
"I was disappointed in a way that we had to get a car, but at the moment mass transit doesn't fully meet our family's travel needs," Hakkarainen tells Yle.
The city of Lahti's Environmental Director, Saara Vauramo, sees the Hakkarainen family as a good example of environmental consciousness.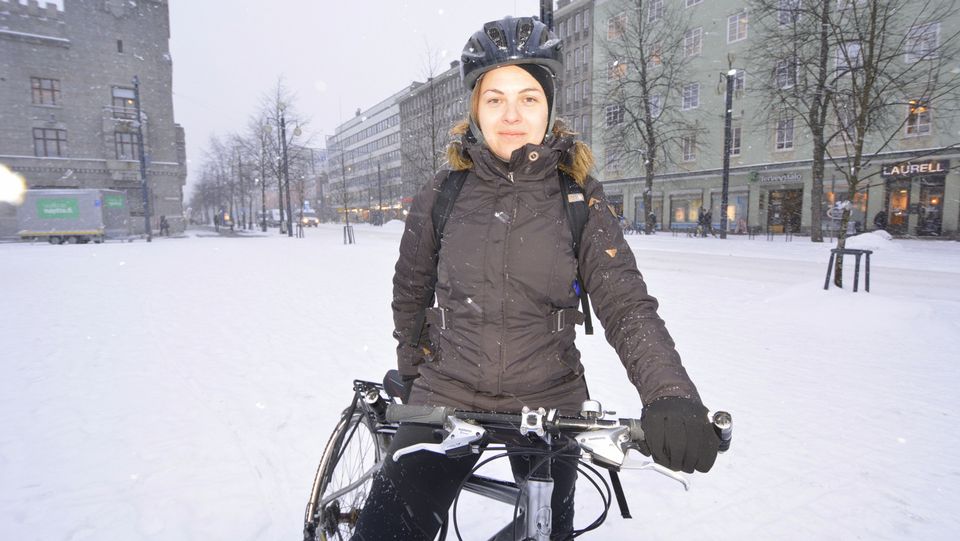 "This sounds like exactly the kind of typical family that we'd really like to encourage further," she says. "Even though a family has a car, they can still make choices on a daily basis. In this case the father cycles a lot, and we'd like to reward him and encourage him for that," says Vauramo.
Rewards for ecological choices
The project has picked up 4.7 million euros in funding from the EU's Urban Innovative Actions sustainability initiative. Other partners include business groups and the universities of Lahti and Lappeenranta.
They're helping to develop the mobile app, which automatically collects data on its users' travel. The goal is to have at least 1,300 users of the app, which will be launched next year. That's roughly one percent of the town's 120,000 inhabitants.
The city will provide incentives to locals who make environmentally-sound choices such as cycling, which cuts pollution and congestion, saves money and improves health.
Bike shop gift cards and bus tickets
"Active cyclists will get gift certificates to bicycle shops, and there will also be public transportation tickets as prizes," says Vauramo. "And we're considering a car-sharing system, and CitiCAP participants will be able to join in that experiment."
There are already shared cars available, but the system must work better, says Hakkarainen.
"We found one possible car, but it would have required first biking to the train station and then walking to the car hire place. Then I would have gotten the car and taken the others to work and day care, returned the car and gone to Helsinki by train," he explains.
Data from the CitiCAP project will be used to make the Lahti region's transport system more efficient. It will also be used to create a main cycle route based on smart solutions between the city centre and Apilakatu on the south side of town.
Related stories from around the North:
Finland:  Will the electric snowmobile revolution start in Arctic Finland?, YLE News
Norway: European Parliament member bikes 240 km in support of Arctic railway, The Independent Barents Observer
Sweden: Sweden's Christmas present of the year is…. an electric bike!, Radio Sweden
United States: Alaska's first, electric public transit bus ready to hit Anchorage streets, Alaska Public Media