Blog – America's most toxic site is in the Alaskan Arctic
In the Alaskan Arctic, Iñupiat sail across seas they've navigated for thousands of years in search of a whale to bring home. Polar bears roam atop the frozen ocean while caribou graze on the grassy tundra. Spring bursts forth with a bright spray of flowers, summer beckons long, golden days, and fall oozes with the blood red colors of moss and lichen preparing for winter's cold blast.
Against this picturesque backdrop, one that colors so many brochures of the Arctic, is Kotzebue, Alaska's Red Dog Mine, which is making headlines as it does nearly every year for earning the title of America's most toxic site. National Geographic, for instance, recently ran a story that the coastal Alaskan settlement, which Barack Obama visited during his tour of the Arctic in 2015, is America's most toxic town, drawing on a November 2017 report published by Forbes.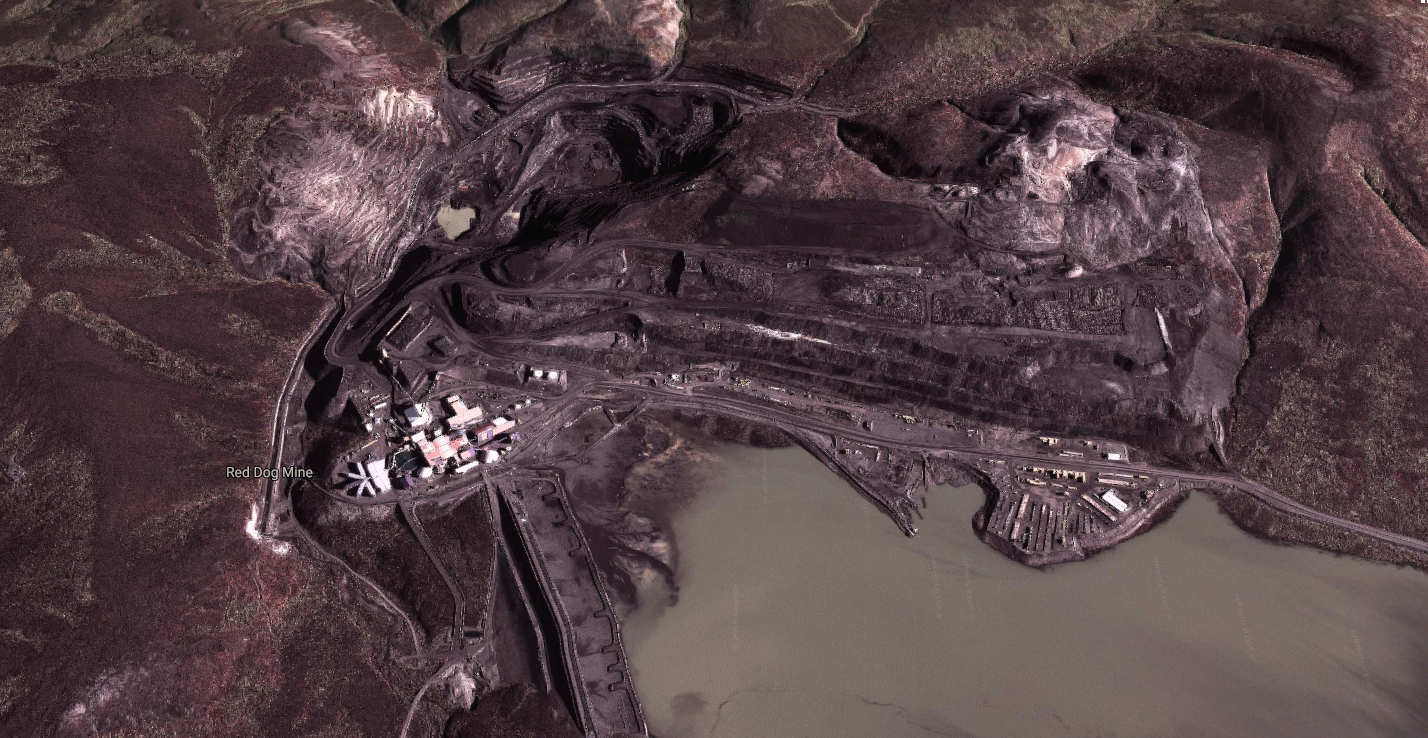 That undesirable position is based the U.S. Environmental Protection Agency's Toxics Release Inventory (TRI), a database of pollution established in response to citizen pressure stemming from the Union Carbide gas disaster in Bhopal, India in 1984. The TRI covers toxic releases to the land from mostly metal mining operations. 21,629 sites are covered, mostly in the mining, electricity generation, petroleum refining, chemical distribution, and hazardous waste treatment sectors.
Importantly, oil and natural gas sites are exempt, a loophole that environmentalists have sought to close for years. If fossil fuel extraction was included, there would probably be many more toxic sites in the Alaskan Arctic. (Researcher Robin du Bois' survey does a pretty comprehensive job of summing up pollution across the Arctic.)
So, as it has done nearly every year in recent history, Kotzebue's Red Dog Mine has kept its top-polluter title. The open-pit zinc and lead mine began operations in 1989 and was generating over half of Alaska's mineral value by the mid-2000s. This remote corner of the Arctic is the world's single largest source of zinc, a mineral used in things like paints, batteries, and cosmetics.
Millions of pound of "toxic" material released in the environment
In 2016, the most recent year for which data is available, the mine released over 756 million pounds of material classified as "toxic" into the environment last year. That actually marks a big comedown from 2014, when it released over 1.1 billion pounds of the stuff. The mine's operator, Teck, a Canadian company that runs Red Dog in a joint venture with NANA, an Alaska Native Regional Corporation, on NANA land claims that "more than 99.95 % of the total weight reported by Red Dog… is the waste rock and tailings that are safely managed each year at the mine in accordance with State and Federal permits."
A site-specific EPA report, however, still shows that Red Dog is an extremely risky proposition compared to other mines in Alaska and in the U.S. at large. The numbers also suggest otherwise, with close to 3,000 pounds of zinc and manganese compounds going right into the water and over 223,000 pounds of toxins into the air.
Additionally, an open-access study led by a National Parks Service researcher published last year in the prestigious journal PLoS One found that even though concentrations of zinc, lead, and cadmium along the haul road leading from the mine to the port on the Chukchi Sea had decreased in recent years, they were still elevated. The authors concluded, "While there has been a decrease in deposition, NPS is concerned about the potential for a growing and increasingly bioavailable soil contaminant layer."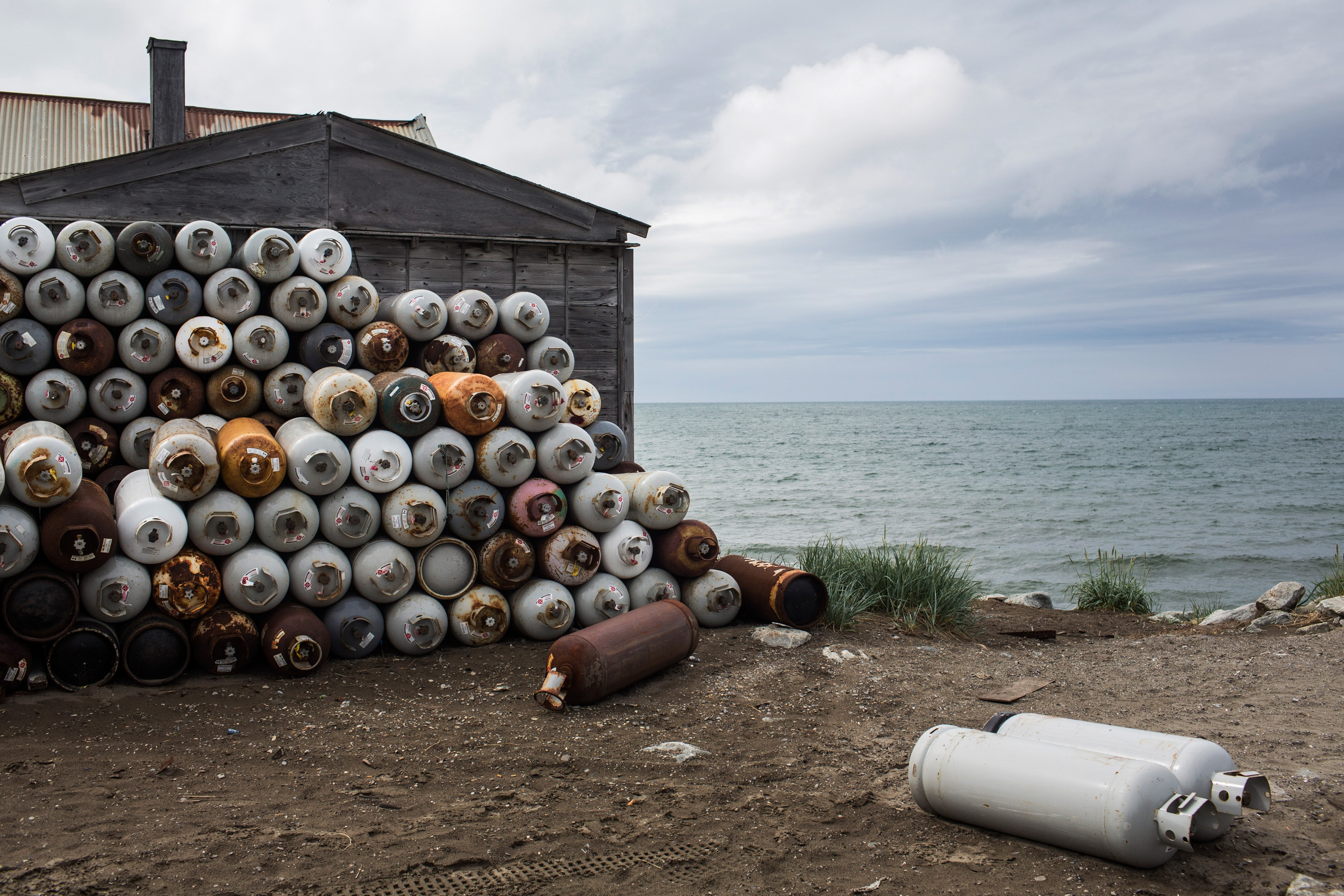 The mine produced an Empire State Building's worth of pollution, but no dividends
Toxic or not, those 756 million pounds are still pollution. The amount represents all the dirt, rocks, and toxins that have been dredged up in the name of development.
The NANA Regional Corporation has profited from the mine, reporting that it has kept approximately $480 million from the $1.3 billion it has received in net proceeds from the mine since operations commenced almost 30 years ago. A little less than half of that amount has been distributed to NANA's approximately 13,800 shareholders, while another $820 million has been distributed to other Alaska Native Regional Corporations and at-large shareholders. Notably, however, NANA shareholders did not receive a dividend in 2016 "primarily due to reductions in operating income from its oil and gas sector and lower zinc prices." Economic conditions, however, were apparently not tough enough to stop the release of almost a billion pounds of matter.
In terms of toxic releases, Red Dog Mine far outstrips the next most polluted site in America, the Kennecott Copper Mine outside Salt Lake City, Utah.
I crunched the TRI data to show that Red Dog Mine is responsible for half of the total toxic releases of the top 25 most polluting sites in America. Coincidentally, the 760 million pounds released from Red Dog Mine is just a little over the same weight as the Empire State Building, which clocks in at 730 million pounds.
Red Dog Mine also produces the most toxic release per person in the U.S.
The 760 million pounds is being dumped straight onto the Northwest Alaskan Borough, which unsurprisingly takes the title of America's most toxic county. While the National Geographic article describes the overall amount of toxins flooding the borough, it does not capture the burden shouldered by its residents compared to the rest of the United States.
Combining the TRI data with U.S. Census population data from 2015 shows just how extreme the per capita pollution is. Given that only 7,752 people live in the Northwest Arctic Borough, the amount of toxic releases per capita is a smidgen under 100,000 pounds per person. That's three times higher than the county with the second-highest amount of toxic releases per capita: the aptly-named Eureka, Nevada. 
The absurdly high levels of toxic releases per person can also be shown with a scatterplot. The chart below illustrates shows just exactly how much of an outlier the Northwest Arctic Borough is both in terms of total amount of toxic releases and in per capita pollution.
Toxins closer to home: the Great Salt Lake Basin
Most people, including myself, haven't traveled to Red Dog Mine. For anyone who's gone on a cross-country road trip, however, you might be more likely to have seen the dusty, salt-strewn deserts of Nevada and Utah, which also rank in the TRI database's upper echelons.
The region's industrial landscapes generate neon-pink sunsets, crusty, dried-up lake beds, and pyramids of pure white salt. In the Great Basin, everything drains into the ground, and unlike in Alaska, nothing flows out to the sea.
One of the most polluted sites in the area, and in fact the third most toxic location in the entire country, is the Carlin Mine, which adjoins the more extensive (yet less polluting) Barrick Gold Mine. From space, Barrick Gold Mine's open pit looks like a blackened crater etched into the Earth. The mine also elicits terrible reviews from truck drivers on Google, so this facility isn't pleasing anybody.
A few crop circles, likely growing hay, appear southwest of the two mines, irrigated with water from who knows where (though maybe this Nevadan farmer who accidentally unearthed a 200-degree underground spring, creating a geyser, might have some details). If consumers knew that their food, or at least the food of the animals they eat, was coming from farms located near two of the most toxic sites in America, it's doubtful they'd want to purchase it.
If this juxtaposition of farming and mining is distasteful, imagine the land you rely on for sustenance being downwind and downstream of an even larger mine emitting hundreds of thousands of pounds of toxins like nickel, cadmium, and mercury compounds each year. That's basically the kind of environment surrounding Red Dog as Iñupiat hunt, fish, and gather food. You can see in the picture below how the tailings sweep over the snow each winter.
The same concerns about polluted food sources might therefore cross the minds of Alaskans living off the land as they go to hunt caribou and ptarmigan and gather berries downstream of a site emitting millions of pounds of toxins like nickel, cadmium, and mercury compounds each year.
No easy choices in Arctic development
However, as I'll explain in my next post, economic development in the Arctic is rarely an easy choice between having a completely pure, clean environment, if such a thing ever existed, and building an enormous mine. In fact, for many people in the Arctic, traditional lifestyles can now only be maintained with money-generating industrial activity that inevitably must be massive in nature due to the economies of scale involved in developing remote resources far from any markets. More on that next time.
For now, I'll leave you with two last photos I took from an airplane of the denuded landscapes of the Great Basin, where, unlike with the Arctic, no one else in the U.S. seems to be complaining about the mining and chemical refining going on.
This post first appeared on Cryopolitics, an Arctic News and Analysis blog.

Related stories from around the North:
Canada: Scientists search Arctic waters for microplastics, Radio Canada International
Finland: No building permit for northern Finland nuclear project Fennovoima before 2019, Yle News
Norway: Russian activist in exile says Norway's nuclear waste support is irresponsible, The Independent Barents Observer
Russia:  Russian General Prosecutor targets polluters in the Arctic, The Independent Barents Observer
Sweden: Swedish mining company in court over toxic waste exported to Chile in the 1980s, Radio Sweden
United States: Loaded with more mercury than previously thought, permafrost thaw could be a ticking time bomb, Alaska Dispatch News