Mixing science with traditional knowledge, researchers hope to get seal oil on the menu in Alaska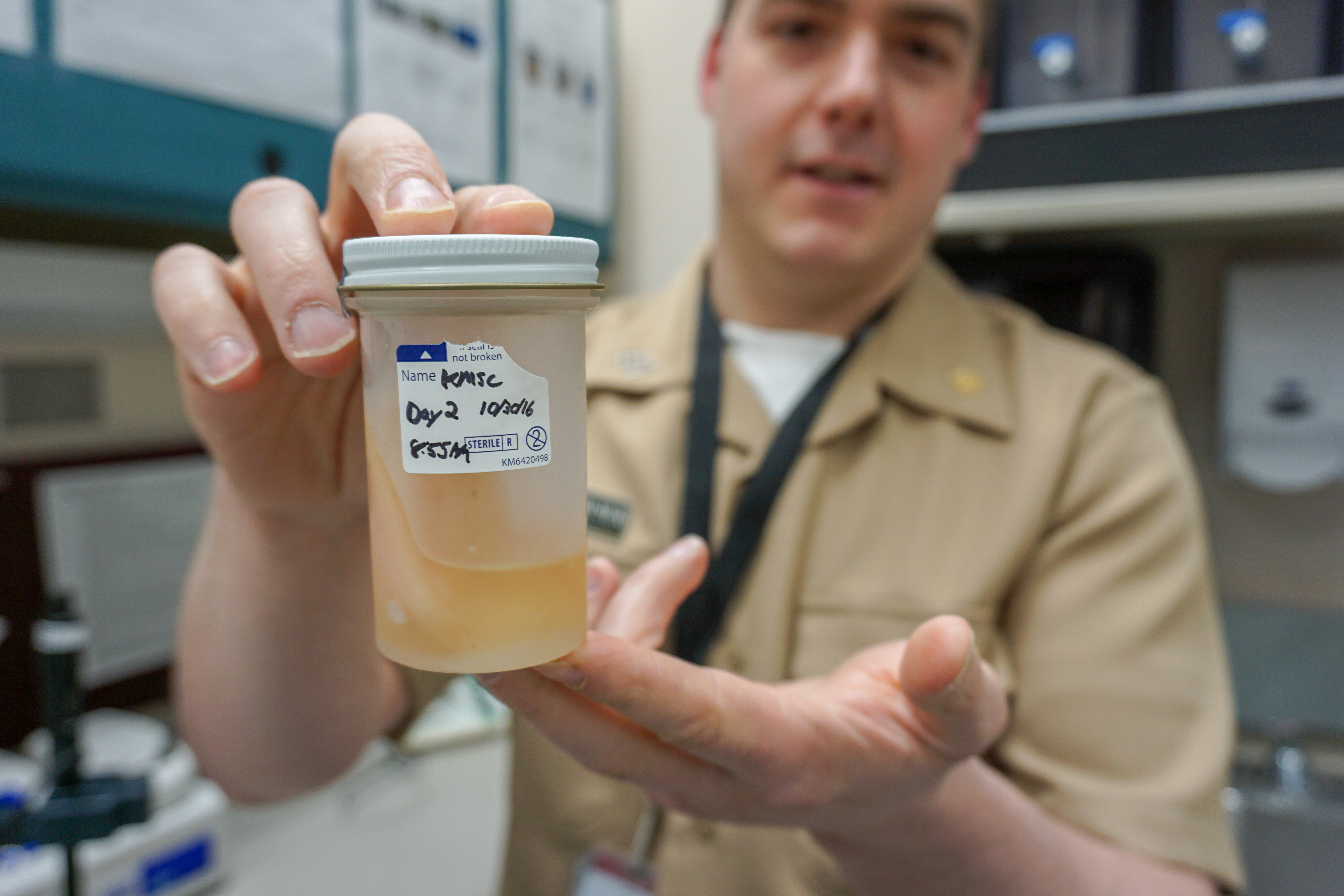 There's a traditional foods movement happening in Alaska. Dieticians, administrators, and others are trying to get more wild foods like moose, berries, and beach greens into health care facilities and schools.
In Kotzebue, the long-term care facility is leading the way with their state-certified meat processing building, the Siġḷauq. Things like caribou and trout are regularly on the menu.
But there's one food that elders really, really want, and they aren't allowed to have: seal oil.
More case of botulism than other states
"Seal oil has been implicated in a lot of botulism outbreaks in Alaska," explained Chris Dankmeyer, the environmental health manager at Maniilaq Association in Kotzebue. "There's a long record. In fact, some of the earliest records of botulism were from our region back in the '70s."
Botulism is bacteria that causes nausea, vomiting, blurry vision, even muscle weakness and death. "I mean, this is a very potent toxin," he said.
Alaska has significantly more cases of botulism than other states, mostly because of fermented foods and sometimes because of seal oil. So serving seal oil in nursing homes and schools is illegal except during potlucks.
A delicacy that needs certification
Chris's colleague Cyrus Harris, the Hunter Support program manager, said that's a problem because seal oil is a necessary condiment in his culture.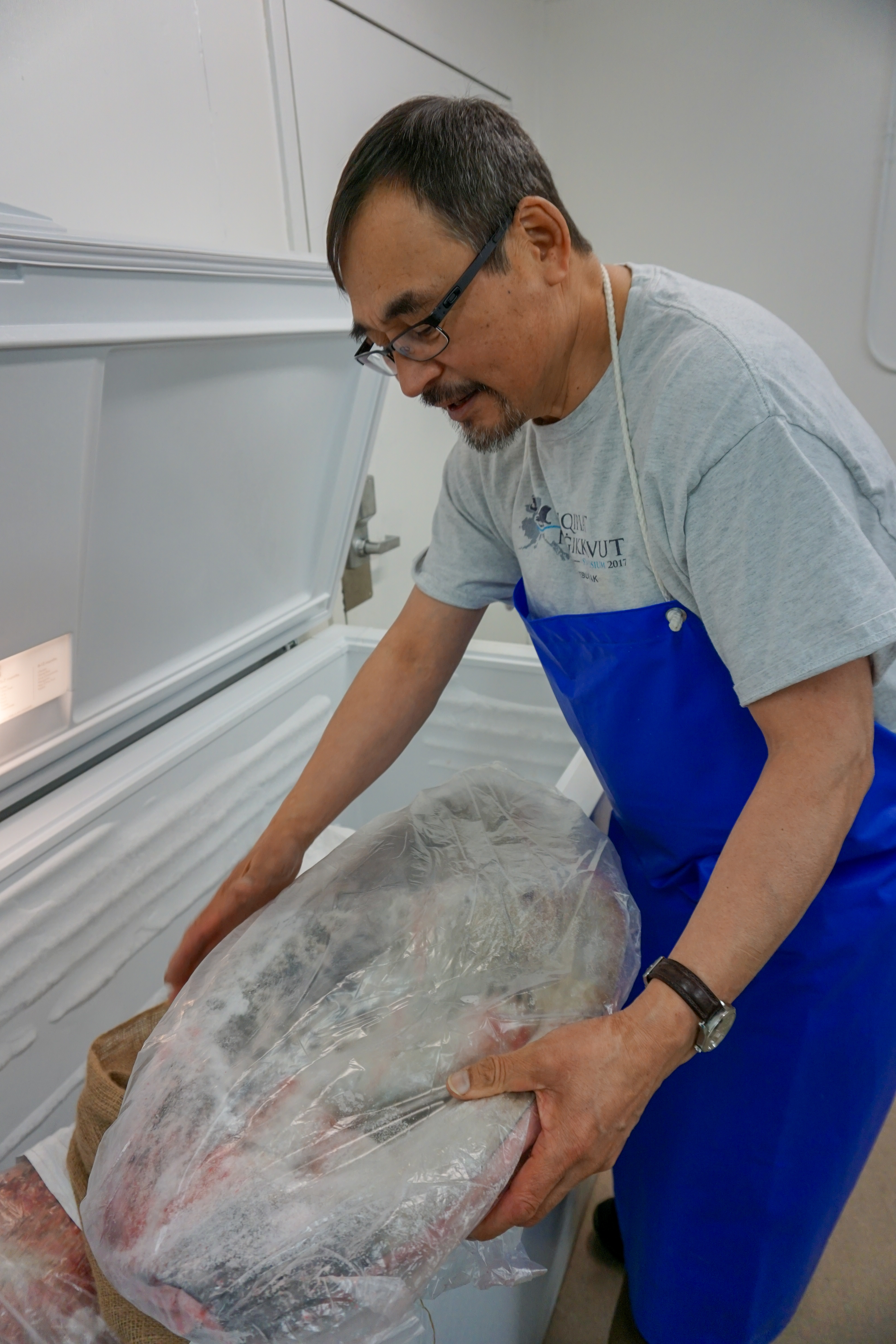 "It's a delicacy. It's what our elders are really needing. That's what they were raised with," he said.
So together Chris, Cyrus, and others are developing a plan to certify seal oil.
Standing in the Siġḷauq, Cyrus opens up a chest freezer and points out bags of slick grey and black spotted frozen seal skins.
"My job was to get some seals, seal skins with blubbers," he explained. "They've got the blubbers attached to them. So there's four of them in here."
New scientific tools
Cyrus has been making seal oil his entire life. He cuts the blubber from the skin, chops it into small pieces, and puts it into a container to let it render into oil. Sometimes he stirs it. Sometimes he adds older seal oil to speed up the rendering. But now, when he does it inside the Siġḷauq, instead of at hunting camp, every part of the process has to be documented. That's where Chris, the food safety expert comes in.
Chris points out the new scientific tools in his tiny lab. "The most important piece of equipment that we got right now is the pH meter," he said.
In order to serve seal oil at the long-term care center or at hospitals around the state, Chris and Cyrus have to develop a food safety plan. It's never been done before for seal oil.
"No one's ever really documented scientifically what's going on from the transition of seal blubber into oil," Chris said.
They're working with scientists from the University of Wisconsin and the Kodiak Seafood and Marine Science Center to figure out what makes seal oil potentially dangerous. They're measuring temperatures, water content, and pH. They're sending samples to labs out of state to document the microbiology. Chris will even film the weeks-long rendering process with a time-lapse camera. They think that as long as the seal oil gets down to a pH of 5 or less and doesn't have any water in it, then it's safe to eat, but they have to prove it first.
"You know it's the hot-button item that's prohibited, but everybody eats," he said, referring to people in the northwest arctic and other coastal communities. "So there's a safe way of doing it, and that's what we're just trying to prove."
Three years of work
They've been working on the project for three years now — seeking collaborators and designing and running the controlled experiments. They've played with ideas like adding lactic acid to lower the pH or trying traditional methods, like jump-starting the rendering process with older oil as Cyrus suggests. But all of those options could affect the taste, so they'll face another necessary hurdle.
"There's going to be a taste test in the end for the elders over there to get their seal of approval on our seal oil," Chris said.
Once the process is fully documented and a food safety plan is laid out, Chris will apply for approval from the state. Then their plan could be used as a model for other facilities that want to serve seal oil and as guidance for seal oil rendering at home.
Related stories from around the North:
Canada:  Food insecurity in Arctic Canada needs northern solutions, hackathon hears, Eye on the Arctic
Greenland: What the EU seal ban has meant for Inuit communities in the Arctic, Eye on the Arctic
Finland:  Sami group occupies island in northern Finland to protest fishing rules, Yle News
Norway:  The food crisis in the Far North, Barrents Observer
Russia:  More than 800 000 reindeer to be vaccinated against anthrax in Russia, The Independent Barents Observer
Sweden:  Legal battle over hunting and fishing in Sweden's far north, Radio Sweden
United States:  Amid shrinking sea ice, hunters race to adapt in Alaska, Alaska Public Media