Alaska museum's latest exhibit gives unique look at pingoes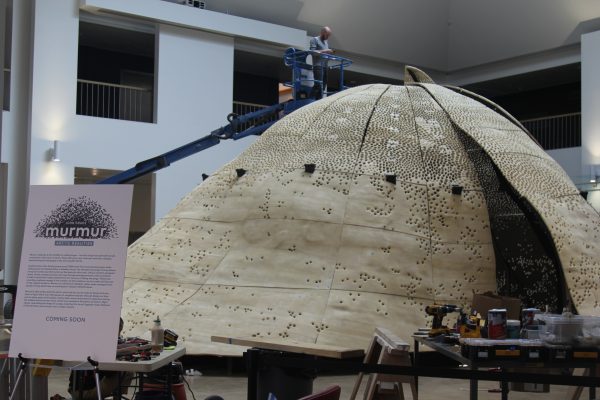 When Seattle-base sculptor John Grade first headed to the Arctic, he was searching for the northernmost tree he could find. But, along the way, he was struck by something else: hills in an otherwise flat and open landscape. Those hills, called pingoes, inspired his sculpture Murmur which opened at the Anchorage Museum on Friday.
"I'm a little bit surprised by how many people weren't familiar with what a pingo was," Grade said. "And I think that's because a lot of Alaskans aren't up in the Arctic."
To design the sculpture, Grade spent three and a half days camping on top of a pingo and then used a drone to map it from above.
The sculpture's scale is impressive. The mound is 42 feet tall and almost as wide. It's light brown and formed with different-sized panels made of salvaged Alaskan yellow cedar. They're curved and splattered with small holes.
"I wanted to have the sense of the wood being sort of ossified or that the wind had sort of formed its surface," Grade said. "So what we did when we'd finished carving all the surface of this wood was blast it with walnut shells."
Team effort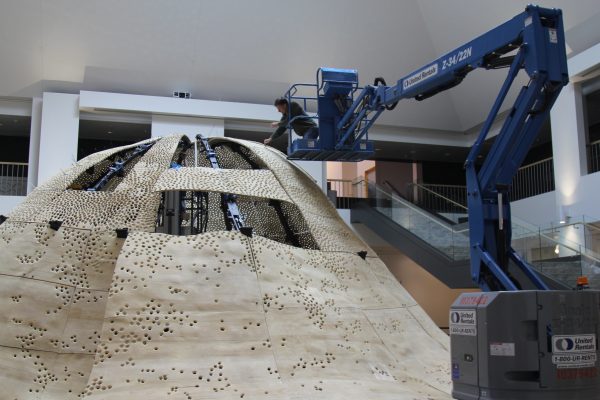 A member of his team rides a boom lift and peers in through the pingo's top. Others sit around the edges staring at computer screens. Three more work on the inside, testing out the sculpture's moving walls.
"When that artificial light's turned off, you get all of this shadow play. And the shadows are overlapping one another," Grade said. "And then as these panels start to unfold, all of those shadows start moving all over the place."
A trip to the Arctic through the Anchorage Museum's Polar Lab program inspired Grade to make the sculpture. Hydrostatic or "closed-circuit" pingoes form when trapped water beneath the ground freezes and expands. Hydrostatic pressure forces the mounds slowly upward.
"And each year it's cycling through and growing incrementally," Grade said. "So it could take 1,000 years before a mound grows just below the permafrost that might be 75 feet tall."
Their cores are made of ice. As that ice melts, pingoes collapse, forming lakes and then scars in the landscape.
"They're a very moving phenomena, and I think that they're something that we can watch to kind of see how the climate's changing in the Arctic," Grade said.
Pingoes and birds
But it's not just a pingo that Grade was looking to simulate for the exhibit. While paddling toward one on the Noatak, he watched a flock of birds create a murmuration that looked like the profile of a pingo. Murmurations are when birds dance together in massive, moving shapes. Most people associate them with starlings.
"Seeing the birds in this very ephemeral fleeting moment and then comparing it to this glacial rise of a pingo over hundreds of years," Grade said. "I wanted to do two things that I can't do. I wanted to be in the middle of a murmur of birds, and I wanted to be inside a solid ice core of a pingo. So bringing those two things together with one sculpture was the initial drive."
Hence the name Murmur. Grade also wanted to give visitors a better sense of the Arctic environment through sounds and through visuals. To do that, he brought in Reilly Donovan, a new media artist.
"Some of what you'll see are puddles from the marshlands," Donovan said. "You'll also see mosquitoes flocking and very delicate fungi and flowers."
The exhibit uses something called augmented reality. Visitors wear HoloLens headsets that add sounds and holograms to their surroundings. Inside the pingo, a holographic ice core extends beneath the floor. Although scientists have cored pingoes, Donovan and Grade mostly had to use their imaginations.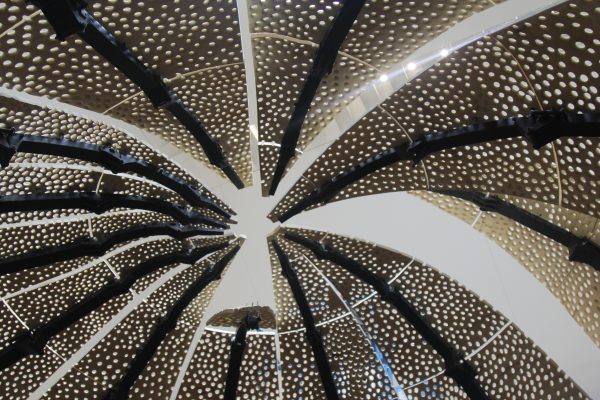 "As you traverse the terrain, you actually start illuminating and revealing holograms that populate the floor space," Donovan said.
Summer exhibit
Grade and Donovan worked with a team of 20 to create the exhibit, including a computer programmer and a mechanical engineer. The exhibit will be at the Anchorage Museum until September before it travels internationally. It'll return to the museum in 2020, where it will hang upside down from the ceiling, meant to symbolize the collapse of a pingo.
"What's most important to me, is that people come into the experience and they're able to project their own ideas about what that landscape might mean and how it is to interact with other people within the exhibit as well," Grade said.
Related stories from around the North:
Canada: From the Arctic to Atlantic, a photographer documents seal hunting in Canada, Eye on the Arctic
Finland: Finnish National Museum returns thousands of artefacts to indigenous Sámi people, Yle News
United States: National recognition for 2 Alaska artists, Alaska Public Media