Study in Northern Quebec to assess impact of climate change on Inuit's food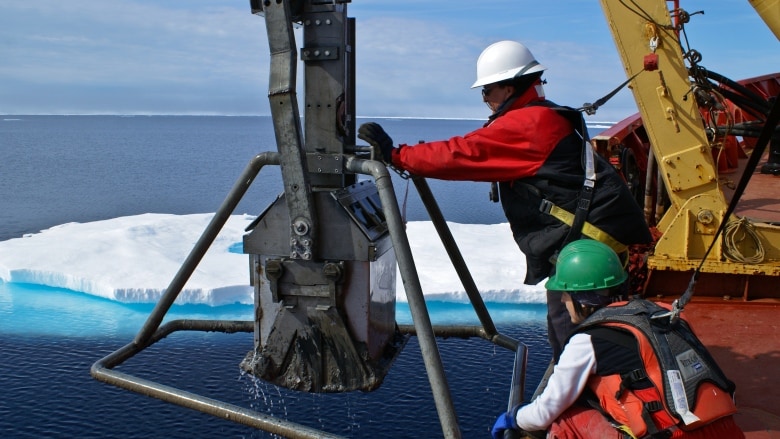 A project aimed at examining the impacts of climate change on Inuit health embarked on its second leg this summer, as researchers visited three Nunavik communities.
The Laval University-affiliated Project BriGHT (Bridging Global change, Inuit Health and the Transforming Arctic Ocean) is assessing how climate change is affecting nutrients in marine food, which Inuit eat.
Last year, aboard the coast guard icebreaker Amundsen, the project team took samples from deeper sections of ocean near Inukjuak, Salluit, and Quaqtaq. The team boarded the Amundsen again from July 5 to 13, aiming to take samples closer to the coast using zodiacs and helicopters, according to Jean-Eric Tremblay, who's leading the project.
"What we've learned so far… is the physical environment of Hudson Bay, Hudson Strait, and Ungava Bay are extremely different," Tremblay said before the trip. "In terms of water temperature, fresh water content, acidification, and nutrient loading.
"So our idea is to confirm that these differences really have an impact on the marine food web."
'Positive things and … negative things'
Though he stressed the results are very preliminary, Tremblay said his team hypothesizes that the quality of marine food will be different in each region, and that those differences could have repercussions on the health of coastal populations.
Tremblay pointed to laboratory studies of plankton — which has a lower omega-3 content in warmer temperatures — and algae, which synthesizes more omega-3 with greater light intensity, something that could increase in nature as sea ice disappears.
"What we want to do is see whether it's actually occurring in the field," he said.
"There are positive things and there are negative things. And what we really want to see is what the outcome is likely to be. So in the future, will the marine food be richer in omega-3s… or will it be negative?"
Last year, the project team's research only involved sampling offshore in deeper waters, said Tremblay. This year, they will work with local hunters and trappers organizations to sample Arctic char as it runs from the oceans back into fresh water rivers.
"There's a big component of the program that is shore-based," he said.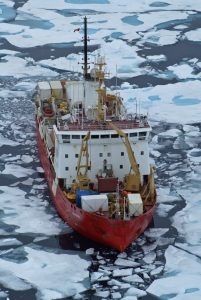 According to the co-ordinator of offshore operations for the project, Gabrielle Fortin, the ship was slowed down by "severe ice conditions" in Hudson Bay, which she said is surprising for this time of year.
"We were able to sample nutrients in several stations along the coast of Nunavik in the Hudson Bay and Hudson Strait. We also collected samples of microscopic algae and zooplankton, fish and benthic organisms," Fortin said in an email.
Potential indicator of climate change impacts
Though the project won't provide data on historical changes in food — Tremblay characterized the sampling as "a bit of a snapshot" — the BriGHT team is hopeful that it could provide answers about how waters affected by climate change will impact marine populations.
"The three coasts are really different," said Tremblay. "And for us, those differences are a little bit analogous to what climate change may do. If we look at the warmer coast, the more acidified coast, this is a bit analogous to future conditions."
Tremblay said results from the study won't be available for at least a year after samples are taken, and his team plans to head to the impacted communities to present the early results in person.
Related stories from around the North:
Canada: Canada invests $1.2 million to help solve mystery of dwindling char numbers in Arctic, Eye on the Arctic
China: Arctic Indigenous food culture takes the day at international cookbook awards, Eye on the Arctic
Finland: Finland's strawberry season hastened by warm spring weather, Yle News
Norway: Will Russia ask Norway to cut crab fishing in Arctic fjord?, The Independent Barents Observer
Russia: Russian salmon farmers buy Norwegian smolt company, The Independent Barents Observer
Sweden: Sweden seeks European Commission's help for farmers facing historic drought, Radio Sweden
United States: America's most toxic site is in the Alaskan Arctic, Cryopolitics blog