With more and more defence ties, is Finland moving away from its non-aligned status?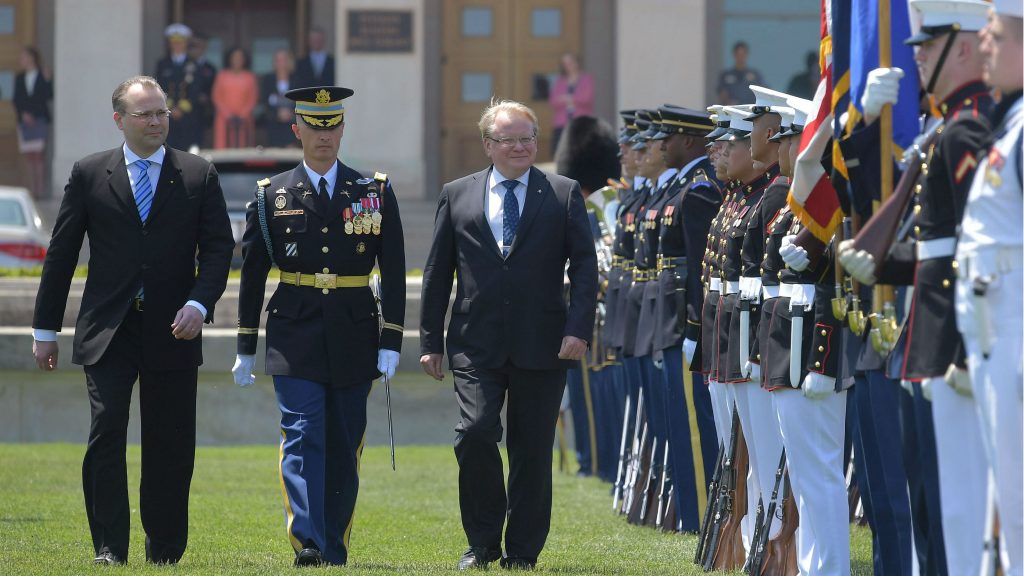 Finland's Defence Forces appear to be taking clear steps towards closer military cooperation with the west, as Defence Minister Jussi Niinistö has led efforts to enter into several different cooperative agreements with western countries over the last two years.
Matti Pesu, a researcher with the Finnish Institute of International Affairs, says that even if Niinistö has downplayed the significance of the agreement with the US, for example, the chance that someone will come to Finland's aid in the event of an emergency is now much more likely.
"The agreements focus on Finland's national defence. The idea is that we would receive help in a crisis, and that Finland is preparing itself for the fact that our defence will be managed in concert with others," he says.
Still non-aligned?
Pesu says that Finland's stance of military non-alignment has changed with the agreements. Even the idea of opting out of military alliances is starting to fade from talk on foreign and security policy, he says. As late as the 2000s, it was still a question: As a non-aligned country, what could Finland do with NATO?
"Non-membership in military alliances is a fact, but it certainly doesn't guide what we can and cannot do," he says.
Former National Defence University docent Pekka Visuri says that there is no doubt Russia is following the development of the situation carefully.
"There's no question about this, but no one knows what kinds of measures they will take in practice," he says.
Visuri says that the defence agreements Finland has entered into over the last two years are hardly mysterious, and yet they still leave room for interpretation. At the end of the day, Finland's political elite will decide what kinds of measures can be made on the basis of the pacts, the professor says.
"The political leadership will most definitely make these decisions, so the agreements don't have to come up with ready solutions," he adds.
Pesu posits that the western powers are willing to enter into defence cooperation agreements with Finland because of its strategic location on the Baltic Sea.
"This is important in terms of defending the Baltic countries. The premise is that the western partners assume that Finland would support western aims," he says.
Finland's defence cooperation agreements 2016-2018
9 July 2016
The defence ministers of Finland and the UK meet in Warsaw. Jussi Niinistö and Michael Fallon sign a framework agreement on defence cooperation. Members of the parliamentary defence committee later state that they had no previous knowledge that the agreement would take place.
7 October 2016
Finland's Jussi Niinistö meets with US Deputy Defence Minister Bob Work in Helsinki to sign a letter of intent about defence cooperation.
29 June 2017
Finnish and German defence ministers meet in Berlin. Jussi Niinistö and Ursula von der Ley sign a framework agreement on bilateral defence cooperation. Finland also signed a separate letter of intent to participate in the work of the Framework Nation Concept (FNC), led by Germany, the goal of the which is to develop multinational European crisis management
30 June 2017
The defence ministers of Finland, Sweden and the UK meet in Stockholm. Jussi Niinistö, Peter Hultqvist and Michael Fallon sign an agreement for Finland and Sweden to join a Joint Expeditionary Force, led by Britain.
16 November 2017
Finland enters into a three-year agreement with NATO to continue as an Enhanced Opportunity Partner. Finland joined NATO's Partnership for Peace in 1994.
5 May 2018
The defence ministers of Finland, Sweden and the US meet in Washington. Jussi Niinistö, Peter Hultqvist and James Mattis sign a three-way letter of intent about defence cooperation.
6 June 2018
Finland commits to three separate EU projects: One to develop software-defined radio, another to improve military mobility and a third to enhance cybersecurity.
9 July 2018
Finnish and Swedish defence ministers meet in Turku. Niinistö and Hultqvist sign a memorandum of understanding on defence cooperation.
28 August 2018
The Finnish and French defence ministers meet in Helsinki. Jussi Niinistö and Florence Parly announce that Finland and France intend to enter into a defence cooperation agreement
30 August 2018
The presidents of Finland and France meet in Helsinki. Sauli Niinistö and Emmanuel Macron announce that Finland will prepare a memorandum of understanding on Finnish participation in the European Intervention Initiative, an idea proposed originally by France.
Correction: A spelling error in the original article stated the name of the FIIA researcher as Matti Pusu instead of Matti Pesu. The researcher's name has been corrected.
Related stories from around the North:
Canada: Canada's defence minister says military upgrades part of plan to strengthen Arctic sovereignty, CBC News
Finland: President Niinisto says Finland's NATO membership "a possibility", Yle News
Norway: Russia's weapons tests not a sign of rising tensions, says Norway's Defence Minister, The Independent Barents Observer
Russia: Russia threatens response if Finland and Sweden join NATO, Yle News
Sweden: Sweden to buy U.S.-made Patriot air defence systems, Radio Sweden
United States: New symposium brings U.S. military's attention to the Arctic, Alaska Public Media