Venta Maersk container ship successfully breaks through ice on Northern Sea Route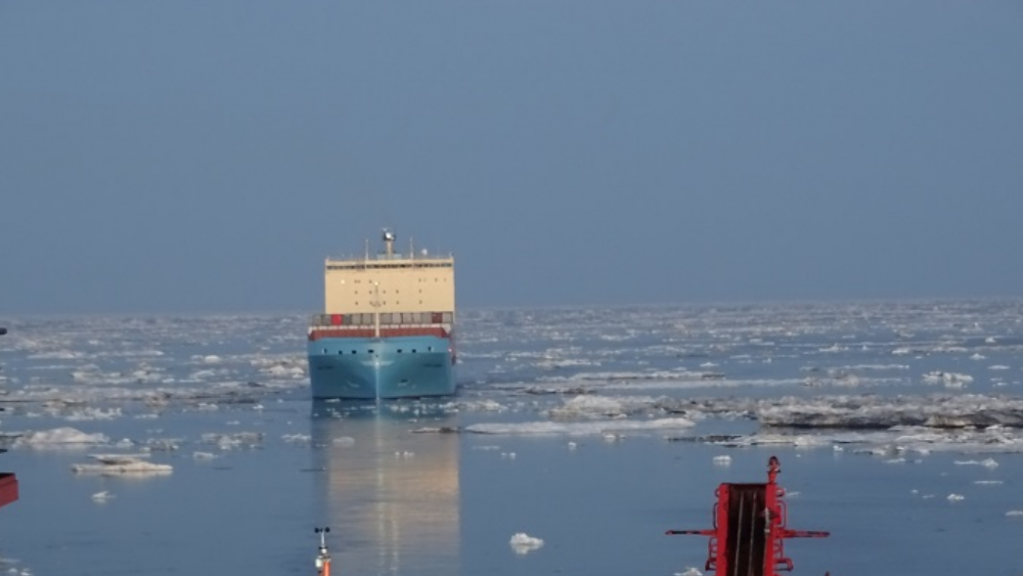 With a speed of 11 knots the Venta Maersk sailed through the most difficult part of the Northern Sea Route, in the Russian Arctic.
The brand new container ship designed for voyages in icy conditions in late August set out from Busan, South Korea, and was from 8th September accompanied by nuclear icebreaker 50 let Pobedy through the East Siberian Sea and Laptev Sea (Russian east-Arctic).
It is said to be the first regular container ship that has crossed the Russian Arctic route.
The icebreaker escort was completed as the ships had sailed into the Laptev Sea on the 11th September, nuclear power company Rosatom informs (in Russian).
Less ice as ship heads west
Ice data from the Russian Arctic and Antarctic Research Institute show that there is still more than one-meter thick ice in major parts of the East Siberian Sea, while the whole Kara Sea and practically all of the Laptev Sea is ice-free.
"The convoy successfully proceeded through the Sannikova Strait, which is the shortest route, with an average speed of 11 knots", says Rosatom Chief of maritime operations Vladimir Artyunyan.
"There have been no complaints from the ship captain or the shipping company", he underlines.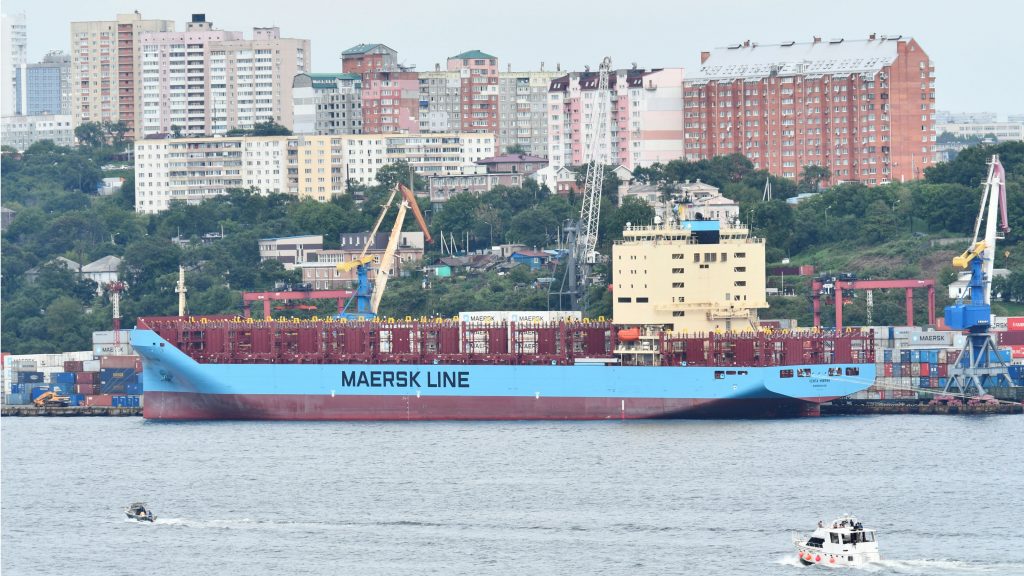 The Venta Maersk is now independently continuing its voyage towards its end destination of Bremerhaven in Germany. It will proceed through the Laptev Sea, and subsequently the Kara Sea (Russian Arctic) and Barents Sea (European Arctic) before it enters Norwegian waters.
The nuclear icebreaker 50 let Pobedy is on course for Murmansk where it is to undergo planned repair works.
The Danish-registered container ship was built in 2018 and can carry up to 3,600 containers.
Northern Sea Route expanding
Several more companies are considering to start test voyages with container ship across the Northern Sea Route. Among them is the Korean company Hyundai Merchant Marine that in 2017 confirmed its plans to send container shipments with vessels capable of carrying 2500-3500 TEU on the route.
Russia has major ambitions for the Arctic shipping connection between Asia and Europe. But trans-shipments on the route has been sparse. In 2016, only 19 ships with 214,500 tons of cargo made it transit from the Bering Strait to the Barents Sea. That was more than in 2015 when goods volumes shipped transit along the route was only 40,000 tons.
In 2017, the volume of goods shipped transit on the route was slightly less than one million tons.
Related stories from around the North:
Canada: Canada ill-prepared for Arctic shipping boom, G7 sustainability summit hears, Eye on the Arctic
China: China opens bids for its first nuclear-powered icebreaker, The Independent Barents Observer
Finland: Finland chooses Kirkenes in Norway for new Arctic railway terminal, The Independent Barents Observer
Norway: Russia's Novatek turns to Norway to ease Arctic LNG exports, The Independent Barents Observer
Russia: Traffic on Northern Sea Route surging 80 %, says Russia, The Independent Barents Observer
Sweden: Swedish icebreaker reaches North Pole for climate study, Radio Sweden
United States: U.S. Congress authorizes six icebreakers in Pentagon bill, Alaska Public Media