Indigenous LGBTQ issues discussed at inquiry into violence against Indigenous women, in Northern Canada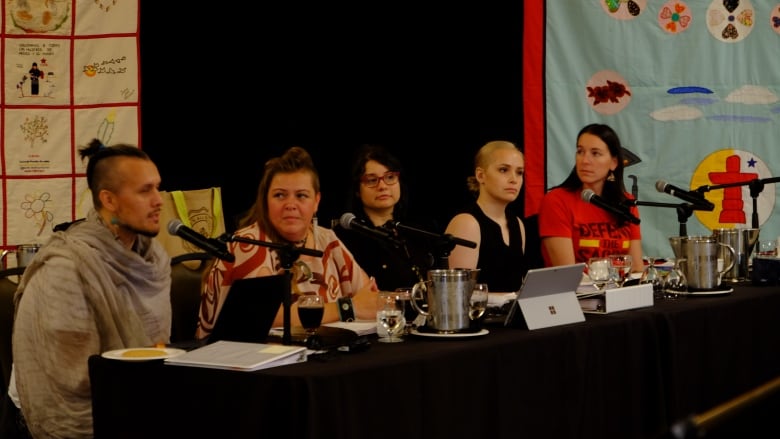 A glaring gap in supports for LGBTQ and two-spirit Indigenous people is putting them at risk of harm, commissioners heard at the third day of hearings for the federal inquiry into missing and murdered Indigenous women and girls in Iqaluit, in Canada's east-Arctic.
The third and final panel of the week, focused on decolonization and a gendered Indigenous perspective, gave their testimony Wednesday afternoon. The panel included Jasmine Redfern and TJ Lightfoot, both of whom have extensive experience working with a youth sexual health network, and Jeffrey McNeil-Seymour, a two-spirit university professor, activist, and artist who teaches courses focusing on decolonizing social work.
Redfern and Lightfoot testified together to open the panel, speaking about the lack of visibility for the LGBTQ and two-spirit Indigenous community.
The term two-spirit is used by some Indigenous people to describe someone who has both a masculine and a feminine spirit.
"Often, when we speak about violence against Indigenous women, we're referring to violence by men," said Redfern, who grew up in Iqaluit and pointed out that the city's domestic violence shelter does not have policies in place for women fleeing women, or for relationships between clients at the centre.
She said when accessing services, people often feel forced to come out to their service provider to justify the services they need, and they have to educate them.
"That can be very taxing for individuals," she said. "Especially in a crisis state, that can make things more difficult."
"It can be emotionally, spiritually exhausting," she said, adding that this burnout can lead people to completely disengage from accessing interventions.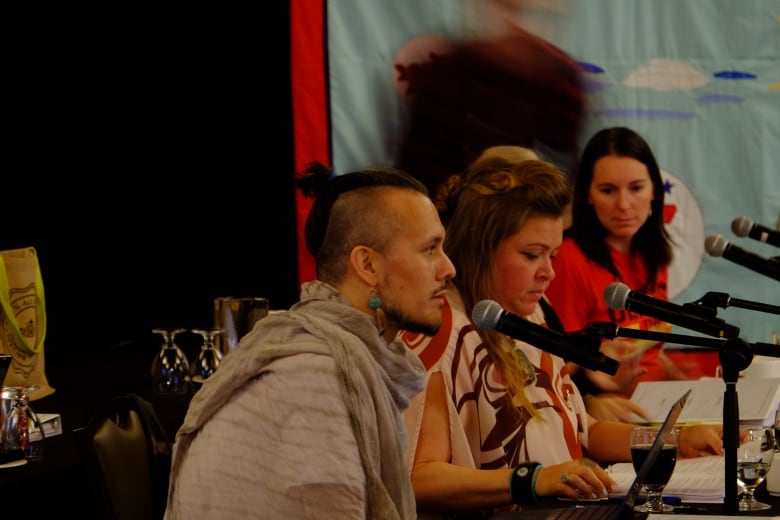 'Take note of who's not here'
Redfern recommended to commissioners that this lack of visibility needed to be addressed in their final recommendations.
"Take note of who's here, but also take note of who's not here," she said. "We're very fortunate to be able to speak with you, but we don't represent the entire LGBTQ2 community… we need to make sure we're not erasing anyone for administrative ease."
McNeil-Seymour's testimony focused on his work decolonizing the classroom, but also touched on a lack of visibility, recommending to commissioners that the gaps and challenges the inquiry has faced need to be acknowledged in their final report.
"People just want to be heard," he said.
Though McNeil-Seymour noted that some people viewed the inquiry as "falling apart" or "deeply flawed," he encouraged commissioners to not give up.
"We will win by saving what we love or fighting what we hate. Do not forget that we are just walking each other home."
'When we get raped, we can't get anyone to show up'
The most emotional piece of testimony came on the topic of environmental violence, as Lightfoot showed a now-iconic photo of a woman from her home community holding up an eagle feather in protest of a fracking operation, surrounded by dozens of RCMP officers.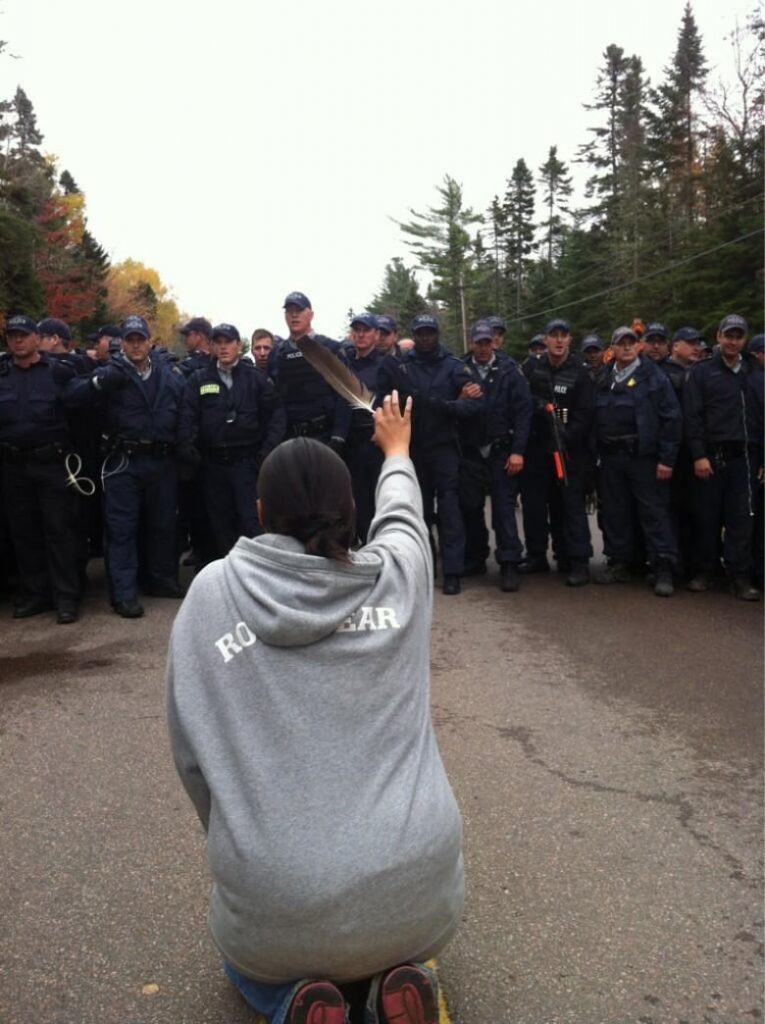 "They tell us to be peaceful, to protest peacefully, and what are we met with? Violence," Lightfoot said through tears. "Meanwhile, when we get raped, we can't get anyone to show up."
Lightfoot's testimony highlighted the health impacts of the resource industry on Indigenous women, as well as "man-camps" — camps of transient workers in the resource industry that have led to increased rates of sexual violence, alcohol use, and language conflicts, according to a study presented Wednesday.
"When these industries happen, the environmental fallout… often impacts Indigenous women," says Lightfoot. "It impacts reproductive health, it impacts breastfeeding. You're impacting culture and traditions. You're impacting the survival of the people."
"When you do those things, and it's not popular to say it, but that is genocide."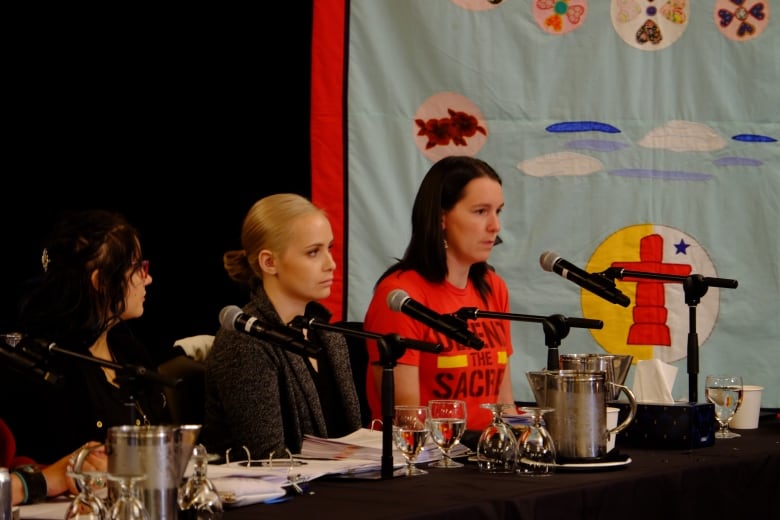 Redfern and Lightfoot's testimony ended with a question from commission counsel Christa Big Canoe, who noted the pair were both mothers and asked what they hoped for their children.
"I want our families to be a part of the norm," said Lightfoot. "I want it to be OK to play mom and mom."
Redfern teared up as she gave her answer.
"I want to make sure that my daughter, no matter what, feels she has a voice, and a voice that will always be heard," she said. "I want her to feel like she always has a home and a place… I hope that she will always be proud of herself."
The Iqaluit hearing enters its final day Thursday, where the panel will face cross examination.
Related stories from around the North:
Canada: Loss of Inuit culture highlighted at Canada's inquiry into violence against Indigenous women, CBC News
Finland: Sámi school preserves reindeer herders' heritage with help of internet, Cryopolitics Blog
Norway: Injustices against Sámi, Kven peoples to be examined by commission in Norway, The Independent Barents Observer
Sweden: Report sheds light on Swedish minority's historic mistreatment, Radio Sweden
United States: Survey finds violence against women widespread in Western Alaska region, Alaska Dispatch News