Loss of Inuit culture highlighted at Canada's inquiry into violence against Indigenous women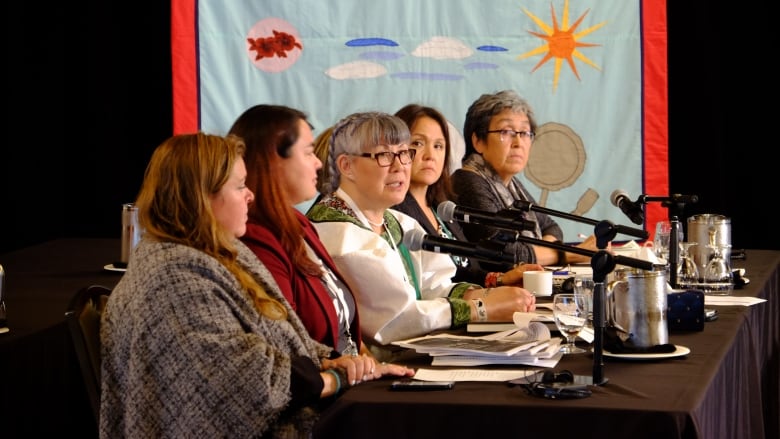 Inuit life, culture and healing — both past and present — dominated the discussion on the first day of hearings in Iqaluit for the federal inquiry into missing and murdered Indigenous women and girls, as a trio of panellists outlined the impacts of colonialism and efforts to regain lost culture.
Monday's testimony was the first of four days of institutional hearings in Nunavut's capital, and the only one virtually exclusively focused on the Inuit experience. The hearing is looking at socio-economic, health and wellness impacts.
Panellists Elisapi Davidee Aningmiuq, Hagar Idlout-Sudlovenick, and Inukshuk Aksalnik gave powerful and at times emotional testimony as they outlined their work and experience for the commissioners in attendance.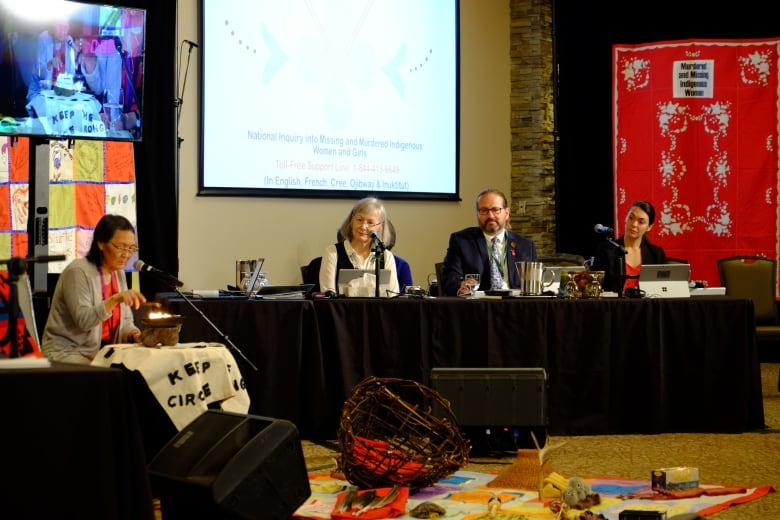 After the proceedings opened with the lighting of a qulliq — a traditional Inuit oil lamp that will burn for the duration of the four-day hearing — the three panellists took turns testifying, followed in the afternoon by cross-examination by several parties of interest from across the country.
Much of the testimony focused on the still-fresh impacts of colonization on Inuit. Davidee Aningmiuq​, who works for a cultural revitalization group in Iqaluit, spoke about a Catholic priest who she overheard speaking about her and her classmates and their lack of traditional knowledge.
"Yes, they are Inuit, but they don't know how to make kamik [traditional footwear]," she recalled through tears, as she explained how that line impacted her and ultimately drove her to the work she does today.
"I didn't want anyone else to feel that feeling," she said. "I'm proud to say that with our programs, we have hundreds and hundreds of ladies that know how to make kamik."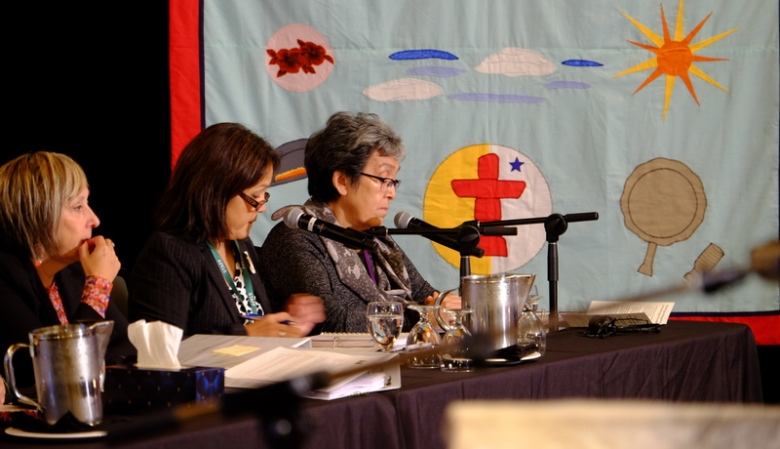 'This is where our lives started changing'
Next to testify were Idlout-Sudlovenick and Aksalnik, both of whom work with the Qikiqtani Truth Commission, the only Inuit fact-finding truth commission ever undertaken in Canada. Their testimony turned to historical factors that have led to the loss of traditional lifestyle and culture, including the slaughter of sled dogs by RCMP and the forced relocation of Inuit by companies, government and police.
In a particularly powerful piece of testimony, Idlout-Sudlovenick spoke about the broken promises made to Inuit as they were forced to settle in communities.
"Some had said when they were asked to move to the community, they were told they would have a job, they would be provided with housing… some were told that if you move to the community, you will have a house with everything in it. You can leave your things out at the camp," she said. "They believed what they were told.
"But when they moved to the community, there were no houses. Some of them had to stay in a tent all year. They could not go out on the land because of the dog slaughter… They were craving for country food, and they got hungry. These are the things that affected the Inuit […] And this is where our lives started changing."
During cross-examination, Davidee Aningmiuq​ explained through tears that some Inuit would go to the local dump to find food after being relocated.
"They didn't know the local hunting grounds," she said. "It's only when we start talking about it and when somebody believes us that these things start surfacing."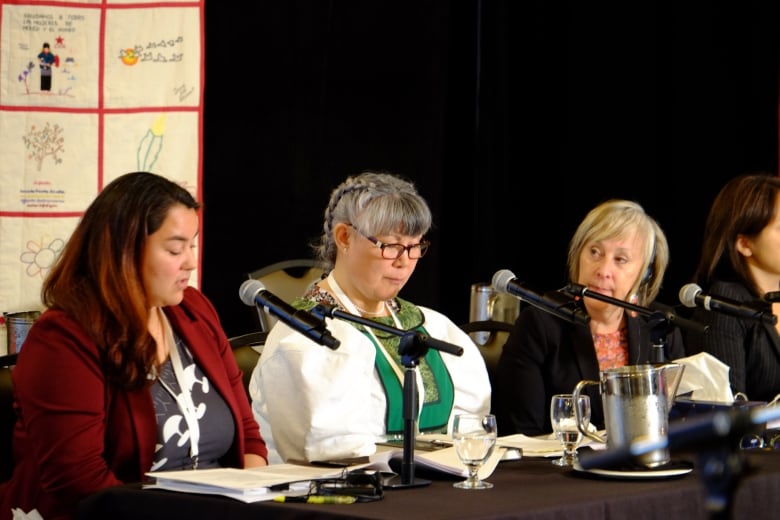 'Inuit people are resilient'
Other elements of the testimony took on a hopeful tone, with the panellists outlining efforts made to revitalize Inuit culture and language.
"Inuit people are resilient," said Davidee Aningmiuq​, explaining how more and more people are speaking about what has happened in the past because they are believed.
The panellists supported the idea of an Inuit ombudsperson being created within the RCMP, and of Inuit stakeholders collaborating on the inquiry's final recommendations.
Idlout-Sudlovenick and Aksalnik also highlighted some of the Qikiqtani Truth Commission's recommendations that are being acted upon, including the government of Canada's willingness to help fund a database to help families find Inuit who were relocated for tuberculosis treatment and never returned home.
Davidee Aningmiuq​ spoke of Iqaluit's Tukisigiarvik Centre and its traditional kamik-making program, and how it's inspired other Inuit to help return to their culture.
"It builds you up," she said. "It makes you proud. And you understand what your ancestors went through… when you get to understand a little bit of who you are, you want to grow in that."
The day ended partway through cross-examination of the panel. On Tuesday morning, a final group of parties of interest will ask questions, followed by the commissioners themselves.
The institutional hearing will then move to its second of three panels scheduled for this week, set to be focused on Indigenous health and wellbeing.
Related stories from around the North:
Canada: Ahiarmiut Inuit and Canadian government reach settlement for forced relocations, CBC News
Finland: Sámi school preserves reindeer herders' heritage with help of internet, Cryopolitics Blog
Norway: Injustices against Sámi, Kven peoples to be examined by commission in Norway, The Independent Barents Observer
Sweden: Report sheds light on Swedish minority's historic mistreatment, Radio Sweden
United States: Survey finds violence against women widespread in Western Alaska region, Alaska Dispatch News