Alaska senator Murkowski's office flooded with calls about Brett Kavanaugh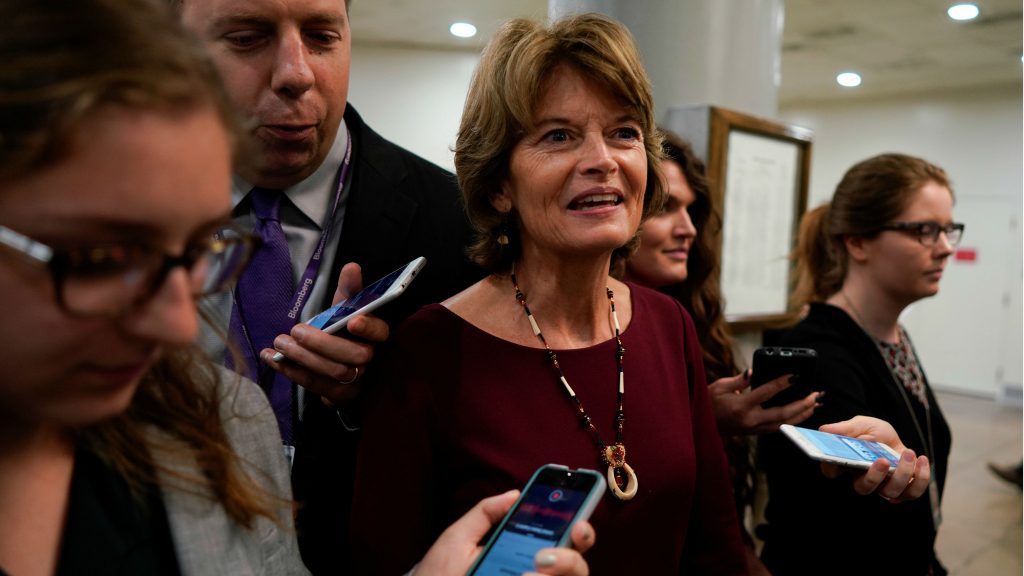 Sen. Lisa Murkowski says she's getting a record number of calls and emails about Brett Kavanaugh, whose nomination to the Supreme Court may be up for a procedural vote Friday. Her office won't say how the calls are split, pro vs. con, but Alaskans urging a "no" vote are making their case loudly, and the Amercian Civil Liberties Union (ACLU) is flying dozens to D.C. to deliver their message in person.
Murkowski says she hears you. Or at least she knows there are a lot of you weighing in on Kavanaugh.
"I can truly say that the volume of incoming that we are receiving in different ways of communication has been unprecedented," she said at the Capitol Tuesday.
She said a steep increase in messages in the past week has pushed the volume higher than what she received last year, in the lead-up to the vote on repealing the Affordable Care Act, a repeal she helped sink.
Since then, the senator said they upgraded their phone system and their email processing. They thought they were ready for heavy volume. But Murkowski said the voicemail boxes, particularly at her offices in state, fill up in the first hour.
"We've hired additional staff to do nothing more than to sort through the volume of calls that have come in overnight," she said.
Supporters and opponents passionate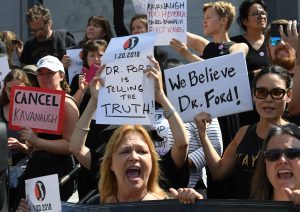 The high volume reflects the passion the Kavanaugh case has inspired. Alaska has a sky-high rate of sexual assault, and many Alaskans are telling Murkowski that confirming an accused assailant to the Supreme Court would tell victims they don't matter.
Others tell Murkowski not to ruin a man's career for an accusation that isn't proven.
Murkowski's spokeswoman won't provide numbers, but she says people of all perspectives are contacting the senator.
And scores want to make their case in person. For weeks, advocacy groups have flown Alaskans to D.C. to urge Murkowski to vote no. Now more are on the way. The American Civil Liberties Union is sending about 100 Alaskans to the nation's capital this week. Alaska chapter spokesman Casey Reynolds says most of the money is from the national ACLU but it fell on him to find Alaskans willing to travel on short notice.
"Well, it's been pretty amazing," Reynolds said. "I mean, me and our organizer here at the ACLU just started making calls Sunday night."
He figured it would take a few days to find 20 or 30 people.
"But honestly," Reynolds said, "by the next morning we had a list of about 80 people who were like 'If you have the funding I will drop everything tomorrow and make my plane reservations and go.' And now that list is up to about 150."
Murkowski's scheduler emailed one group and said she'd received 80 appointment requests overnight.
Murkowski not stating her position
Murkowski has said she found the main accuser, Christine Blasey Ford, "very credible." She said Tuesday that Kavanaugh denied the allegation "with a great deal of passion, and anger, and conviction."
She also says she was surprised by Kavanaugh's "very direct, partisan statements" to the Judiciary Committee. But she's not yet saying which side she'll come down on.
If the procedural vote takes place Friday, the final vote on Kavanaugh's confirmation could come as early as this weekend.
Until then, call volumes will likely remain high.
"And so I worry about (constituents) who may need some emergency assistance, with a passport, for instance, and they can't get through," Murkowski said. She suggests they visit one of the local offices in person.
Related stories from around the North:
Canada: Ex-priest Eric Dejaeger loses conviction appeal in sex offences case in Canada's Arctic, CBC News
Finland: Swedish-speaking Finnish women launch their own #metoo campaign, Yle News
Russia: Russia's military lead on Arctic shelf mapping stands trial for fraud, The Independent Barents Observer
United States: Why the Alaska Federation of Natives wants senator Murkowski to reject Kavanaugh for the Supreme Court, Alaska Public Media