Photographer tells how he snapped picture of rare white bear cub in Finland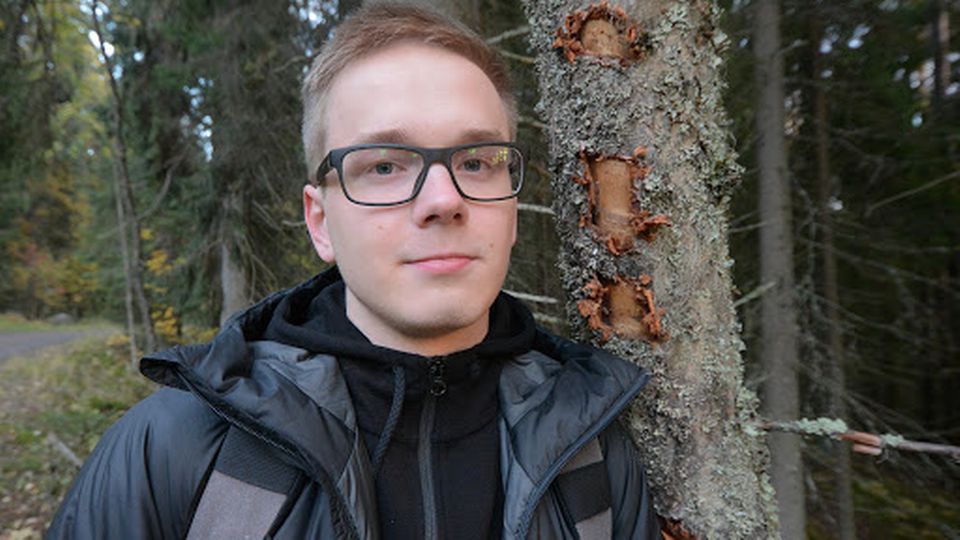 A photo of a rare white-furred bear cub taken by an aspiring young nature photographer, Niilo Isotalo, has gained widespread attention after being reprinted in several newspapers and shared on social media forums.
A recent upper secondary school graduate from the eastern city of Kuopio, Isotalo took the photo this autumn at a nature reserve in Kuhmo (eastern Finland), a region near the Russian border renowned for natural beauty featuring several nature reserves, extensive forests and more than 600 lakes.
He did not at first realise how exceptional a white bear cub is, but once the photo began to gain attention it became clear that he had snapped one of a kind.
A recent story on the photo in the tabloid Iltalehti quoted large game researcher Ilpo Kojola, who said that although white spots on young bear cubs are common, a bear as white as the cub in Isotalo's photo is very rare.
In a Radio Suomi interview, amateur photographer Isotalo described how he had reserved a hut in Kuhmo for four nights in order to take pictures of the autumn foliage and, if luck would would have it, bears.
A very rare find
Voir cette publication sur Instagram
As dusk fell one night, a mother bear he had seen the night before appeared with her two cubs. He had noticed on the previous day that the cubs both had white patches in their fur.
Isotalo watched the cubs playing for a spell, but soon saw an adult male bear approach the trio from the other side of the pond. The mother bear started to circle the pond to protect her young, and at this time, the cubs began to rise up on their back feet.
This is when Isotalo noticed that the fur on one of the cubs was almost entirely white, and he snapped a picture.
Isotalo said he has been inundated with phone calls and emails from people wanting to learn more about how the photo was taken and marvelling over the thrill of seeing an almost all-white cub. He says some have even accused him of Photoshopping the image.
Not aware of the photo's significance at first
Isotalo says he didn't understand the significance of his photo at first, and was not eager to share it because the image was not well-focused and grainy.
He discovered the photo again when browsing his photos on his computer. He posted it to a public group on Facebook for Finland's nature photographers, where it immediately started gathering many likes and comments.
Related stories from around the North:
Canada: Norwegian blogger posts picture online, gets fined for illegal hunting in Northern Canada, CBC News
Finland: Finnish live stream gives users bird's eye view of eagle's nest, YLE News
Norway: Norwegian «slow TV» follows reindeer herd to the coast of the Barents Sea, The Independent Barents Observer
United States: At Republican lunch, U.S. senators mesmerized by live stream of Alaska bears, Alaska Public Media