Officials in Canada's east-Arctic say cannabis legalization is start of longer conversation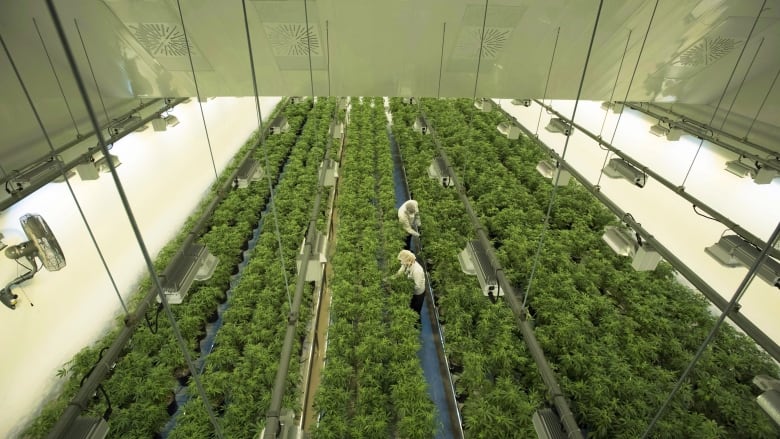 Wednesday marked the start of legal cannabis in Canada and a larger conversation about its pros and cons, according to several officials in the east-Arctic territory of Nunavut who've been preparing for Oct. 17.
"We'll work out the kinks as we go," Romeyn Stevenson, Iqaluit's deputy mayor, said.
"I get the feeling in general that people are interested in seeing what's going to happen, and then figure out what they're going to do."
Iqaluit's city bylaws prohibit smoking in any place where the smoke could enter another person's residence or a public place. Bylaw officers will be on call to enforce this.
"Hopefully when the time comes for some revenue sharing, [the government of Nunavut will be] willing to help acknowledge that we have costs, and therefore share some of the revenue," Stevenson said.
Highest rate of cannabis consumption
Nunavut has the highest consumption rate of cannabis in Canada, and the territory's chief medical officer of health says some of the highest rates of youth consumption in the world.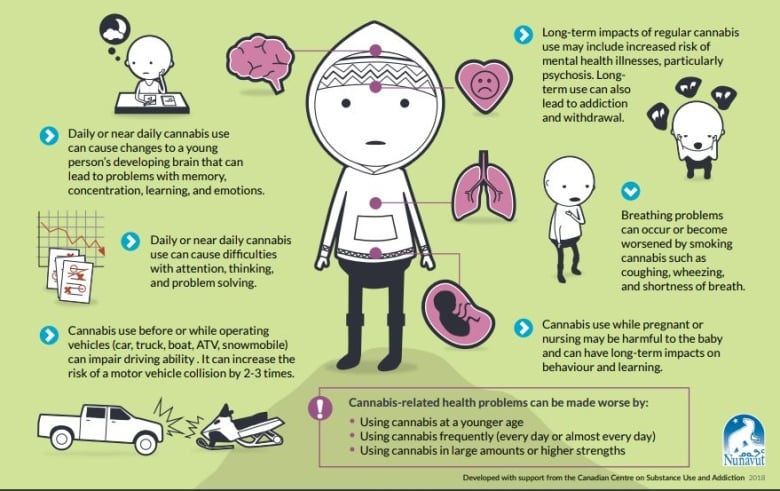 Kim Barker says youth consumption is the Department of Health's main concern, as people's brains develop until the age of 25 and cannabis has been shown to have negative effects on brain development.
The department has put together guidelines to help residents make healthy decisions. Pamphlets suggest not using cannabis more than once a week and avoiding products that are high in THC, the drug's psychoactive component.
Vaping causes less lung damage than smoking, the materials say. They are available here.
For advice specific to a person's medical history, Barker suggests individuals speak to health centre staff, as some doctors in Nunavut have already been prescribing medical marijuana.
"It's an unknown substance in terms of the long-term effects, so we're very keen to be able to monitor and continue to do research, and support the efforts of other researchers," Barker said.
Right now, Nunavut has no plans to do research of its own on the long-term effects of cannabis, but Barker says the government will be monitoring emergency room visits to see how the legal drug affects other drug use in the territory.
What will happen to the illegal market?
Barker is also concerned about what the territory's drug dealers will turn to for revenue after the legal marijuana market gets off the ground.
"We have escaped the opioid crisis across the country," she said. "Really, that is unexplainable. We are going to have to keep a close eye to see if other illicit substances replace the use of cannabis."
If legalization works for cannabis, Barker says the government would consider a similar route for other illegal substances.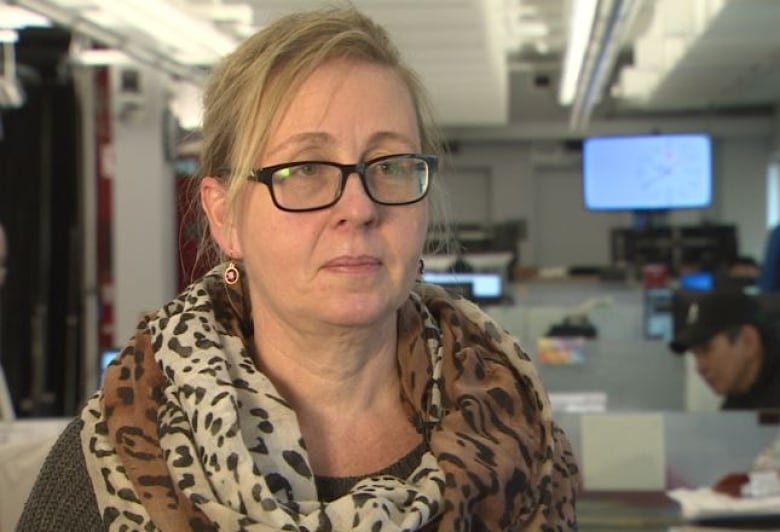 CBC News spoke to a drug dealer in Iqaluit — on the condition of anonymity — who's not phased by legalization and says he's happy to be passing on his clients to the government.
"It's a good business. I try to help people with cancers, that can help them with the pain and get their appetite back," he said.
He said he had been making up to $700 a day selling marijuana, but recently his business has slowed to around $400 a day.
"It was going to do some impact on me, but I'll take that [for] legalization of marijuana," he said. "It's a great thing for all of us."
He said he'd move on to making money in other ways, suggesting, as a joke, that he might panhandle.
What will it cost?
Before legalization, in northern communities like Pond Inlet, a gram of marijuana could sell for between $40 and $50, but the price set by the government of Nunavut will be around $12 a gram, depending on the product.
"By having a lower price available for purchasing… people will then have sufficient income to make healthy choices around purchasing food and be able to choose healthy lifestyles," Barker said.
However, some locals, like Iqaluit's Kris Mullaly, are wondering how the new government revenue will be spent.
"Will it be used for economic development?" Mullaly asked. "We need that in this territory… A small grow-op that is controlled by the hamlet could be a real money maker."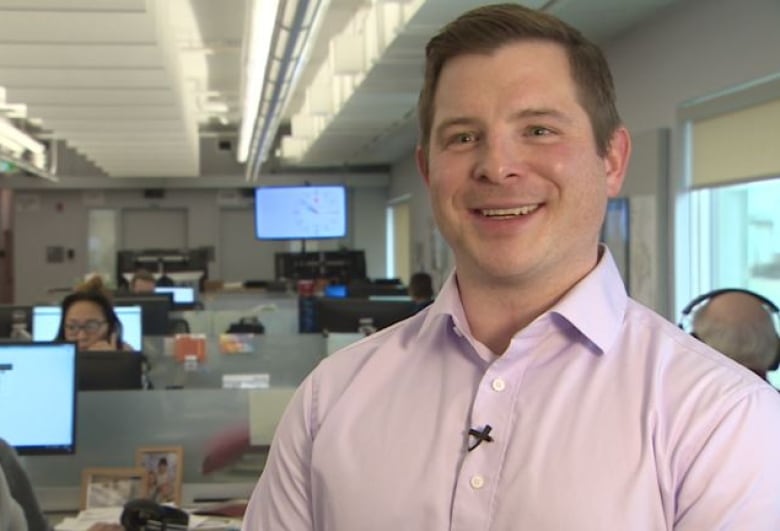 Dan Young, the director of Nunavut Liquor and Cannabis, says that's part of the reason the government decided to license private stores instead of going government-run, like it did for alcohol.
Private stores will allow entrepreneurs to start businesses in the territory, he said.
As for what the government will make from legal cannabis, Young says it's budgeting around $2 million in revenue a year, but that number is very much a ballpark figure, without a lot to go on just yet.
The territory made $1.4 million in revenue from alcohol sales last year, but alcohol is not taxed the same way.
It made $20 million on cigarettes, but Young says people smoke a lot more cigarettes than weed.
Tweed, which is Nunavut's first licensed online retailer, is contracted to have at least 500 kilograms of cannabis on hand to sell to Nunavut during the first year.
Young expects more online sellers to respond to the government's request for proposals, which will be issued in a few weeks.
Related stories from around the North:
Canada: What you need to know about legal cannabis in Canada's three northern territories, CBC News
Finland: Finland's alcohol consumption declines by 15%, YLE news
United States: First liquor store in more than 40 years opens in Bethel, Alaska, Alaska Dispatch News