With one word a day, this man is teaching the world how to speak Inuktitut
Angus Andersen doesn't have internet at home.
Every day he goes to the mall, Tim Hortons, his favourite bakery in downtown St. John's, Newfoundland (in Canada's Maritimes) — somewhere with wireless. He connects to the internet, logs on to Twitter, and sends out an Inuk word of the day.
"Today's first one was tassiujak — a saltwater pond," he said.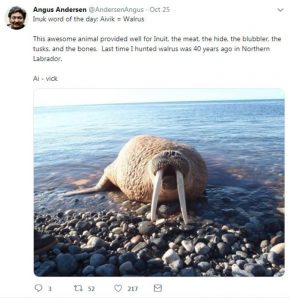 "If you know where there's a saltwater pond, you know where there's going to be good small game and fish."
Andersen was born in the 1960s. He was raised in what is now Torngat Mountains National Park, on the northern tip of Labrador, in Canada's east-Arctic.
"My father and my grandparents were fisher people, both my grandparents," he said. "I was fortunate to … be taught how to live off the land, how to hunt, how to trap, the old-school way."
He lived there until he was old enough for school, then he was sent nearly 400 kilometres south to Nain, the northernmost settlement in Labrador.
The English school lessons eroded his knowledge of Inuktitut. If it wasn't for his grandmother, he would have lost it altogether.
"When I was about 10 or 11, she said if you don't speak to me in Inuktitut, don't talk to me," Andersen said.
After he finished school he moved to southern Canada. He followed work around until he settled in St. John's. He's been there for the past 20 years.
He never makes it back to where he was raised because it's too expensive. Even flying to Nain can be about two thousand dollars, he says.
But Andersen still remembers what it was like during the old times and he does what he can to pass it on.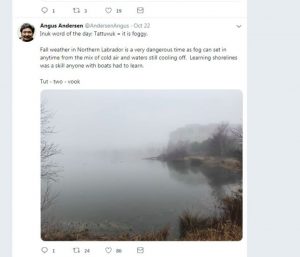 His Inuk tweets are one way. He also teaches soapstone carving, gives one-on-one Inuktitut classes — on Facebook or in person — and he teaches the history of Labrador Inuit from pre-colonial times until the present.
"Eight-thousand years of history in one hour," Andersen said, with a laugh.
'I'm doing what an Inuk is supposed to do'
Andersen thinks his grandparents would approve of how he uses social media to share his knowledge.
"I'm doing what an Inuk is supposed to do when they come to a certain age. You learn so much, and now you teach," he said.
Andersen had 137 followers when he started sharing Inuk tweets. Now, he has nearly 3,000.
Rachelle Belanger is in her second year of teaching college, in Ottawa.
She saw one of Andersen's tweets and immediately followed him. Then, she reached out to him, to ask if she could integrate his words of the day into her classroom lessons.
"As someone who's going to be teaching some of these things, or at least some of the history in my classes, I want to get information from the source as much as possible," she said.
Andersen says he makes his Inuk tweets simple, easy to understand, and easy to build on from day to day. He says he's just one of many other Inuit and First Nations people who are doing the same.
"We are trying to help you learn about us," he said. "With one word at a time you can learn quite a bit."
In fact, his Inuk word of the day tweets have gotten so popular he's started to do two a day, and three on Fridays.
Related stories from around the North:
Canada: 10,000 pages of Indigenous language material published online in Northwestern Canada, CBC News
China: Arctic Indigenous food culture takes the day at international cookbook awards, Eye on the Arctic
Finland: Budget cuts threaten international Sámi language cooperation, Yle News
United States: Alaskan Inuit dialect added to Facebook's Translate app, CBC News