Sperm whales in Canadian High Arctic sign of shifting ecosystem, says scientist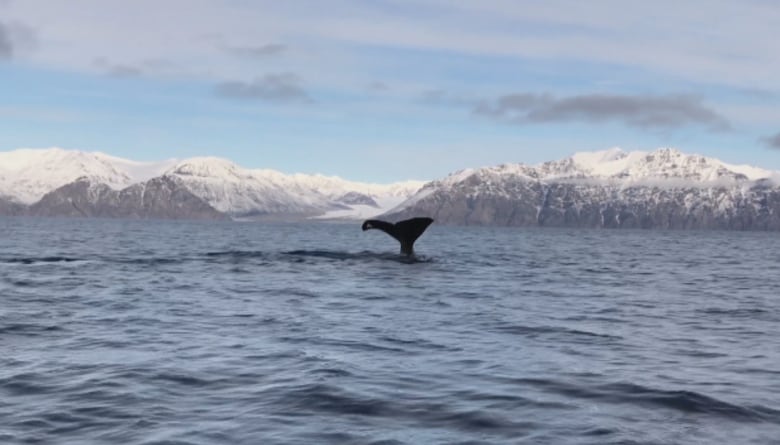 Two sperm whales spotted near Pond Inlet, Nunavut, are a sign of underlying shifts in the High Arctic ecosystem, according to a scientist who saw the pair when out with an Inuit guide at the end of September.
The group was out at Eclipse Sound, about ten minutes by boat outside of the community, when they saw a pair of dorsal fins and thought they had spotted killer whales.
It was only when they got closer that Pond Inlet guide Titus Allooloo realized it was a kind of whale he'd never seen before.
"They're not known by us, we don't know too much about them," said Allooloo, adding that the whales are not traditionally seen near his community.
"It's only the second recorded observation of sperm whales in the region. Back in 2014 local hunters spotted them," explained Brandon Laforest, a World Wildlife Fund scientist.
Laforest was on the boat to pick up acoustic equipment being used to monitor the impact of marine traffic on narwhal for Environment Canada when the whales were spotted.
He says they've heard the call of sperm whales on their recordings before, but because the whales are known to have an extremely loud vocalisation, Laforest says it was assumed they were located further away in Baffin Bay.
He says it was "really shocking" to see these southern whales, so close to Pond Inlet and so close to freeze up.
With their fleshy dorsal fins, sperm whales are not adapted to the ice conditions of the Arctic waters, said Laforest.
"When we think about the whales that live in the Arctic year-round, such as bowhead, narwhal and beluga … they all have a bony ridge [on their head.]
"When the ice is forming, that fin [on sperm whales] will get in the way, whereas narwhal and bowheads can actually break ice and continue breathing."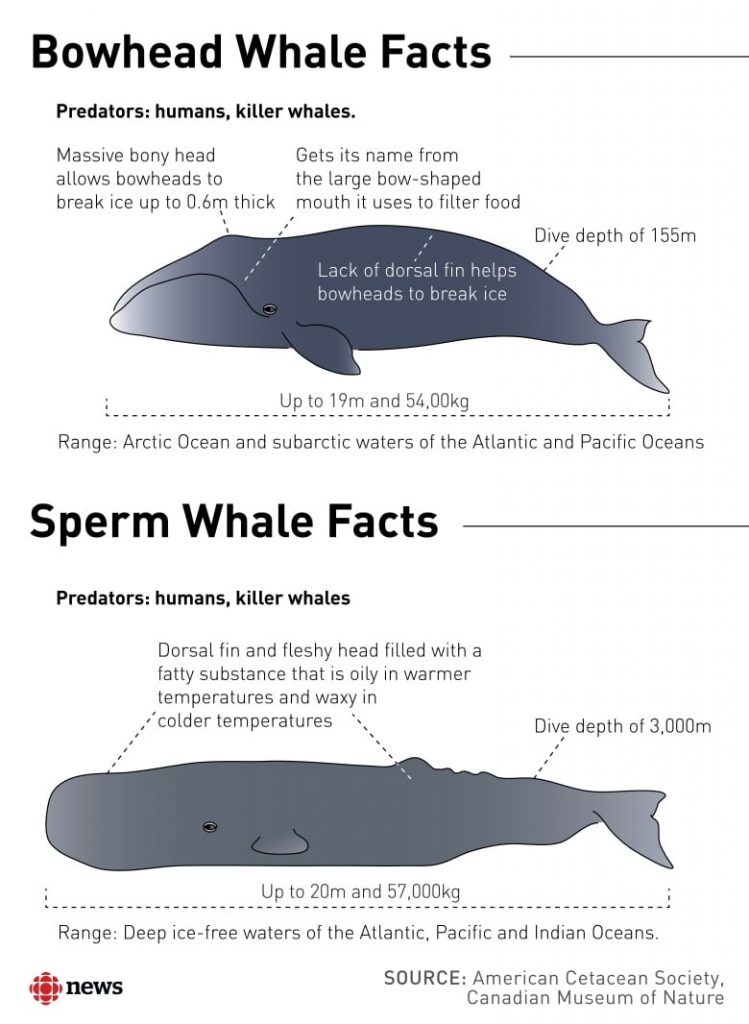 Southern whales moving North
He says the whales have probably gone back south now, but their presence indicates the habitat near Pond Inlet and other Arctic communities is becoming "more open for them to exploit in terms of accessing food."
Laforest says that's good news for sperm whales, but may not be so great for Arctic species like bowhead "which traditionally live without much competition because of their intense adaptation to live in a relatively harsh environment."
However, Laforest says he doesn't think the ecosystem is on the "verge of catastrophe," partly because sperm whales are not predatory.
Killer whales, which Allooloo says are becoming more common in the area, are another matter.
"Killer whales are coming in the North and they are actually hunting narwhal," Laforest says.
He says Arctic waters pose some risks for both sperm and killer whales, which could get trapped under the ice, if they continue coming North, although he says they haven't seen that happen yet.
"We see that with northern whales as well, but inexperienced whales exploiting a northern habitat may not know to leave early enough before the sea ice forms."
Allooloo says people in the community also noticed two huge whales last summer that they couldn't identify.
He's hoping Laforest and his crew will be able to use their acoustic recordings to find out more about the whales that have been in the waters near his community.
With files from Katie Toth and Meagan Deuling
Related stories from around the North:
Canada: Tracking beluga whales in the Beaufort Sea through Facebook, CBC News
Finland: Endangered Finnish seal population slowly recovering, Yle News
Iceland: Scientists puzzled by right whale's appearance off Iceland, CBC News
Norway: Northern Barents Sea warming at alarming speed, The Independent Barents Observer
Russia: Polar bears greatly exposed to toxic chemicals in eastern Barents Sea, The Independent Barents Observer
Sweden: Poachers suspected behind dwindling wolf numbers in Sweden, Radio Sweden
United States: With Arctic freeze-up coming later, some belugas delay fall migration, Alaska Dispatch News