Amanda Jones takes over as head of federal police in Canada's eastern Arctic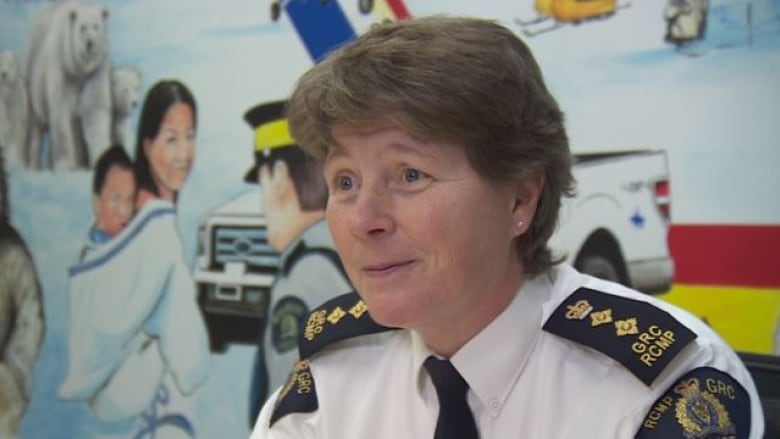 For the first time, a woman is in charge of the RCMP, Canada's federal police, in Nunavut.
Chief Superintendent Amanda Jones took over as commanding officer of the territory's V Division on Monday.
On her second day, she told CBC she's arranging to meet officers in the communities so she can learn about the issues faced by Nunavummiut and their police.
She also plans on tackling resource issues in some of the detachments. In the next two months, she said she'll work on a plan to shift staffing and minimize overworked officers.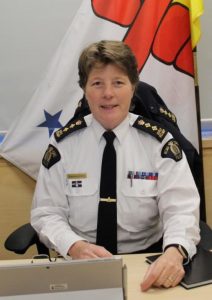 "Obviously, if we look after our members, our members will look after our communities and that will be my focus," Jones said.
"I think you can see in the news that the RCMP is not always… perfect and there are some issues, and my goal is to make sure that we have a healthy relationship."
Part of that relationship is finding ways to bring Inuktitut language training into detachments, she said.
Long-term plans
In the longer term, Jones said she's committed to looking at the issue of police oversight in the territory. She wants to look at the possibility of civilian oversight versus the current process — wherein the Ottawa Police Service investigates RCMP in Nunavut.
But she said it's a complex issue with many facets, including figuring out who would pay for external oversight and what it would look like.
"We would welcome any external investigation unit…because it just makes it easier for us to hand it over and let them do the investigation," Jones said.
Northern policing experience
As top cop in Nunavut, Jones is responsible for 25 detachments and 185 employees.
Jones was born in Montreal and grew up in Halifax, in Atlantic Canada, where she got a bachelor of arts from Dalhousie University.
She joined the RCMP in 1992 and served as the officer in charge of criminal operations at the G Division in the Northwest Territories, according to the press release issued Tuesday. As well, she served in five remote First Nations communities in northern B.C.
In 2001, Jones was part of a nine-month United Nations mission in Kosovo.
Jones has been recognized with a number of awards during her time on the force, including the Canadian Peacekeeping Service Medal, the United Nations Mission in Kosovo Medal, the Queen's Golden and Diamond Jubilee Medals and the RCMP Long Service Medal.
Jones takes over from former Nunavut Chief Supt. Michael Jeffrey, who served in the role from November, 2014 until Jan. 2, 2019.
Jeffrey left the position because his contract was up, said Danielle Pollock, spokesperson for the RCMP in Nunavut. He has moved on to another job in Ottawa.
Jones is the eighth person to fill the commanding officer role in Nunavut since V Division was established in 1999.
A change of command ceremony will take place on May 1.
With files from Sara Frizzell
Related stories from around the North:
Canada: Indigenous man launches $600M class-action lawsuit, claiming police mistreatment in Canada's northern territories, CBC News
Finland: Indigenous Sámi community weighs in on Finland's truth and reconciliation process, Yle News
United States: Alaska reckons with missing data on murdered Indigenous women, Alaska Public Media